NBC Sports' Mike Florio Believes Aaron Rodgers 'Could Be' Considering Retirement Amid Explosive COVID-19 Controversy: 'His Ruse Has Been Exposed'
Article Highlights:
NBC Sports analyst Mike Florio openly wondered if Green Bay Packers quarterback Aaron Rodgers will retire amid his COVID-19 controversy
Rodgers, who is unvaccinated, set the NFL world ablaze after spreading misinformation in an explosive Nov. 5 interview
It would be an unprecedented situation if the three-time NFL MVP retired right now
Somehow, someway, veteran quarterback Aaron Rodgers and the Green Bay Packers might be back at square one.
Rodgers, who kept the Packers in limbo all offseason as he reportedly flirted with retirement, missed a Week 9 loss to Patrick Mahomes and the Kansas City Chiefs while in COVID-19 protocols. The three-time NFL MVP certainly remained relevant during that time, though, after spreading misinformation and allegedly lying about the league's process in a Nov. 5 interview with former Indianapolis Colts punter Pat McAfee.
What is the next step for Rodgers, you ask? ProFootballTalk's Mike Florio openly threw a dreaded two-word idea into the world: midseason retirement.
Mike Florio openly wondered if Aaron Rodgers will retire amid his COVID-19 controversy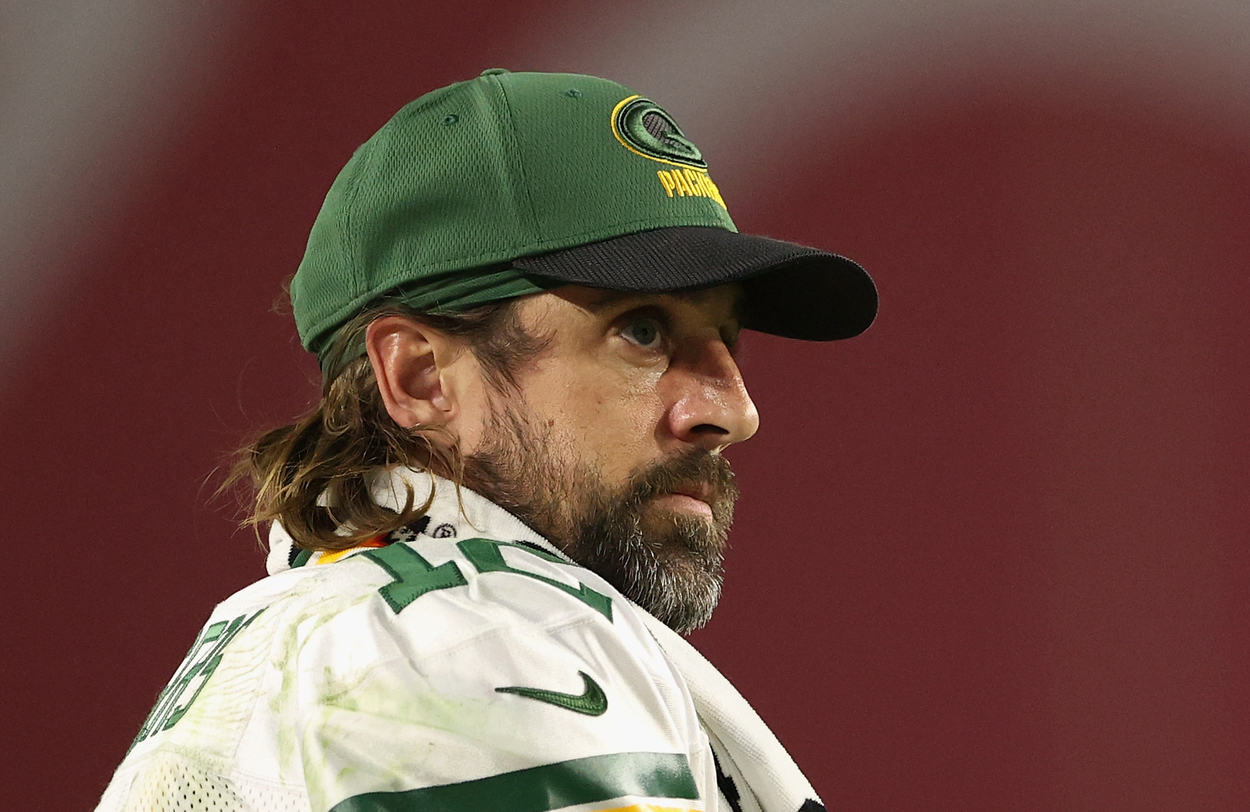 Although he attended the University of California, Berkeley, a prestigious school in its own right, it's clear that Rodgers failed basic physics along the way. He apparently doesn't understand every action has a reaction.
Tell that to Rodgers, who reportedly didn't expect criticism and mockery after citing horse medicine and Joe Rogan when he spoke with McAfee. People.com shared that the reigning NFL MVP feels he's "being crucified" for lying about his vaccination status and publicly taking an anti-vax stance.
Enter Florio with the world's smallest violin. In a Nov. 9 story on PFT's website, the NBC Sports analyst openly wondered if Rodgers, who turns 38 on Dec. 2, will retire rather than adhere to mask protocols or even face discipline.
"He was supposedly 50-50 on retiring just a few days before reporting for training camp. Was he ambivalent in part because he didn't want to get vaccinated, and he didn't want to comply with the onerous protocols for the unvaccinated? He was able to have it both ways for weeks. Now that his ruse has been exposed, his choices are: (1) get vaccinated; (2) comply with the protocols; or (3) retire."

Mike Florio
Florio reiterated he is not reporting Rodgers will or will not retire. However, he wouldn't be surprised to see the Super Bowl 45 champion channel his inner Eli Manning, and not in a good way.
"This woe-is-me routine could be (not is or will be, but could be) a precursor to Rodgers giving EVERYONE a double-barreled middle finger and walking away," Florio wrote.
Rodgers would certainly be in an unprecedented category if he retired right now
For the sake of argument, let's say Rodgers will announce his immediate retirement as soon as you read this story. As of publication, he'd retire having completed 67.1% of his passes for 1,894 yards, 17 touchdowns, and three interceptions in 2021.
The list of all-star, Hall of Fame-caliber athletes retiring in their prime for non-injury-related reasons — either because of a career-ending injury or to help themselves after years of ailments — isn't too deep. Los Angeles Lakers legend Magic Johnson (HIV) and New York Yankees great Lou Gehrig (amyotrophic lateral sclerosis) each retired for health reasons, although Johnson later made multiple comebacks.
You're likely familiar with the two names who fit the billing: Barry Sanders and Michael Jordan. One of the greatest running backs in NFL history, Sanders retired in 2000 because he no longer wanted to play for the struggling Detroit Lions. All-Pro receiver Calvin Johnson's retirement in 2016 involved everything from nagging injuries to frustration with the Lions' organization, so we won't count him here.
Jordan famously retired for the first time in October 1993, a few months shy of turning 31, in part to pursue a "normal life." The Chicago Bulls legend signed with the Chicago White Sox in 1994, spent a year playing minor-league baseball, and then returned to the NBA in 1995.
And then, you'd potentially have Rodgers retiring over COVID-19 protocols, and social media being mean to him. Poor him.
Such a retirement would at least give the Packers more time to see Jordan Love in action
If Rodgers did retire, he'd leave behind an incredible on-field legacy as one of the greatest quarterbacks in the Super Bowl era. We'll let others have their own opinions regarding his off-field reputation.
The Packers, who are 7-2 entering a Week 10 showdown with Russell Wilson and the Seattle Seahawks, would at least get to see more of second-year quarterback Jordan Love. The Utah State product completed 55.9% of his passes in Week 9 for 190 yards, a touchdown, and an interception. He also ran for 23 yards on five carries in the Packers' 13-7 loss.
With respect to Love, he's probably not ready to lead the Packers to a Super Bowl just yet, especially not in a loaded NFC. Then again, Rodgers hasn't reached the Big Game in over a decade despite frequently leading extremely talented teams, so life wouldn't be too different in Green Bay.
Florio's reasonable rationale has put us all the way back at square one. Much as was the case this summer, we have no idea what the next step is for Rodgers or the Packers, and we don't know how Love will do in extended action or what the four-time Super Bowl champions will do at quarterback next year.
All of this could have been avoided had Rodgers exercised better judgment and not spoken so brazenly to McAfee. We won't fault him if he regrets not spending more time studying physics in college.
According to the Centers for Disease Control and Prevention (CDC), "Over 423 million doses of COVID-19 vaccine have been given in the United States from December 14, 2020, through November 1, 2021. COVID-19 vaccines are safe and effective."