NBC Sports' Peter King Suggested Cowboys Star Trevon Diggs' Final Interception Total Could Feature an Asterisk
Article Highlights:
NBC Sports' Peter King suggested Cowboys star Trevon Diggs could finish the 2021 season with an asterisk
King implied Diggs' final interception total would be tainted because of the 17-game season
For the good of professional sports, it is time to leave the asterisk-related discussions behind
Life is good for second-year Dallas Cowboys cornerback Trevon Diggs. The Alabama product leads the league in interceptions and has starred on a Cowboys team that, barring an unexpected collapse, is on track to win its first NFC East title since 2018.
Diggs, a second-round pick in 2020, just earned Pro Bowl honors for the first time and could find himself on the All-Pro team when this season ends. However, as impressed as NBC Sports' Peter King is with the young cornerback, the veteran scribe wants the ball-hawking defender to be aware of a potential asterisk.
Peter King suggested Cowboys star Trevon Diggs could finish the 2021 season with an asterisk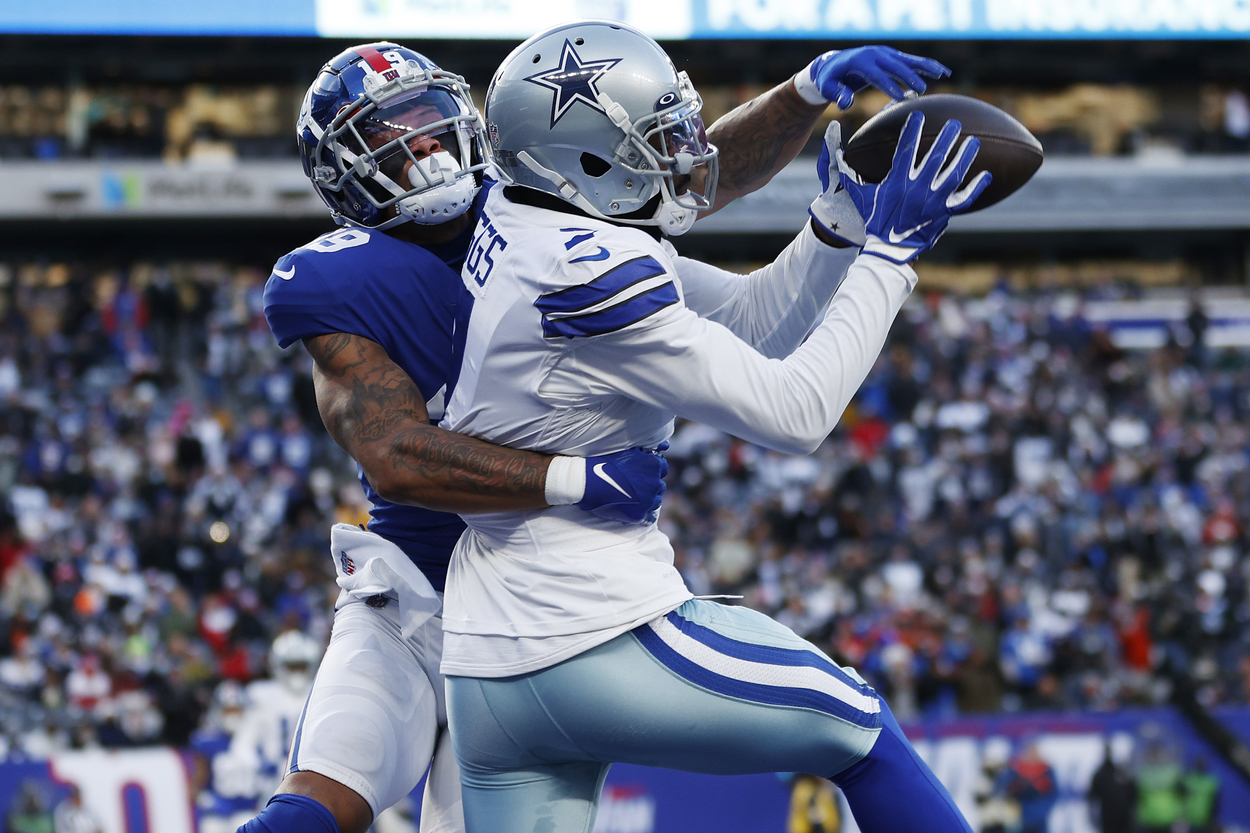 When Diggs snagged New York Giants quarterback Mike Glennon's pass during a 21-6 Cowboys victory in Week 16, he became the first Cowboys player since 1981 with 10 interceptions in one season.
With one more pick, Diggs will have the 28th instance of an NFL defender having at least 11 interceptions in one year. He'll also tie Everson Walls, the Cowboys' retired All-Pro cornerback, for the most interceptions in a single season by a Cowboys defender.
Walls accomplished the feat across 16 games in 1981. Diggs has three games left to tie or pass the four-time Pro Bowler. However, King recently explained why the second-year corner should prioritize snagging two interceptions before the regular-season finale against the Philadelphia Eagles.
"Your job, now, is to get two in the next two weeks, so you don't have a 17-game season asterisk on the '12,'" King wrote in the Dec. 20 edition of Football Morning in America.
Attaching an asterisk next to sports records has never made sense, and it shouldn't make sense now
For those unfamiliar with the asterisk in sports, it refers to the idea that specific achievements, including records and championships, are diminished because of external factors such as the length of a season or performance-enhancing drugs. For example, baseball fans have suggested Barry Bonds' record 762 home runs should carry an asterisk because of the seven-time MVP's link to steroids.
More recently, others, including Fox Sports' Marcellus Wiley, said the Los Angeles Lakers' 2020 championship is tainted or should carry an asterisk because of the NBA bubble and the ongoing pandemic. Never mind the fact that, if anything, that championship should be celebrated given the circumstances.
King's argument that Diggs' final interception total could potentially feature an asterisk is ridiculous. In the same way that teams play who is on their schedule, players play however many games are on their schedule.
Diggs tallied 10 interceptions in the Cowboys' first 14 games. Even if he doesn't snag the final pick until the last seconds of Week 18, he'd still show up in the record books among the other defensive backs who had double-digit interceptions in one season.
The asterisk is an outdated idea dating back to the 20th century. Former New York Yankees outfielder Roger Maris famously battled criticism during his 1961 chase of Babe Ruth's home run record because Maris was trying to break the feat in a 162-game season; Ruth hit 60 home runs in 1927, a time when the league still played 154 games.
Despite popular belief, the MLB record books never featured an asterisk next to Maris' 61 home runs. However, he nonetheless battled the stress and mental toll of others who suggested his final number would be tainted.
For Diggs' sake, let's not do the same to him.
Football fans should expect to see more records be matched or fall in the 17-game era
With respect to King, the reality is that more records are bound to fall or be matched in the 17-game era. The same happened when the NFL went from 14 games to 16 in 1978, and it'll also apply if or when the league ever goes to 18 games.
An excellent example is Los Angeles Rams receiver Cooper Kupp, who totaled 122 catches and 1,625 yards in his first 14 games this year. The fifth-year receiver is on pace to end the season with 148 catches and 1,973 yards, the latter of which would break the 1,964 that Calvin Johnson had in 2012.
If Kupp ends the year with 1,973 yards — or even becomes the first receiver to top 2,000 — there shouldn't be an asterisk. He took advantage of the NFL's 17-game season and still played at an All-Pro level. The same argument applies if he totals 150 catches, one more than the 149 that New Orleans Saints star Michael Thomas hauled in two years ago.
A quarterback will eventually pass for 6,000 yards in one season. Perhaps a running back will rush for 2,500 yards. The 17-game season creates all sorts of possibilities that we should embrace, especially considering all that goes into the players setting such new marks.
The NFL has already left late hits and horse-collar tackles in the past. Let's do the same with any mention of asterisks or tainted records.
Like Sportscasting on Facebook. Follow us on Twitter @sportscasting19.