NCAA: 3 Heisman Contenders for 2015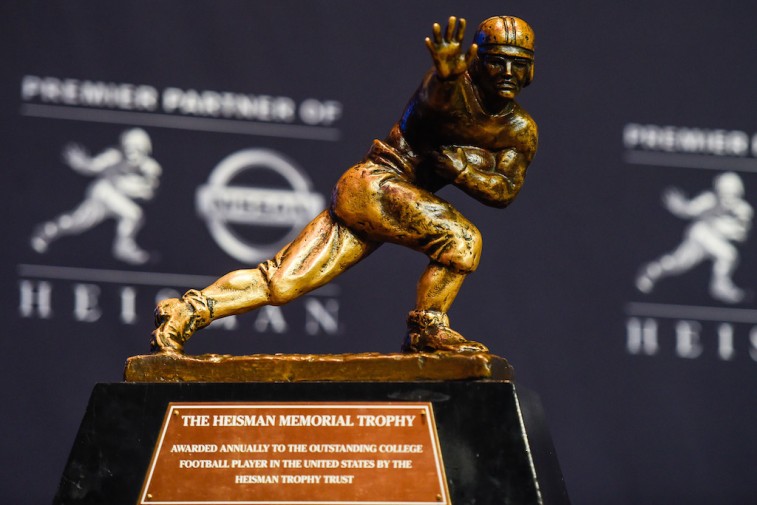 Kicking off this Saturday, the college football season is almost upon us. Teams are gearing up for a long year of intense match-ups, big expectations, and the emotional roller coaster that comes along with it. Preseason hype is usually a bad thing for a team to have, as its the schools that have no expectations that often make a run towards a championship. Still, speculation occurs and creates buzz for the next several months.
Among all the predicting and 'expert' opinions is the Heisman watch. Of course, the trophy is the game's top prize (for an individual), so it is always worth analyzing who may end up with the hardware come December. Every season, there are players that seem to stay on the list throughout the season, but many of the players fall off within a month or two. This can be frustrating, confusing, and disheartening for fans and players alike, as you never know who truly will be spectacular enough to win the award.
That is why we have created the following list of contenders for the Heisman. This list includes three players that have tremendous staying power as true candidates for the award. Someone left off this list may end up winning the trophy, but all of these players will be in the discussion when the season ends. With that, here are our three sure-fire contenders for the Heisman in 2015:
3. Leonard Fournette, RB, LSU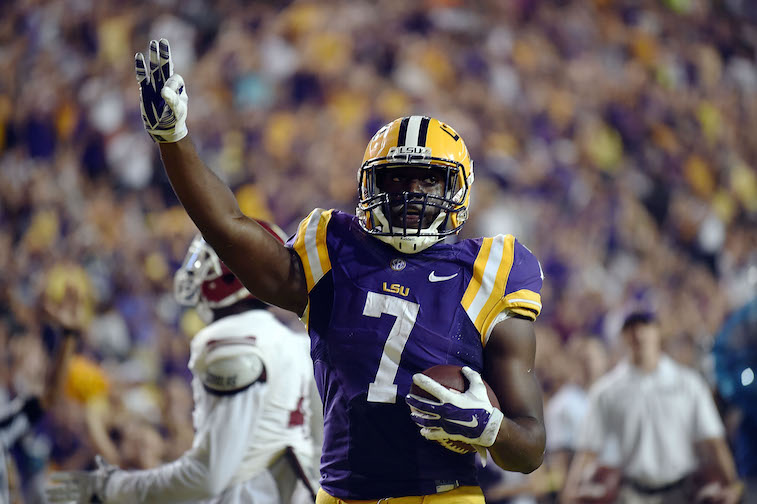 In the grind-it-out, slug-it-out style of football that has dominated Baton Rouge for several seasons, you must have a running back that can gain those difficult yards and make some big plays. Fournette is that guy for LSU. Last season, in his freshman campaign, he earned a respectable 1,034 yards on the ground to go along with 10 touchdowns. More impressive was Fournette's yards per carry average, which stood at 5.5. With big games of 122, 113, 140, and 146 yards, he proved that he can be an absolute game changer for the Tigers. Now, in year two, he can only be better and will get more responsibility in the backfield. Expect him to step up and embrace the challenge.
With his 6-foot-1, 230 pound frame, Fournette is a pretty big back, a rarity (it seems) at the position. This makes him a unique talent that gives defenders a whole different set of challenges. LSU will run the ball a ton this season, seeing as their quarterback situation is in flux at the moment. That means Fournette will have plenty of opportunities to stay on the Heisman radar throughout the season. Playing in the SEC, he will have several games to shine in (including against Alabama, Auburn, Ole Miss, and Arkansas). The talent and the situation scream candidacy for the game's top trophy and maybe even a playoff berth for preseason #14 LSU.
Predicted Stats: 1,700 rushing yards, 16 TDs 
2. Ezekiel Elliott, RB, Ohio State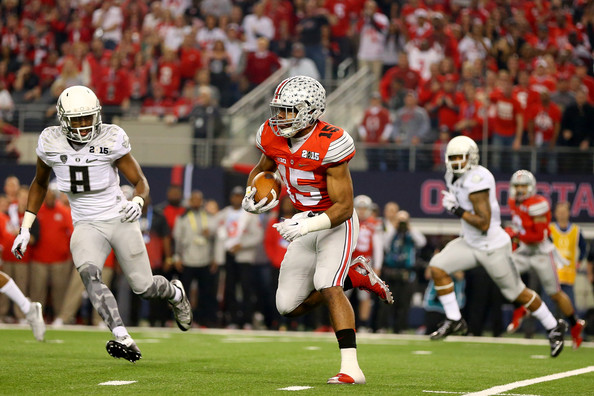 One of the catalysts for Ohio State's national championship run a season ago, Elliott is primed to be an absolute stud in 2014. He broke onto the scene with 1,878 yards and 18 touchdowns in his sophomore season, also earning an average of 6.9 yards per rush. In the playoffs, Elliott was nothing short of spectacular. He scored a long touchdown against Alabama (along with 230 yards) in the semifinals that sealed the victory. Against Oregon in the championship game, he had a performance nobody will ever forget, amassing 246 yards on the ground and scoring 4 touchdowns. Elliot is a big time player on a big time team; the perfect formula for a Heisman hopeful.
This year, can we expect more out of Elliott? He came up so huge late in the season for the Buckeyes (as did several players on that team), so his success was clearly magnified. That doesn't take away from the greatness that streams through this guy's veins. Similar to Fournette, Elliott is a decently sized running back at over 6 feet tall and 225 pounds. He has the vision, the speed, and the intangibles to have an even better campaign this season. While his opportunities to shine in the national spotlight are fewer than the other guys on this list, this is a player that will be making highlight reels week in and week out. Many expect a Heisman for Elliot in 2015 and if he leads his #1 ranked Buckeyes back to the playoffs, the trophy will probably be his.
Predicted Stats: 2,050 yards, 19 TDs
1. Nick Chubb, RB, Georgia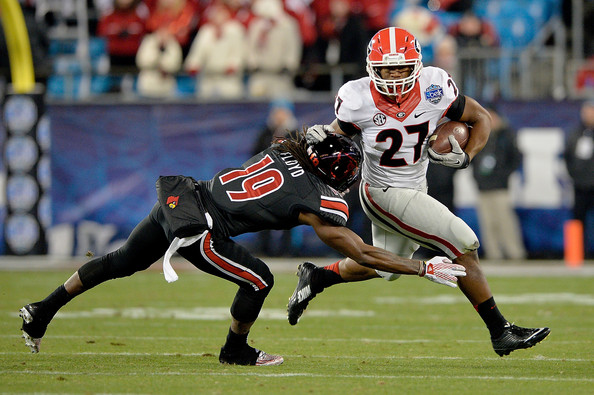 How fortunate can one team be at the running back position? Last season, Georgia began the year with Heisman hopeful and now St. Louis Rams' running back Todd Gurley. He got hurt and in steps Nick Chubb, an unproven freshman who was brilliant every time he took the field. In the last 8 games of the season, Chubb never rushed for fewer than 113 yards, including performances of 170, 202, and 266 in the bowl game victory against Louisville. In total, he amassed 1,547 yards and 14 touchdowns, including a 7.1 yards per rush average. Now, he will be the starting back for the entire season. What's the limit on the type of production he can have?
At 5-foot-10 and 220 pounds, Chubb is a prototypical great running back. His agility, the speed, and game awareness make him one of the best runners college football has to offer. He will have numerous opportunities for his signature 'Heisman moment' this season, with big games against Alabama and Auburn (among others). Georgia is the #9 team in the preseason polls and holds playoff aspirations. If they get there, it will be because Chubb had a season worthy of the trophy. He is certainly more than capable of having that kind of campaign.
Predicted Stats: 2,175 yards, 22 TDs