NCAA Football Coaching Roundup: Hirings and Firings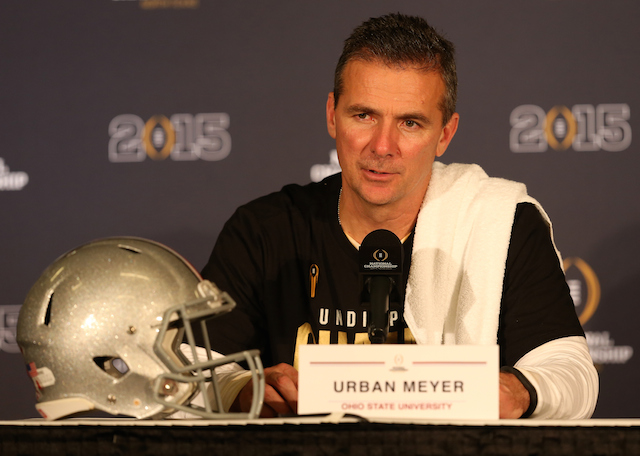 The 2014 college football season is officially in the books. Barring any unforeseen changes, the coaching carousel at the Football Bowl Subdivision level has stopped spinning. Here is a look at the hirings and firings from around the country this offseason.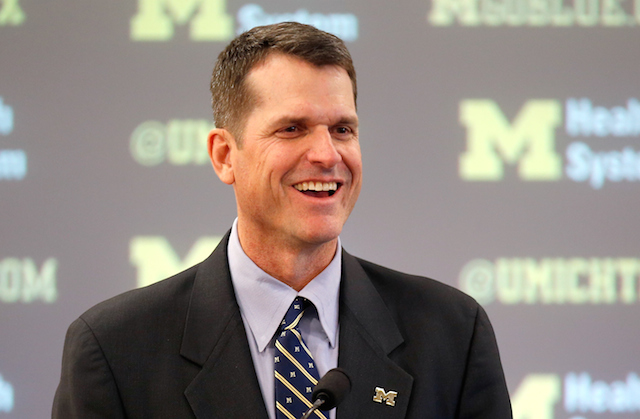 University of Michigan (Big Ten Conference)
Out

: Brady Hoke

Hired

: Jim Harbaugh
The Harbaugh watch was the talk of the sports world for most of December. Shortly after his last game with the San Francisco 49ers, Harbaugh agreed to become the 20th coach in Michigan football history. This is a home-run hire for the Wolverines, as Harbaugh is considered one of the best coaches in football at any level.
University of Buffalo (Mid-American Conference)
Out

: Jeff Quinn

Hired

: Lance Leipold
Leipold will be making the leap from the University of Wisconsin-Whitewater, a non-scholarship Division III program, to the cutthroat world of Division I coaching. In eight seasons at UW-Whitewater, Leipold has gone 106-6 with five national titles.
University of Kansas (Big 12 Conference)
Out

: Charlie Weis

Hired

: David Beaty
Beaty's return to Lawrence will mark his third stint as a Jayhawks coach — he worked as an assistant under Mark Mangino and later under Turner Gill. Beaty is known for his recruiting prowess, but he has yet to really prove himself as a coordinator. There is no doubting that Beaty has his work cut out for himself with this job.
Troy University (Sun Belt Conference)
Out

: Larry Blakeney

Hired

: Neal Brown
The Trojans hired Brown, who is only 34 years old, away from Kentucky. He is a rising star in the coaching world and has already had a great deal of success as an offensive coordinator. With that being said, nobody really knows how well he will be able to lead an entire program.
University of Tulsa (American Athletic Conference)
Out

: Bill Blankenship

Hired

: Phillip Montgomery
Montgomery, Baylor's former offensive coordinator, will at the very least have Tulsa scoring a lot of points again. If he can put together a staff that can turn things around defensively, Montgomery could have the Golden Hurricane winning in a hurry.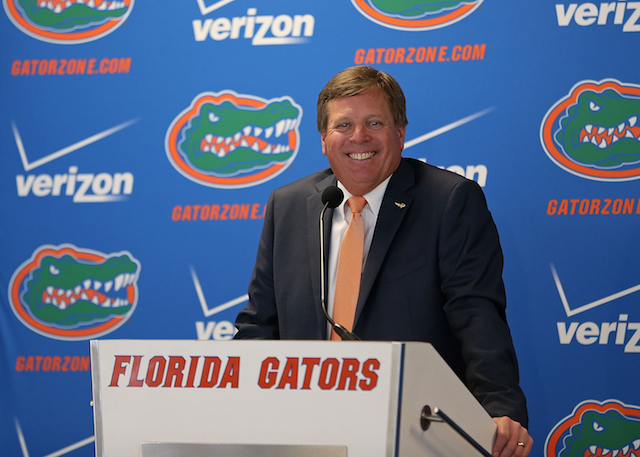 University of Florida (Southeastern Conference)
Out

: Will Muschamp

Hired

: Jim McElwain
Florida Athletic Director Jeremy Foley targeted McElwain right from the start when he decided to make a coaching change. The Gators were one of the top defensive teams in the SEC under Muschamp but could never get things going offensively. McElwain should fix a lot of those problems and have the Gators back competing for SEC titles in a hurry.
Colorado State University (Mountain West Conference)
Out

: Jim McElwain

Hired

: Mike Bobo
McElwain revitalized the CSU program in only three years and left his successor quite a bit of talent to work with. Bobo is taking over the helm for the Rams after being on Mark Richt's staff at the University of Georgia since 2001. He served as the Bulldogs' offensive coordinator from 2007 to 2014, and will bring with him a pro-style offensive scheme that is similar to McElwain's. The Rams are hoping that they have struck gold with another successful SEC offensive coordinator.
University of Wisconsin (Big Ten Conference)
Out

: Gary Andersen

Hired

: Paul Chryst
Chryst has deep connections to the Badgers program and knows how to succeed in Madison. Despite having only marginal levels of success in his head coaching stint at Pitt, there may not have been a better coaching fit for Wisconsin than the former Badgers offensive coordinator.
University of Houston (Conference USA)
Out

: Tony Levine

Hired

: Tom Herman
Herman comes to Houston after a wildly successful run as Urban Meyer's offensive coordinator at Ohio State. He has deep ties to the state of Texas and is considered one of the brightest young stars in the college football coaching world.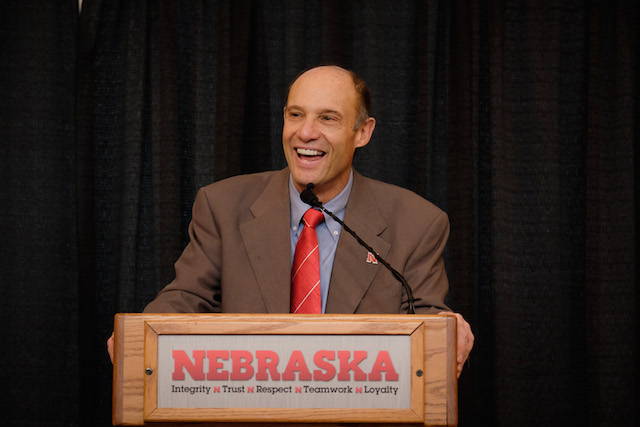 University of Nebraska (Big Ten Conference)
Out

: Bo Pelini

Hired

: Mike Riley
Nebraska chose to fire Bo Pelini despite a great deal of success under his watch, and replaced him with Mike Riley. Riley did an outstanding job at Oregon State, compiling a 93-80 record during his two stints in Corvallis despite limited severely limited resources. Riley should almost instantly improve the Huskers' offense, and for the first time in his head coaching career, he will be on an even playing field in terms of program resources.
Oregon State University (Pacific-12 Conference)
Out

: Mike Riley

Hired

: Gary Andersen
Andersen was an excellent hire for the Beavers. He is coming off two seasons at Wisconsin in which he combined to win 19 games; he was the coach who rebuilt Utah State into a program that is now contending for conference titles every year.
University of Pittsburgh (Atlantic Coast Conference)
Out

: Paul Chryst

Hired

: Pat Narduzzi
Narduzzi was one of the hot names that was brought up for nearly every available job this offseason. After the Pittsburgh job opened up, it didn't take long for the former Michigan State defensive coordinator to be hired. The Panthers are getting one of the best defensive coaches in football. Narduzzi is coming off of a highly successful run with Michigan State, during which his defenses finished in the top 10 in the FBS in total defense for four straight years.
Southern Methodist University (American Athletic Conference)
Out

: June Jones

Hired

: Chad Morris
Morris has been one of the hot names in college football coaching for the past few years. His offenses at Clemson set numerous records, and he is known to be one of the best recruiters in the country. Given his track record and strong ties to the state of Texas, it looks like SMU got a steal with Morris.
University of Nevada, Las Vegas (Mountain West Conference)
Out

: Bobby Hauck

Hired

: Tony Sanchez
Sanchez is taking over the UNLV program after posting an 85-5 record with six state titles at Bishop Gorman High School in Las Vegas. Several coaches have successfully made the leap from high school to college as assistant coaches, but Sanchez will be the first coach going from high school to a head FBS coaching job since Todd Dodge in 2007. While there may have been more qualified candidates out there, UNLV really had nothing to lose in making this hire.