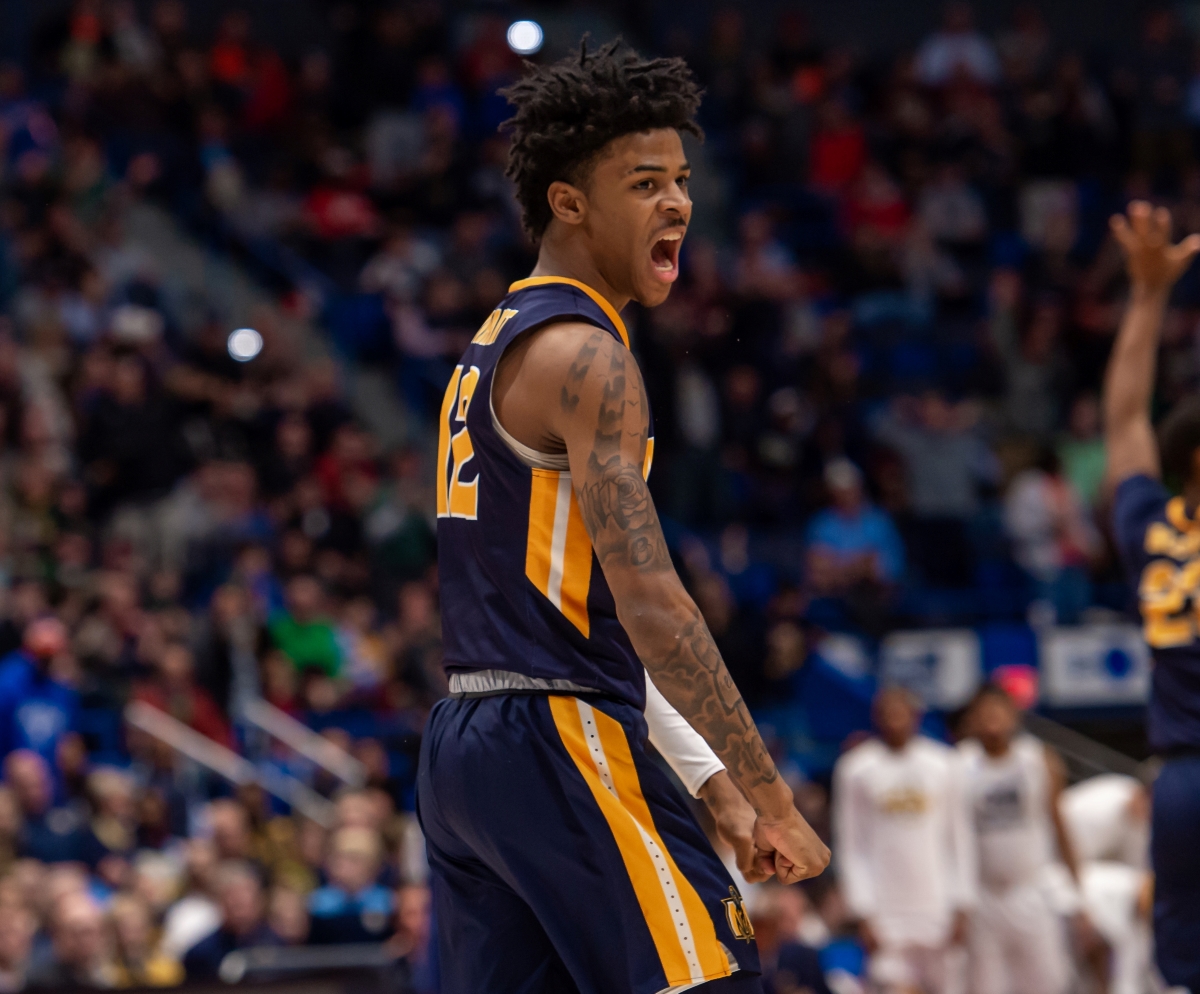 NCAA Tournament: Ja Morant Became a March Madness Legend With the Murray State Racers
Ja Morant is now an NBA MVP candidate, but he first became a college basketball darling at Murray State University.
Ja Morant has been the breakout star of the 2021-22 NBA season. He's led his Memphis Grizzlies toward the top of the Western Conference standings and has put himself squarely in the MVP conversation. But before he developed into an A-list superstar in the league, he became a college basketball superstar with the Murray State Racers.
It seems silly now, but Ja was lightly recruited out of high school and landed at the only Division 1 program to offer him a scholarship.
But just like he's done with the Grizzlies, Morant made the best of it — including a legendary performance that made Ja and the Racers NCAA Tournament darlings.
Ja Morant developed into one of college basketball's best players at Murray State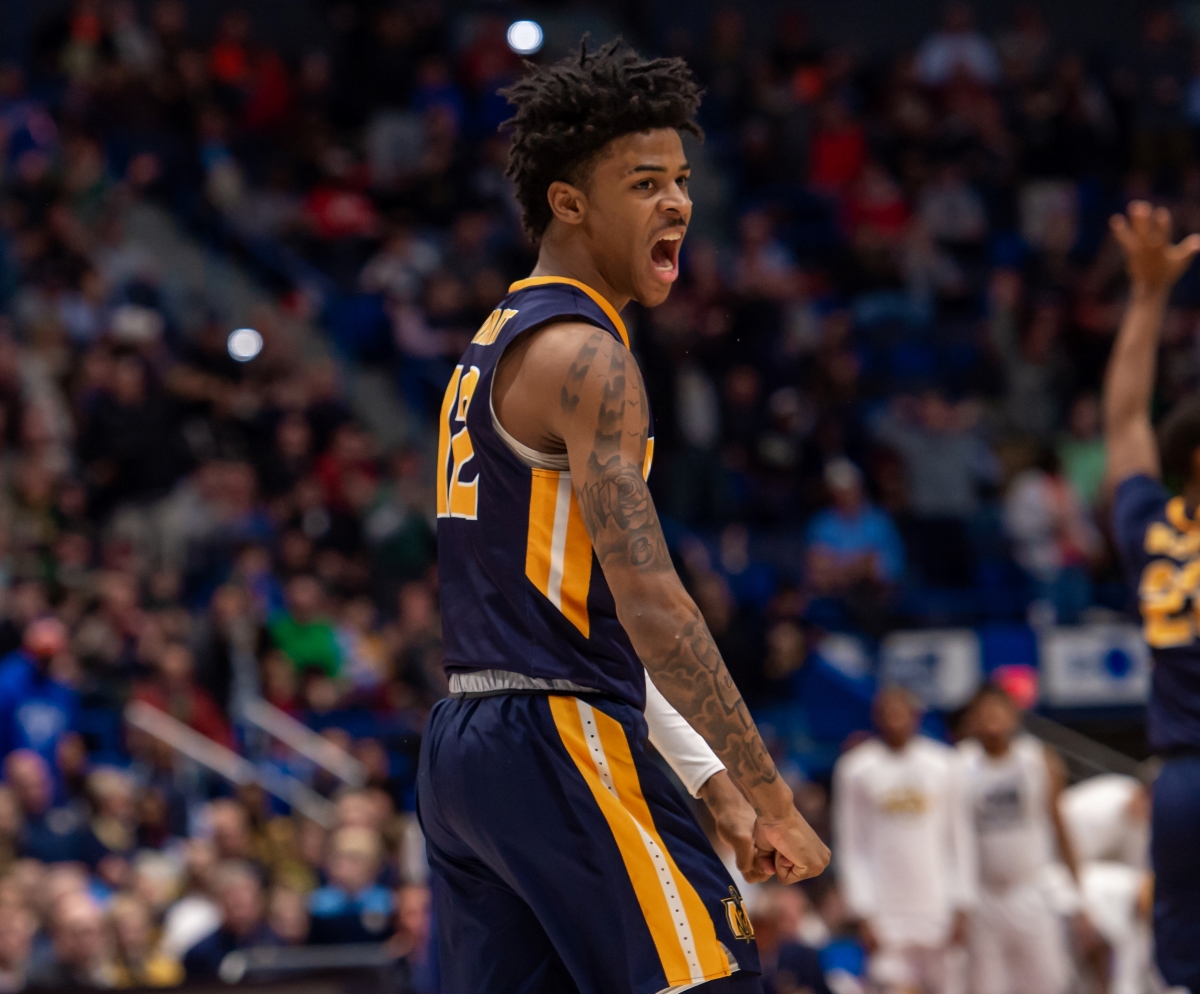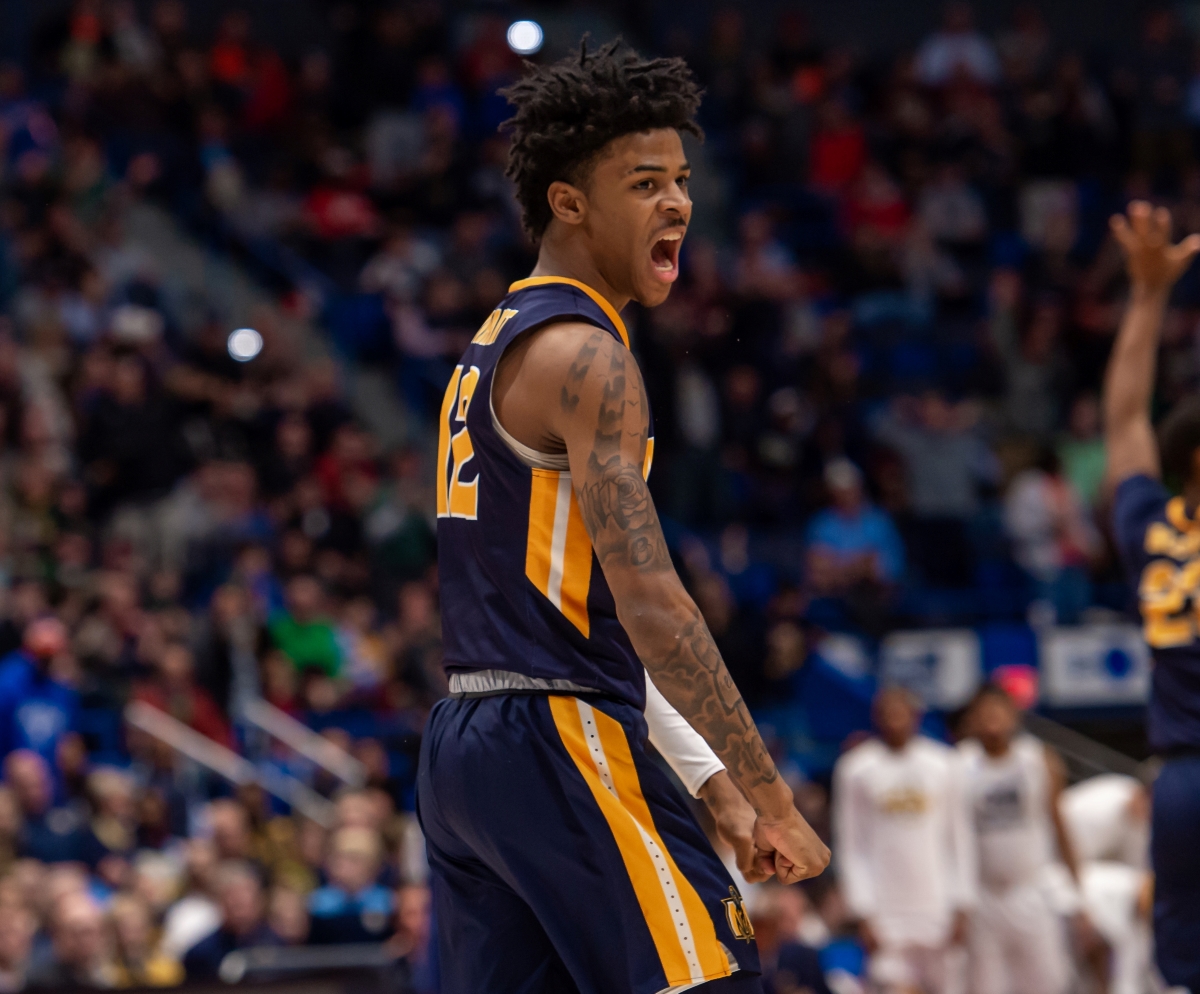 Ja was a productive high school player in South Carolina. He averaged close to a triple-double in both his junior and senior seasons, per his Goracers.com bio.
For whatever reason, though — maybe his size — he wasn't a big-time recruit. But he quickly turned into a big-time player at Murray State, a program that plays in the Ohio Valley Conference.
As a freshman, he was an All-OVC First-Team player after starting every game for the Racers and averaging 12.7 points, 6.5 rebounds, and 6.3 assists.
As a sophomore, he exploded onto the national scene (this type of improvement seems to be a theme for Morant) by averaging a double-double, upping his stats to 24.5 points, 5.7 rebounds, and 10.0 assists per game.
He earned Eight All-America honors, was a finalist for multiple national awards, was named the OVC Player of the Year, and his 10 assists per game made him the first player in men's college basketball history to average 20 points and 10 dimes for an entire season since the NCAA began tracking assists in 1987.
Ja was a likely top-five NBA draft pick going into the NCAA Tournament.
But then came the Big Dance's opening-round matchup between his Racers and the Marquette Golden Eagles.
Ja's epic performance against Marquette is the stuff of legends
The 5-12 matchup between Murray State and Marquette was one of the most-anticipated first-round games in 2019.
The 12-seeded Racers were led by Morant, but the fifth-seeded Golden Eagles were led by their own scoring dynamo in point guard Markus Howard.
Howard finished with a game-high 26 points, but it was Ja who stole the show with only the ninth triple-double in NCAA Tournament history, per ESPN. (Again, since assists were first tracked in 1987.)
Morant finished with 17 points, 11 rebounds, and 16 helpers. He was 5-of-9 from the field, hit both of his three-point attempts, and was 5-of-5 from the free-throw line.
He was the first player to record a triple-double in the tournament since Draymond Green did it for Michigan State in 2012.
Howard kept chucking up shots to keep his team in it, but Marquette had no answer for Ja, who was in full control of the game, on both ends, from start to finish.
He put on a clinic against the Golden Eagles as a scorer, facilitator, floor general, and leader. It was a glimpse of the future.
We should have seen the NBA superstar turn coming
"Any day of the week; I'll take the assist 10 times out of 10," Morant said via the same ESPN story.
"Ja deserves every bit of credit he gets and then some," Murray State coach Matt McMahon said. "But we have a very balanced team."
"They'd be good without him, but with him, they're pretty unique," then-Marquette coach Steve Wojciechowski added of the Racers.
That all sounds incredibly similar to what Morant is doing in Memphis. He's not just a scorer; he's willing to defer to his teammates.
The Grizzlies are a balanced team, but Ja is at the controls. His team would be good without him, but they're great with him.
It was all predictive of what the now-22-year-old would become as a pro.
Ja Morant is one of the best young players in the NBA — in hindsight, everyone should have clearly seen it coming after what we witnessed from him at Murray State.
All statistics courtesy of Sports Reference.