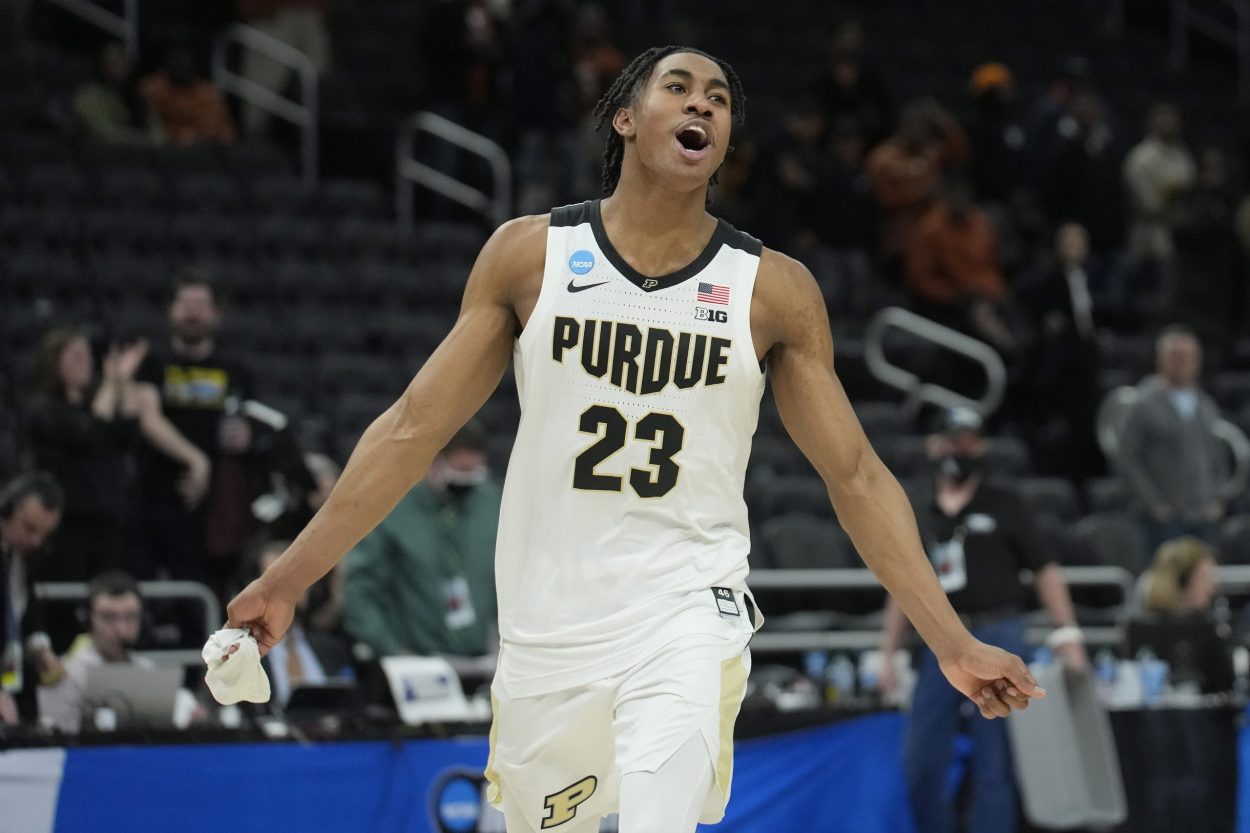 NCAA Tournament: Purdue's Jaden Ivey Might Be the Best Player in the 2022 NBA Draft Class
Purdue standout Jaden Ivey might not go No. 1 overall in the 2022 NBA Draft, but he could be the best player in the class.
The 2022 NCAA Men's Basketball Tournament is loaded with future NBA Draft prospects, many of which will play in the Sweet 16 on Thursday and Friday. Among them is Purdue Boilermakers star Jaden Ivey, who might end up as the best player in the class.
Ivey's second-year leap resulted in him making All-Big Ten First Team. He has the Boilermakers hoping to continue their March Madness run and capture their first men's basketball championship in school history.
But while Ivey's current focus is on leading Purdue past the upstart Saint Peter's Peacocks, he also has the opportunity to show NBA executives why he should be a top pick in the 2022 NBA Draft. The sophomore sensation might not be the No. 1 overall pick this summer, but he's shown why he could ultimately end up as the top player in the class.
Jaden Ivey has shown his year-over-year improvements in the NCAA Tournament
Ivey showed his upside as an athletic wonder in his freshman season at Purdue, though his inefficiency raised red flags.
The South Bend native averaged 11.1 points in his debut campaign. But he shot below 40% from the field and struggled to find his range from beyond the arc, making only 25.8% of his three-pointers on 4.2 attempts per contest.
However, Ivey has made tremendous gains as a three-level scorer. He displayed as much through the first two games of the NCAA Tournament.
In 35 games this season, Ivey is averaging 17.6 points on 46.4% shooting. He has made a much higher clip from deep, knocking down 36.4% of his triples on 4.9 attempts per contest and doing so in various fashions. The Boilermakers star is averaging 20 points through the first two games of the tourney on 50% shooting from deep.
Ivey has shown a greater comfort in shooting off the dribble, creating separation and elevating for clean looks. It makes him more dangerous as a scorer because of his slashing ability and finishing at the rim. He has looked more aggressive all season, averaging nearly six free-throw attempts for the season and 9.0 free-throw attempts in the NCAA Tournament.
Additionally, Ivey's playmaking chops have greatly improved. He is averaging 3.1 assists after averaging 1.9 dimes last season.
The increased production is notable. But the eye test is more critical. Ivey looks the part of a top prospect in the 2022 NBA Draft because of his dynamism and growing reads as a scorer and passer.
Ivey has a pro-ready body with an incredibly high ceiling
Physical attributes come into play when evaluating NBA Draft prospects. Jaden Ivey's size and athleticism jump off the page.
Ivey is a 6-foot-4, 200-pound combo guard with exceptional athleticism and leaping ability. He has the strength finish through contact in the paint and the explosiveness to blow past on-ball defenders. Those attributes prompted ESPN draft expert Mike Schmitz to compare the Boilermakers star to Ja Morant.
That said, athleticism only means so much. It's how a player uses those traits to find success. Fortunately, Ivey does that quite well.
Ivey's basketball IQ is vastly improved. In this NCAA Tournament alone, he has consistently made the right play, knowing when to attack the basket or kick to shooters.
The assist numbers don't reflect Ivey's value as a playmaker. He routinely found shooters during Purdue's second-round win over Texas. On one such play against the Longhorns, he got downhill off pick-and-roll and made a crisp, no-look feed to forward Caleb Furst, who was fouled on a dunk attempt. Ivey also used his speed in transition to create offensive opportunities for the Boilermakers.
There are improvements to be made, for sure.
Ivey doesn't always hit shooters in the pocket and can occasionally look out of control on dribble-drives to the bucket. However, he is already leaps and bounds better as a scorer and passer than last season. That matters in terms of projectability.
The No. 1 pick isn't always the best player
Just because Jaden Ivey might not go No. 1 overall in the 2022 NBA Draft does not mean he cannot be the best player in his class.
Auburn's Jabari Smith could hear his name called first despite an early NCAA Tournament exit. Gonzaga big man Chet Holmgren offers all sorts of enticing possibilities as a 7-footer who can handle the rock and shoot the three-ball at a terrific clip. Duke freshman Paolo Banchero remains firmly in the mix.
Still, Ivey could be better than them all.
Ivey has proven he can score efficiently at all three levels. He can pull up off the bounce and is a huge threat in pick-and-roll. His end-to-end speed makes him a nightmare in transition. Plus, an increasing understanding of how defenses approach him should serve to his benefit when he makes the jump to the NBA and likely spends minutes as a point guard. Although he's score-first, he's become a far more willing passer.
Tune in to watch the Purdue star for the remainder of the NCAA Tournament, pending Ivey and Purdue stay alive past the Sweet 16. You could be watching a perennial All-NBA talent in the making.
Stats courtesy of CBB Reference.