Sports
NCAA Tournament: Top 5 Players for the Sweet 16
The NCAA Tournament provides a grand stage for players — whether well-known or not — to shine under the brightest lights. During the opening weekend of this year's tournament, several players did just that, leading their teams to marquee victories. Whether it was a 31-point effort by Arkansas Little-Rock's Josh Hagins, another 31-point outburst by Yale's Makai Mason, or a 33-point performance by Stephen F. Austin's Thomas Walkup, names that we didn't know before are now forever etched in the annals of NCAA history.
While the aforementioned players were able to put together one memorable performance to score major upset wins for their teams, some of the best players in the country were brilliant in two games this past weekend, leading their clubs to the Sweet 16. Those are the players we focus on today, as we have our five players who could have the biggest impact on a potential Final Four berth among the remaining 16 schools.
5. Yogi Ferrell
Ferrell has been one of the most dynamic point guards in the country over the course of the last three seasons, averaging about 17 points and close to six assists per game in his senior season for the Indiana Hoosiers. With a chance to rise to the occasion during the first two rounds of the tournament, speedy Ferrell answered the bell as one of the most consistent performers of the weekend.
Against Chattanooga in round one, he went for 20 points and 10 assists while knocking down four threes in a dominating Hoosiers victory. Then, in one of the most anticipated matchups of the weekend against Kentucky, Ferrell went for 18 points and 4 assists, looking unstoppable on his drives to the basket with his blazing speed and leading Indiana to victory again. Now, with a chance to lead an underrated Indiana team to its first Final Four since 2002, Ferrell should excel against North Carolina on Friday.
4. Angel Rodriguez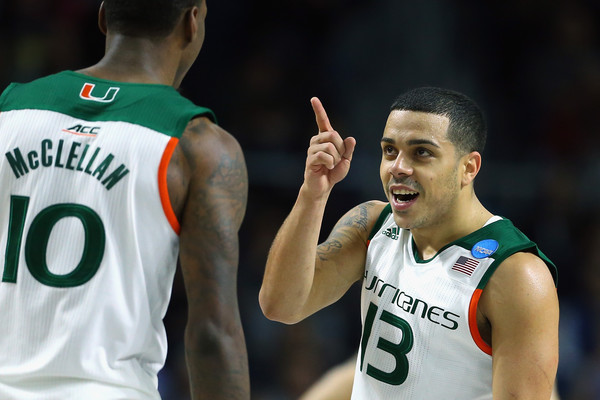 In the first two rounds of the tourney, few players played as well and meant as much to a team as Angel Rodriguez, the driving force behind only the third Sweet 16 appearance in the history of the Miami Hurricanes. Neither of the three-seeded Hurricanes' victories were of the blowout variety this past weekend, but Rodriguez ensured that they wouldn't fall victim to an upset.
In a seven-point win over Buffalo in round one, Rodriguez went for 24 points and four assists while hitting three three-pointers. Then, in a battle with a strong Wichita State team in round two, he was even better with 28 points, five assists, and another three from long range. Among all of his great statistics, Rodriguez managed to hit 16 of 19 free throws this weekend, which was as critical as anything in two close games.
He only averaged 12.6 points and 4.4 assists for Miami during the regular season, but it's clear that the senior is stepping way up for his team and trying to carry them to a Final Four berth for the first time in school history. Villanova awaits in the Sweet 16.
3. Domantas Sabonis
One of the strangest "Cinderellas" in the history of the tournament, 11-seed Gonzaga is on a roll as they enter the Sweet 16 for the second straight season. The Bulldogs are possibly the best team in the tournament to this point, earning two blowout victories over six-seed Seton Hall in round one and three-seed Utah in round two. Their best player in those two games was the nearly 7-foot-tall Domantas Sabonis, whose size, skill, and fiery passion has been a critical factor in Gonzaga's hot play.
Against Seton Hall, Sabonis went for 20 points and 16 rebounds (his 21st double-double of the season). He was equally as dominant against the Utes, going for 19 points and 10 rebounds in yet another double-double performance. He's only a sophomore, but Sabonis is playing like a seasoned vet with the attention of the nation on him. If he keeps up his strong play, the Bulldogs could continue their unexpected run and reach their first ever Final Four. A date with another double-digit seed in Syracuse looms in the Sweet 16.
2. Georges Niang
Georges Niang is the beloved senior star for the Iowa State Cyclones and he's played like it's his last season in college all season long. He averaged 20.2 points and 6.2 rebounds per game during the regular season for the Cyclones. While he was great during the regular campaign, Niang has been even better in the tournament. He went for 28 points in each of two double-digit victories against Iona and Arkansas-Little Rock for Iowa State over the weekend — and collected six rebounds in each effort as well.
That makes Niang one of the highest-scoring players in the entire tournament to this point. The Cyclones earned one of the "easiest" paths to the Sweet 16 and the competition will get much tougher when they meet Virginia on Friday. However, with Niang motivated to put together the first Final Four run in school history in his final campaign, they could surprise everybody and make it to Houston.
1. Buddy Hield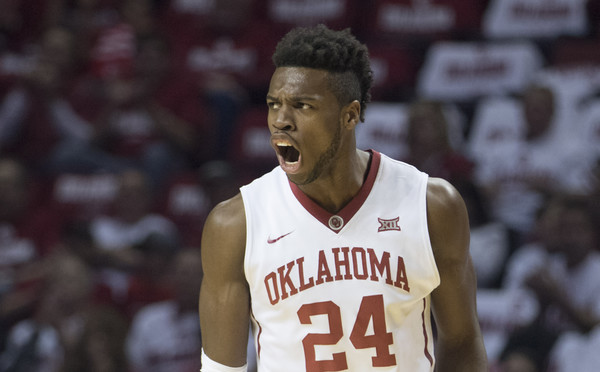 Thought you'd see someone else here? Well, there's really nobody else to put here. Buddy Hield is the best in the game right now, and he's the most important piece to Oklahoma's second consecutive Sweet 16 appearance. After averaging 25.4 points per game in the regular season, the senior has exploded in the tournament to this point with a 27-point performance against Cal State-Bakersfield in round one and a 36-point outburst in round two against VCU.
He makes Oklahoma a favorite to reach the Final Four — even as a two-seed — and should continue to excel as the lights get brighter in the Sweet 16 against Texas A&M. There's no way the Sooners would be where they are without the likely Wooden Award winner.
Statistics courtesy of ESPN.com and SR/College Basketball.