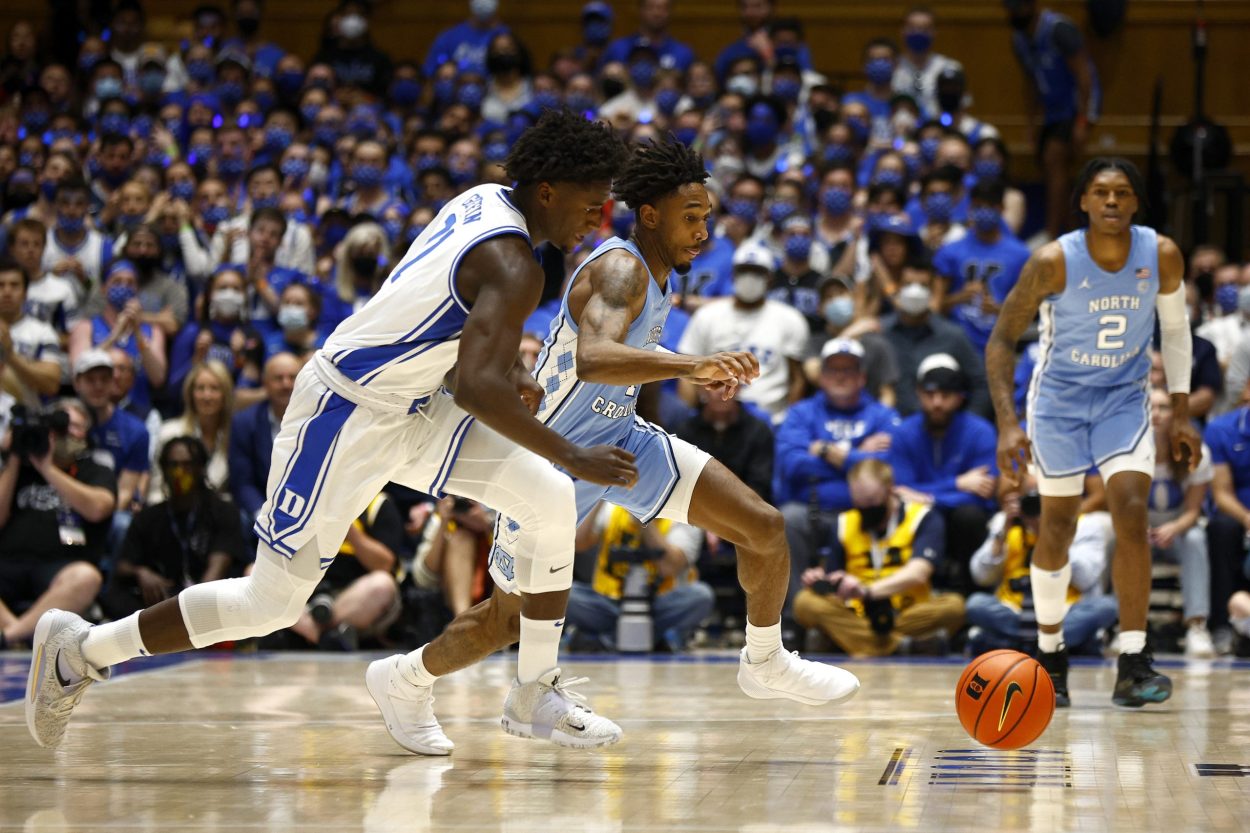 NCAA Tournament: Breaking Down the X-Factors for Historic Duke-UNC Final Four Matchup
Duke and North Carolina are set to write the next chapter in an epic rivalry. Who are the X-factors for their Final Four clash?
Today marks the next thrilling iteration of the rivalry between the Duke Blue Devils and North Carolina Tar Heels as the two storied programs meet in the Final Four of the 2022 NCAA Men's Basketball Tournament. The stakes have never been higher.
Mike Krzyzewski is coaching the final games in his legendary career, though he wants the focus to remain on his players. North Carolina's Hubert Davis is bidding to become the second rookie head coach to win a national title and the first to do so from wire to wire — former Michigan Wolverines head coach Steve Fisher won a championship in 1989, but he only took over before that NCAA Tournament began.
Oh, and this is the very first time the ACC stalwarts have met in March Madness.
With so much on the line, both teams will need unsung heroes to make plays and exude a sense of calm under the weight of enormous pressure. Here are the X-Factors for the highly-anticipated Final Four clash between Duke and North Carolina.
North Carolina X-Factor: G/F Leaky Black
I bet you didn't see this one coming.
Yes, UNC relies heavily on Armando Bacot to control the boards and set the tone inside, with guards RJ Davis and Caleb Love supplying perimeter scoring and playmaking. Oklahoma transfer Brady Manek has been an enormous addition to this Tar Heels squad and has consistently provided them with outside shooting and tenacity throughout the NCAA Tournament.
Still, Black figures to be a significant difference-maker for North Carolina as it attempts to stifle Duke's dribble penetration.
The senior wing made the ACC All-Defensive team, and for good reason. Black has the size and length to guard multiple positions and get up into the body of ball-handlers. He moves incredibly well laterally and rarely gives ground on straight-line drives. Black made life a living hell for Saint Peter's guard and NCAA Tournament darling Doug Edert in the East Regional final, as Edert missed all five of his shot attempts.
Isolation ball doesn't work against Black, and he does a great job denying off the ball and running around screens. North Carolina must maximize his talents as an on-ball defender and give him possessions against all of Duke's guards.
The Blue Devils are at their best when they can get into the paint and collapse the defense, leading to open perimeter jumpers or rim runs for center Mark Williams. But if Black can help control the dribble-drive game, he'll force the Blue Devils to run elongated offensive sets and likely settle for more challenging shots later in the clock. He can also play a role in limiting Paolo Banchero's and AJ Griffin's touches.
While the Concord, NC native doesn't score the ball all that often, he runs the break in transition and can assume some ball-handling responsibilities from time to time. Black is also a somewhat proficient playmaker. He's tallied at least five assists in three of UNC's four NCAA Tournament games. The Tar Heels will need Black to make an impact on both ends.
Davis might have been another choice here because of his offensive struggles in the past couple of games. However, UNC needs stops to beat Duke. Black's presence looms large in helping them lock up.
Duke X-Factor: G Jeremy Roach
What? Not Banchero or Griffin, widely projected to be among two of the top five or six players taken in the 2022 NBA Draft?
Nope. Roach is Duke's X-Factor.
Roach has been a revelation for the Blue Devils since Mike Krzyzewski inserted him into the starting lineup ahead of the NCAA Tournament. He's been in attack mode throughout the tournament, beating on-ball defenders off the dribble and challenging opposing bigs at the rim while also showing greater comfort shooting off the dribble.
The Leesburg, VA native can occasionally get out of control. He has nine turnovers in the past two games. That said, Roach's slashing ability and pace make him an imperative figure, particularly with Bacot and Manek wearing Williams down and Banchero likely having his hands full with Black and others.
Consider this: Roach scored 15 points on 5-of-6 shooting in Duke's loss to North Carolina at the end of the regular season, and he didn't start the game. If he brings the Blue Devils that energy and scoring punch from the jump, they become much more difficult to guard.
Moreover, Roach needs to keep RJ Davis off the board. The UNC guard has been atrocious as a scorer — save for his 30-point outing against Baylor in the second round — but he's a guy who can get hot in a hurry and still poses a danger with his speed and playmaking. Duke cannot afford to let him get loose, such as he did during the regular-season finale against the Blue Devils when he scored 21 points.
Williams was Duke's difference-maker in the Elite Eight. But the Blue Devils need their guards to keep setting the tempo and causing havoc by getting into the lane. That's especially true for Roach.
Other trends to watch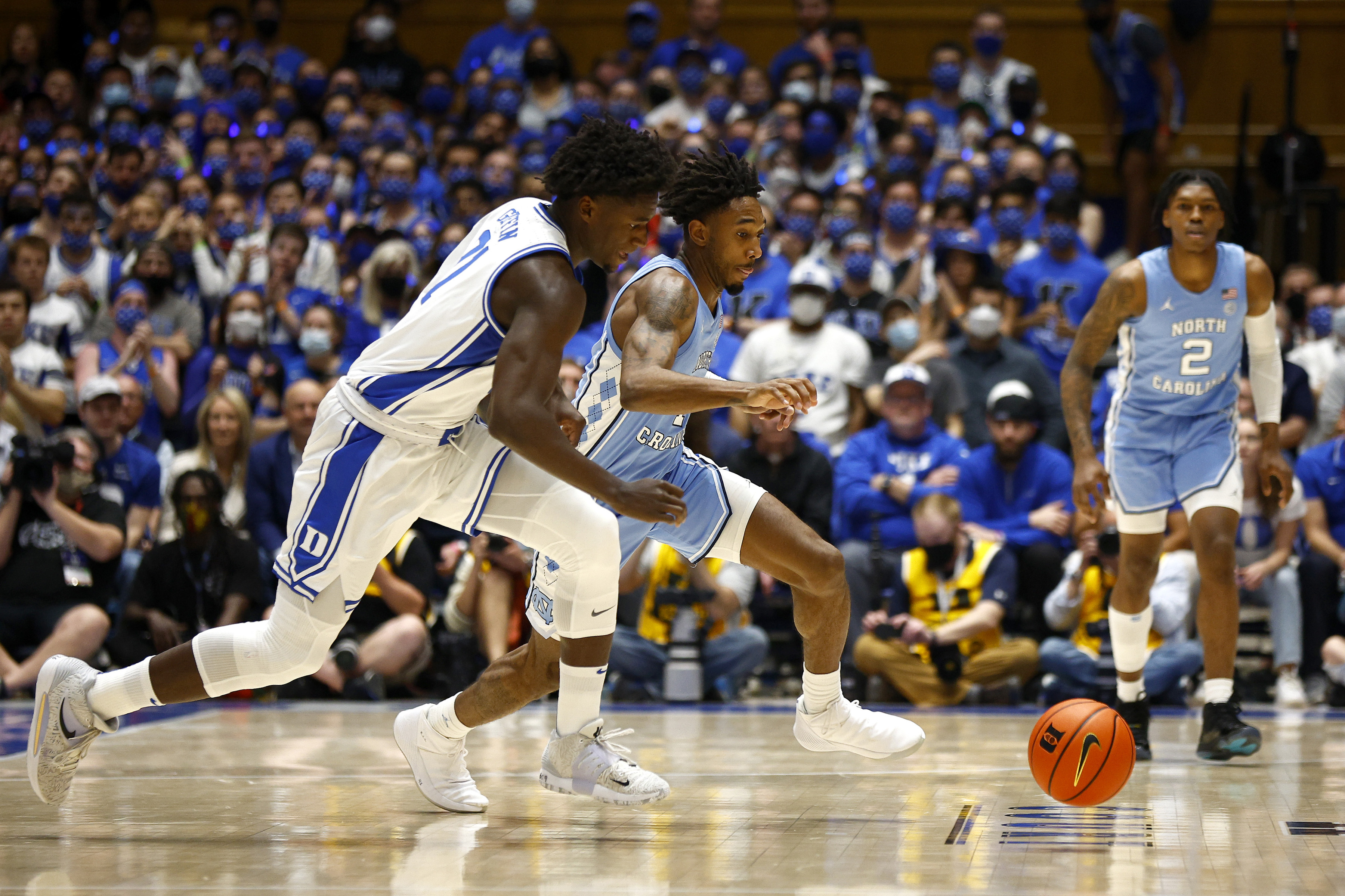 Some other trends to watch for during the Duke-North Carolina Final Four tilt:
Mark Williams and Armando Bacot battling for paint supremacy.
Foul game: Blue Devils have been lights-out at the charity stripe; Bacot has struggled at the line in the NCAA Tournament.
Will the Tar Heels make someone other than Banchero beat them late in the game?
Early stops and turnovers are key for both squads. These are two of the more high-powered offensive teams in the country.
The only thing left to do now is watch it all unfold!
Stats courtesy of CBB Reference.