NCAA Tournament: Your Cheat Sheet to the 2015 Final Four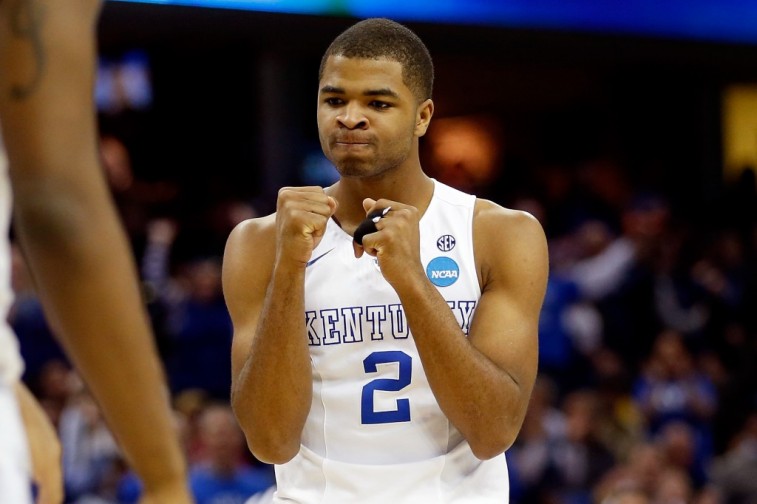 And then there were four.
We're nearing the end of the 2015 NCAA Tournament, and we don't want the madness to end. This year's tourney has been nothing short of spectacular. However, all good things must come to an end. And if this final weekend lives up to the hype, we could be in store for an incredible conclusion to an already phenomenal Big Dance.
The stage is set in Indianapolis, and the remaining teams include some big names. In case you weren't already familiar with these talented programs, we've got you covered. Here's your Cheat Sheet to the 2015 Final Four.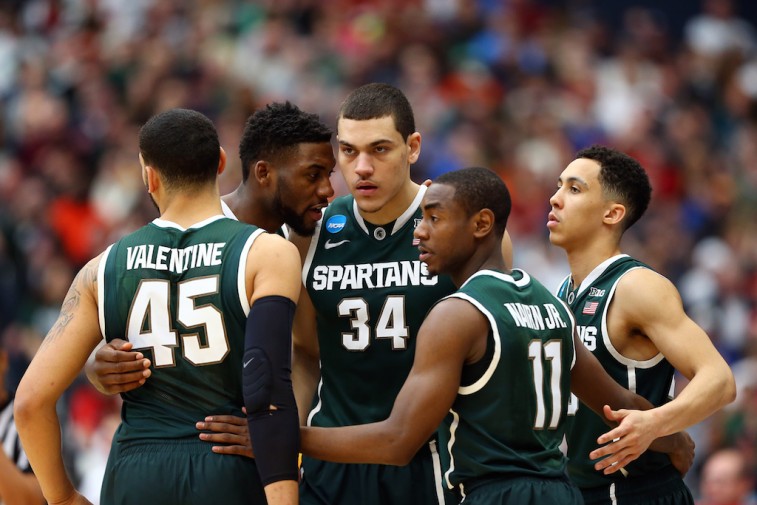 1. (7) Michigan State Spartans, East Region
Record: 27-11
Head Coach: Tom Izzo
Road to the Final Four: (10) Georgia, (2) Virginia, (3) Oklahoma, (4) Louisville
Key Players: Travis Trice (SR guard), Denzel Valentine (JR guard)
Key Stats: 9.62 strength of schedule (9th of 351), 636 assists (2nd of 351)
Final Four Appearances: 8
Michigan State is the only team in the 2015 Final Four that isn't a No.1 seed, but they are far from a Cinderella story. Coach Tom Izzo is making his 7th trip to the Final Four and he has the No. 7 seed Spartans playing their best ball all season. Coming out of the East Region, Michigan State has advanced to the final weekend of the tourney because they continue to play gritty, tough, and unselfish ball. They make the extra pass and continue to knock down big shots. This is a team that won't be intimidated.
Senior guard Travis Trice is not only the team leader, but he's been the leading scorer for Michigan State all season, averaging 15.3 points per game. But he isn't the only guard stepping up for the Spartans. They've gotten equally impressive play from junior Denzel Valentine. With great guard play setting the tone, the Spartans have been able to play at a pace that is most conducive to their success. You can call them the underdog or the dark horse of the Final Four, but Michigan State will not only embrace that role, they'll use it to their advantage. Don't for one second sleep on the Spartans.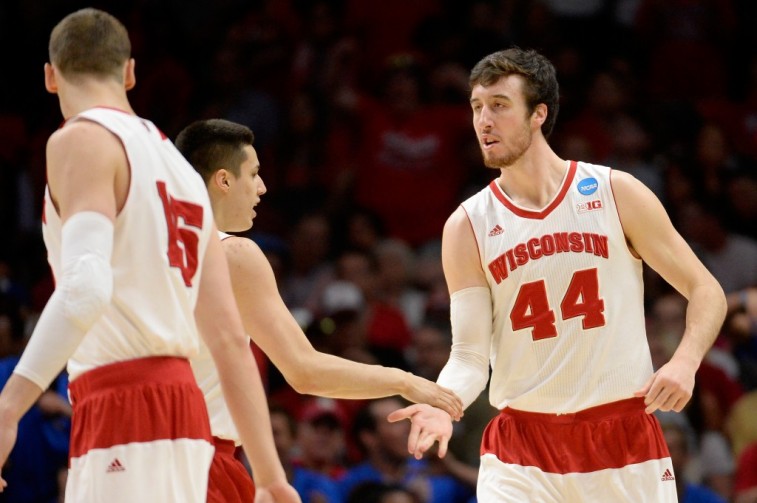 2. (1) Wisconsin Badgers, West Region
Record: 35-3
Head Coach: Bo Ryan
Road to the Final Four: (16) Coastal Carolina, (8) Oregon, (4) North Carolina, (2) Arizona
Key Players: Sam Dekker (JR forward), Frank Kaminsky (SR center)
Key Stats: 121.5 offensive rating (1st of 351)
Final Four Appearances: 3
The No. 1-seeded Wisconsin Badgers continue to make opponents pay with their incredibly efficient offense. They move well without the ball, make great cuts to the basket, and hit big shots when necessary. Bo Ryan has the Badgers playing as well as any team in the country. Their path to the Final Four was paved with difficult opponents, including heavyweights such as North Carolina and Arizona. But none of these teams had an answer for the Badgers beautifully run offense.
Wisconsin has gotten to this point on the backs of superstars Sam Dekker and Frank Kaminsky. These two upperclassmen are dominating from the offensive end — just ask the Arizona Wildcats. In the West Regional Final, Dekker finished with 27 points and Kaminsky tacked on 29 of his own. With these guys leading the way, the Badgers have a shot at playing the ultimate spoiler. For the second straight season, Wisconsin will meet Kentucky in the last four. If they maintain their dominance on the offensive end of the floor, perhaps this year's meeting will end with a different result.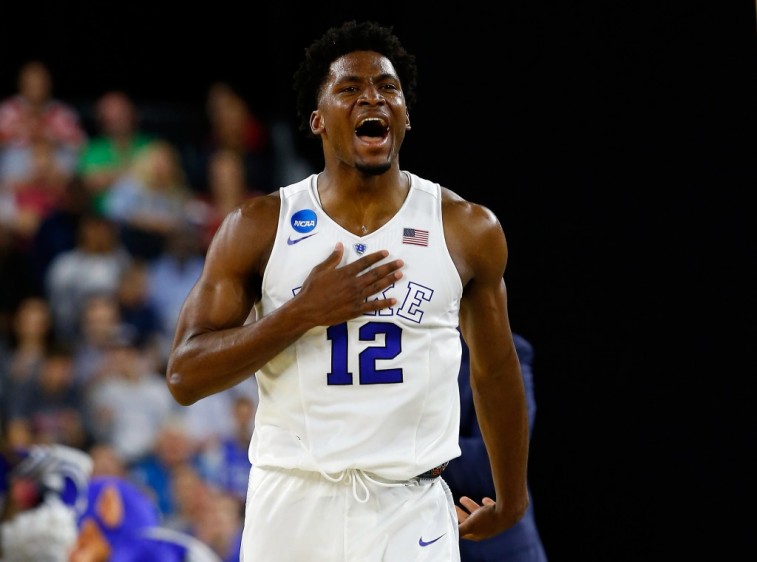 3. (1) Duke Blue Devils, South Region
Record: 33-4
Head Coach: Mike Krzyzewski
Road to the Final Four: (16) Robert Morris, (8) San Diego State, (5) Utah, (2) Gonzaga
Key Players: Tyus Jones (FR guard), Justice Winslow (FR forward), Jahlil Okafor (FR center)
Key Stats: 79.5 PPG (5th of 351), 119.6 offensive rating (4th of 351)
Final Four Appearances: 15
This is the youngest group that Mike Krzyzewski has ever taken to the Final Four, but they certainly don't play like it. These Duke Blue Devils are smart, talented, and composed. Everyone knew they could put the ball in the bucket, but it's their defense that has been criticized for much of the season. However, they've tightened up and are no longer vulnerable on that end of the floor. Just look at what they did to a lethal Gonzaga team by limiting them to 52 points in the South Regional Final. That was not a fluke. This team is for real. And it all starts with their amazing crop of freshmen.
Jahlil Okafor is the stud center who gets all the attention. He's unbelievable in the post and his offensive repertoire on the block is unrivaled. He deserves all the praise that comes his way. But it's the other two freshman who have become the driving forces behind this Blue Devils push. Point guard Tyus Jones does not get flustered, and plays his best on the biggest stage. His had 15 points in the Regional Final and earned MVP honors. Then there is forward Justice Winslow, whose athleticism, strength, and ability to get to the rim has made Duke extremely difficult to pin down. He is the ultimate X factor and manages to make the play when Duke needs it. This squad may be young, but they've thrived under senior guard Quinn Cook's leadership. He is the glue that holds the team together. Coach K, who has now made it to the Final Four 12 times over his NCAA career, has a formidable bunch with this year's team. They certainly have what it takes to cut down the nets at the end.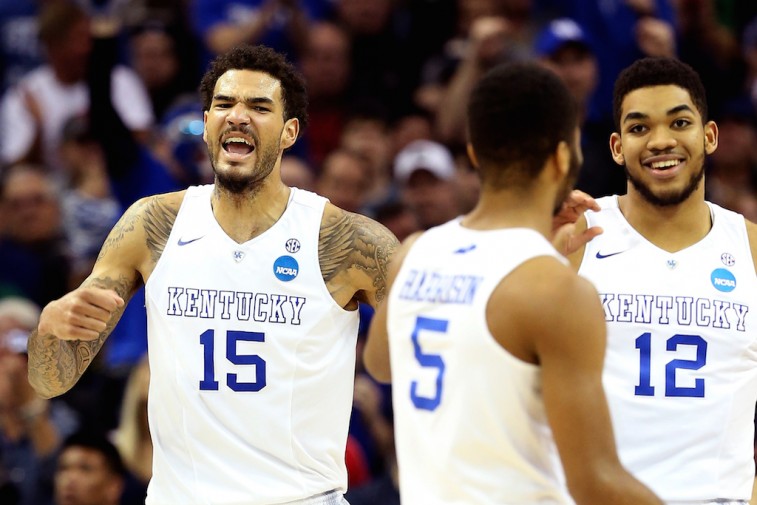 4. (1) Kentucky Wildcats, Midwest Region
Record: 38-0
Head Coach: John Calipari
Road to the Final Four: (16) Hampton, (8) Cincinnati, (5) West Virginia, (3) Notre Dame
Key Players: Willie Cauley-Stein (JR forward), Karl-Anthony Towns (FR forward)
Key Stats: 83.5 defensive rating (1st of 351), 53.9 opponents PPG (3rd of 351)
Final Four Appearances: 16
The Kentucky Wildcats are chasing history. Although they have been tested, the 2014-15 Wildcats enter the Final Four with a remarkable 38-0 record and are striving for perfection. Where they have dominated teams is on the defensive side of the ball. John Calipari's group is big and long and intimidating. They are a squad of superstars who have meshed into one ferociously dominant force. If they are at the their best, then they're pretty much unbeatable.
The Wildcats are led by bigs Willie Cauley-Stein and Karl-Anthony Towns. With these two manning the paint, it's extremely difficult for opposing teams to run an effective offense. Besides these two giants, Kentucky has the luxury of being one of the deepest teams in the country. They can sub five guys at a time and not miss a beat. If you're looking to take down the Wildcats, then you better play the perfect game. However, even when that happens, there is a very good chance that it won't be enough. The Kentucky Wildcats aren't just trying to capture a National Championship, they're looking to cement their place in history. It should be exciting to see if they can pull it off.
All statistics are courtesy of SR/College Basketball, kenpom.com, and ESPN.go.com.