NCAA Football: 10 Potential Breakout Players in 2015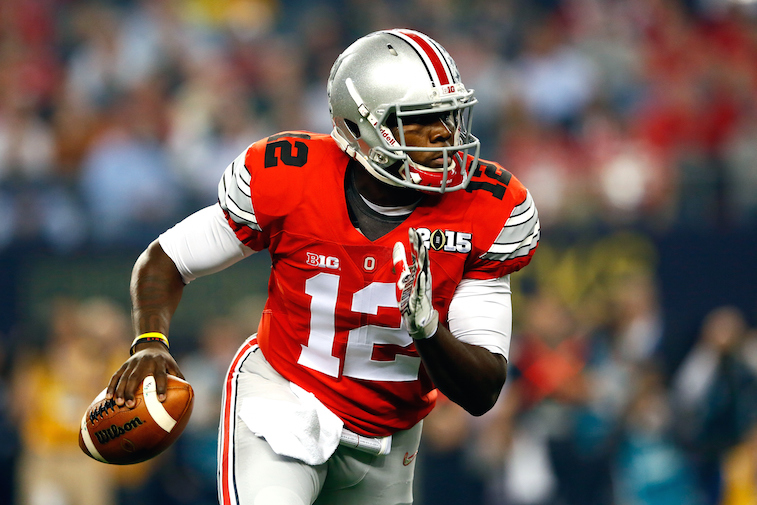 Football is in the air. We are now at the midway point in July, which means that training camps for the major college football teams around the country are less than a month away. The oddsmakers in Las Vegas have released their initial national championship and Heisman Trophy odds, and while that is definitely interesting stuff, we are going to use this article to focus on players who appear to be primed for potential breakout seasons in 2015.
Every year there are multiple players who fit the bill of breakout star. In 2014, there were Ohio State quarterbacks J.T. Barrett and Cardale Jones (pictured above), Arizona linebacker Scooby Wright III, Georgia running back Nick Chubb, and Oklahoma running back Samaje Perine. In 2013, we saw Florida State quarterback Jameis Winston and Ohio State defensive end Joey Bosa take the college football world by storm, and in 2012, we saw Texas A&M quarterback Johnny Manziel become the first freshman in college football history to win the Heisman Trophy. We know that we skipped a few other players who were also great examples of past breakout players, but we just wanted to give you an idea of the type of impact that we think the players who made our list can have in 2015.
Our list of potential breakout players includes only players who have spent at least one year on a college campus and have shown signs that they can be impact players at the college level. Without further delay, here is a look at 10 potential breakout players for the 2015 college football season.
1.  Jeremy Johnson, Quarterback, Auburn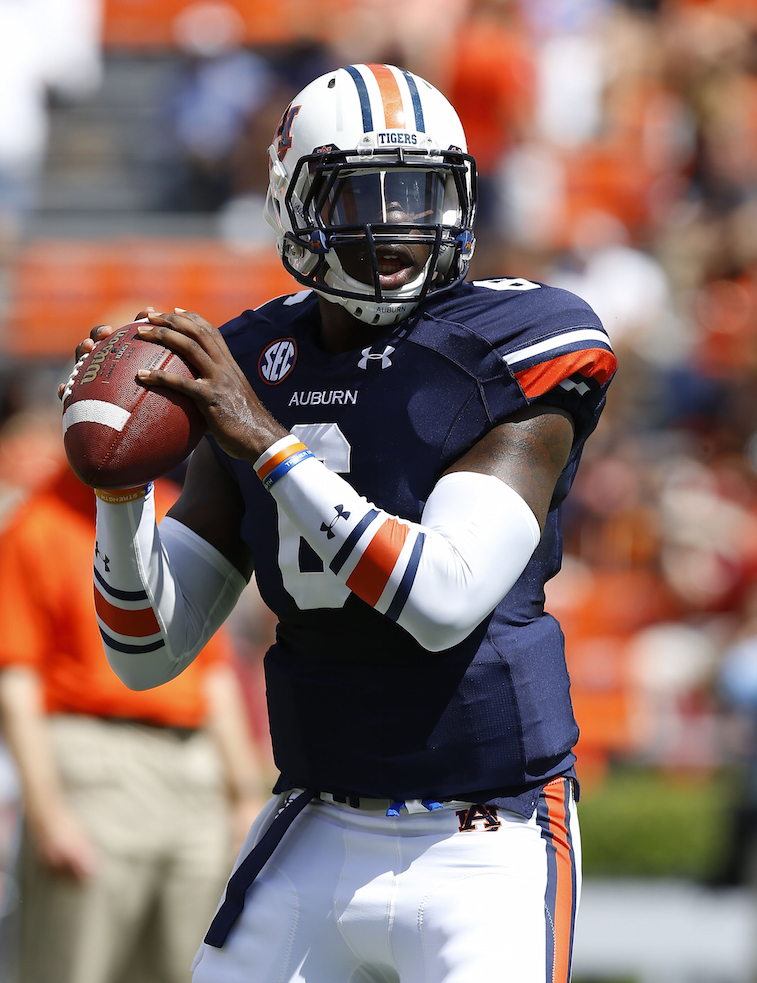 Johnson (pictured above) has made one start and played minimally during his two years at Auburn, but the 6-foot-5, 230-pound signal caller has shown enough during that time to be considered a dark horse Heisman Trophy candidate by several media outlets. Johnson is an above average athlete, but does not have the mobility of his predecessor Nick Marshall. He is, however, a better passer and has had two years to master Gus Malzahn's high-powered offense, which is known for producing eye-popping quarterback statistics. Count us among those who believe Johnson will not only be a household name in the very near future, but that he will also have the Auburn Tigers in College Football Playoff contention by the time October comes around.
2.  Raekwon McMillan, Linebacker, Ohio State
McMillan looked like a budding star in his role as a backup on Ohio State's national championship team in 2014. His transition into a full-time starting role in 2015 will be made much easier by the fact that he will be playing on a defense loaded with experienced players and All-American candidates. This is a guy who could very well be the next great linebacker at The Ohio State University.
3.  Leonard Fournette, Running Back, LSU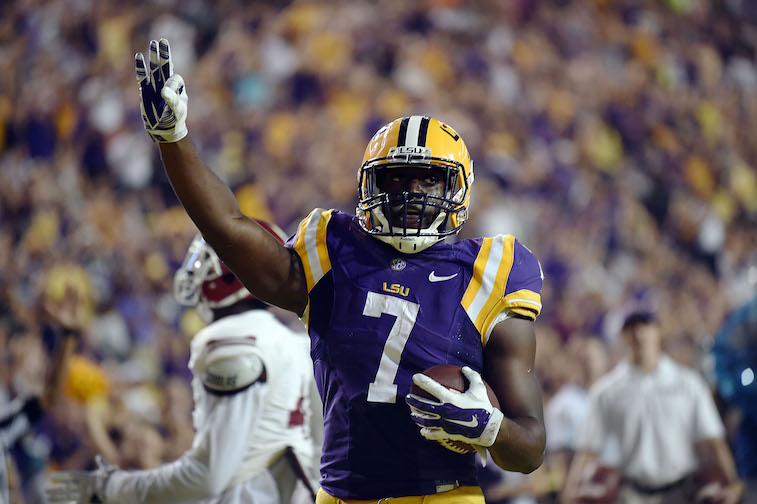 If you follow college football, then you probably know who Leonard Fournette (pictured above) is. If you don't know who he is, you're about to. During his freshman season at LSU, the 6-foot-1, 230-pounder ran for 1,034 yard and 10 touchdowns, while sharing carries with three other running backs, and also proved to be an explosive kickoff returner. Fournette may be the most talented pure running back in the country, and we feel like he should be considered a legitimate threat to win the 2015 Heisman Trophy.
4.  Mason Rudolph, Quarterback, Oklahoma State
Rudolph saw time in three games as a freshman in 2014, and the 6-foot-4 gunslinger played well enough to have us convinced that he is on track to be the next great quarterback to play under Mike Gundy at Oklahoma State. After watching Rudolph lead the Cowboys to wins over Oklahoma and Washington to close out the season, we feel like Rudolph has the talent to potentially challenge TCU's Trevone Boykin for All-Big 12 honors in 2015.
5.  Myles Garrett, Defensive End, Texas A&M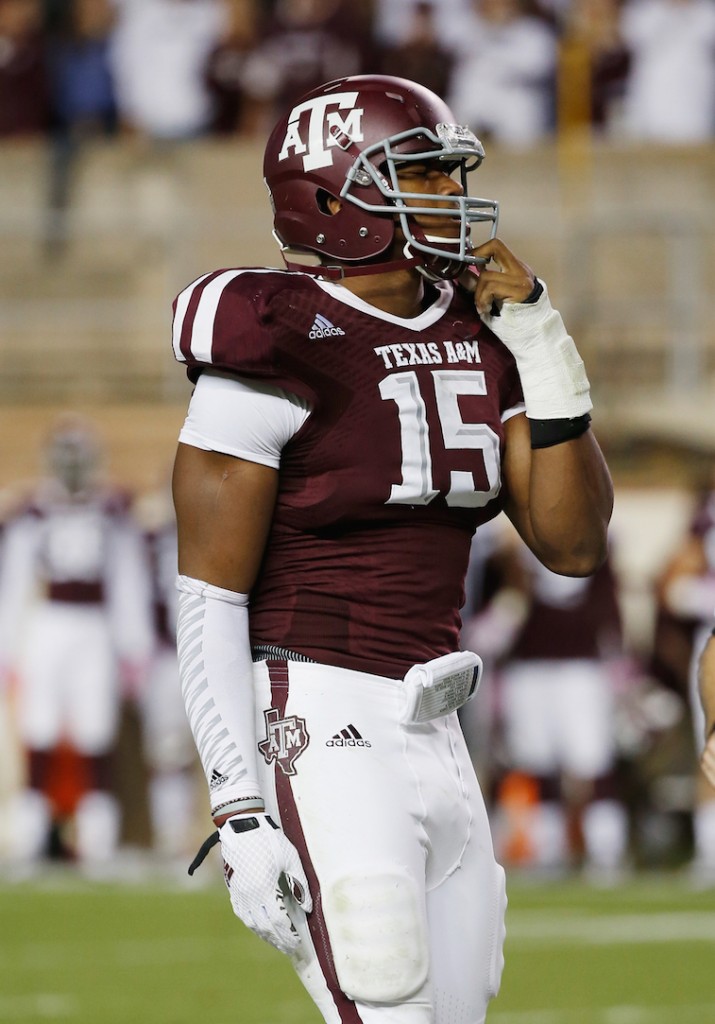 One could argue that Garrett (pictured above), who is one of the most freakishly athletic players to ever play college football, doesn't really qualify as a potential breakout player. However, we strongly feel that there are huge things in store for Garrett in 2015. The 6-foot-4, 260-pound defensive end consistently runs the 40-yard dash in the under 4.5 seconds, and is nearly impossible to block in one-on-one pass rush situations. He set an SEC freshman record with 11 sacks in 2014, and we believe he could come close to doubling that total in 2015. It's safe to say that Garrett will be one of the most-widely discussed players in the country by season's end. Furthermore, it wouldn't surprise us at all if he is the No. 1 overall pick in the 2017 NFL Draft.
6.  JuJu Smith, Wide Receiver, USC
Expectations are high for USC in 2015. Quarterback Cody Kessler, a 2015 Heisman Trophy candidate, chose to return for his senior season and Smith will likely be his top target after Nelson Agholor moved on to the NFL. Smith looked like a blossoming star at times during his freshman season in 2014 catching 54 passes for 724 yards and five touchdowns. In 2015, we are anticipating much higher numbers for 6-foot-2 wideout.
7.  Christian McCaffrey, Running Back, Stanford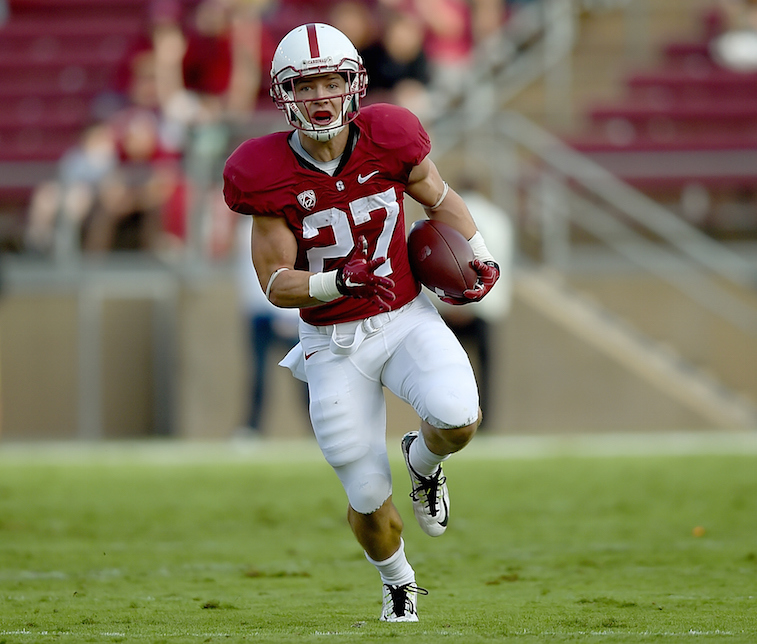 McCaffrey, who is the son of former NFL wide receiver Ed McCaffrey, can do a little bit of everything on the offensive side of the ball. In 2015, he will likely step into a role as Stanford's No. 1 running back, and we anticipate a huge season out of the 6-foot, 197-pounder. Don't be surprised if McCaffrey has a stat line that consists of over 1,000 yards rushing, 500 yards receiving, double digit touchdowns, and several long punt and kickoff returns by the end of the season.
8.  Adoree Jackson, Cornerback/Wide Receiver, USC
Jackson proved to be one of the most explosive players in the country as a freshman in 2014. The Trojans will again have a difficult time keeping 5-foot-11, 185-pounder off the field in 2015, as Jackson is expected to have a role as a cornerback, wide receiver, kick returner, and punt returner in 2015. If Jackson continues to be a big play machine, he could play his way into the 2015 Heisman Trophy discussion.
9.  Charles Nelson, Defensive Back/Wide Receiver, Oregon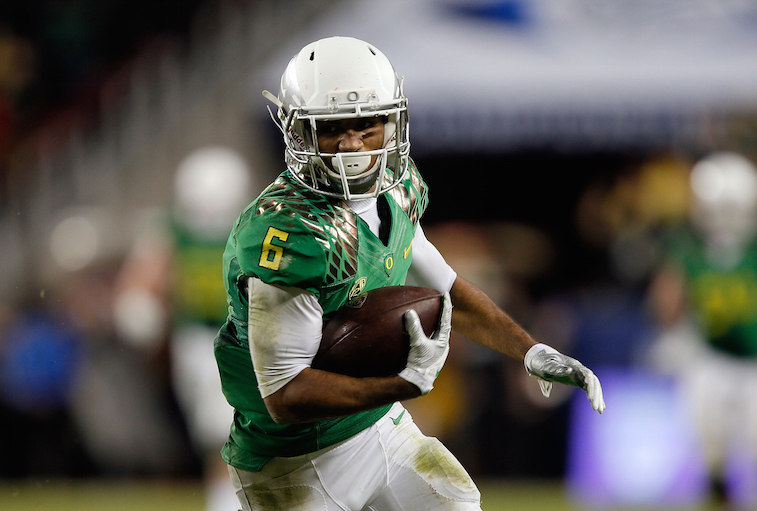 Nelson (pictured above) may have a diminutive frame at 5-foot-8, and 170 pounds, but that hasn't stopped him from turning into one of the best playmakers in the Pac-12. Like Adoree Jackson at USC, Nelson could end up playing both offense and defense, in addition to every special team, in 2015. No matter where the Ducks line Nelson up, the Florida-native is a highlight waiting to happen.
10.  Carl Lawson, Defensive End, Auburn
Lawson has the ability to thrive in new defensive coordinator Will Muschamp's scheme, assuming the 6-foot-2, 258-pounder is fully recovered from the ACL injury that caused him to miss the entire 2014 season. If incoming freshman Byron Cowart proves to be the real deal, he could combine with Lawson to give Auburn one of the top pass-rush duos in the country. Lawson himself flashed signs of brilliance as a freshman back in 2013, and we envision him having an All-SEC type of season in 2015.
All statistics courtesy of Sports-Reference.