NCAAF: Should Lane Kiffin Be So Quick to Leave Alabama?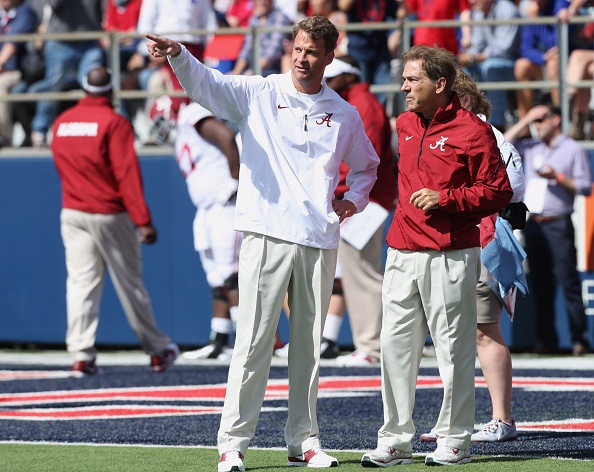 While most people were confused by the hiring, Nick Saban knew what he was doing when he made Lane Kiffin his offensive coordinator at the beginning of the 2014 season. The Alabama Crimson Tide had found itself with a stagnant offense, and it was time to change things up.
Enter Kiffin, a brilliant football mind with a big ego and plenty of personal baggage, who merely needed to get out of his own way. This was his chance at a fresh start. And he certainly made the most of it.
Kiffin installed a fast-paced, uptempo offensive and completely transformed the Crimson Tide. He took an unproven senior quarterback in Blake Sims and helped him evolve and grow into the position. By the end of the year, Sims had racked up 3,487 passing yards and 28 touchdowns.
This was no longer an Alabama offense ruled by a brute running game, but one that moved quickly and took advantage of mismatches. That's what you're supposed to do when you have a guy like Amari Cooper at wide receiver — you find ways to get your playmakers the ball. Kiffin understood this. Kiffin did this. And Alabama was successful.
But the thing about success is that with it comes opportunity. And this is the position that Kiffin finds himself in, as the NFL appears to be knocking at his door. Should he be so quick to answer it?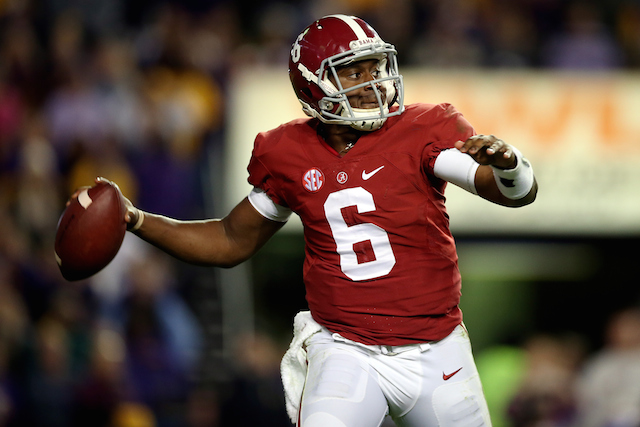 ESPN NFL Insider Adam Schefter reports that Kiffin is a frontrunner for the San Francisco 49ers' vacant offensive coordinator position. This could be a great career move for Kiffin. Not only is he a West Coast lifer, but it gives him the opportunity to get back to the NFL. As an ambitious coach with aspirations to succeed at the professional level, this would be a great step on the path to redemption. Not to mention that Kiffin could show how far he's come since his failed stint as head coach of the Oakland Raiders. But perhaps there is still more to room for growth at Alabama.
Kiffin has a tendency to leave jobs before he really settles in. Who remembers when he bolted Tennessee for the USC position? The answer: everyone. This would be a great chance for Kiffin to continue to learn under Saban; these two could achieve great things together. In his first year as Alabama's offensive coordinator, Kiffin turned the Crimson Tide into a dynamic offensive team. Alabama averaged 36.9 points per contest and almost 485 yards of total offense. And these weren't even Kiffin's guys. Imagine what he could do with the recruits he brings in.
Alabama came up just short this season, losing in the Sugar Bowl to the eventual national champion, the Ohio State Buckeyes. Kiffin has to feel like he's still got some unfinished business left. Right? Or perhaps he misses being able to talk to the media, which is against the rules for assistants under Saban. There's also something to be said for not having to recruit and getting to work with the best possible talent. Only Kiffin knows where his head is at — that's why this is so intriguing.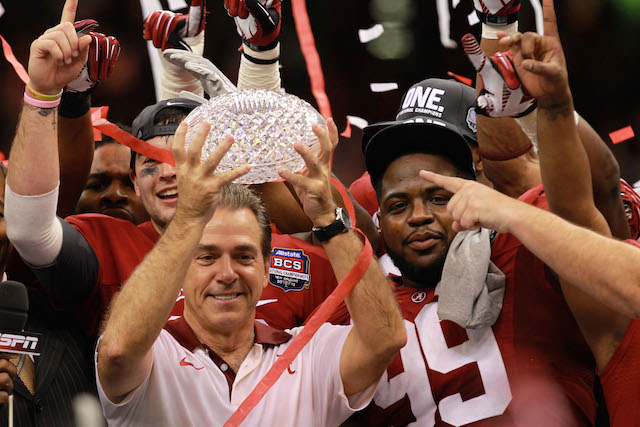 Many people feel that the Crimson Tide football program is as close to a professional organization as you'll find in college. Alabama always gets the top recruits, the team plays with emotion and physicality, and it always competes for national championships. Not to mention, that the Tide is led by possibly the greatest college coach of all time. This is a fabulous place for Kiffin to learn, grow, and prepare himself for the next step. However, that next step could be in the Bay Area.
The fact is that Kiffin is too smart and talented to stick around Tuscaloosa forever. He is going to get his shot somewhere. We're a little surprised it may be happening so quickly, but then again, that's football. Perhaps Kiffin believes he's gotten all he can out of his time at Alabama. He's soaked up enough of that Saban knowledge, and he's ready for the NFL. Or maybe, for now, Alabama is exactly where he needs to be.
All we're saying is: What's the rush?