NCAAM: Can Kentucky Really Go Undefeated?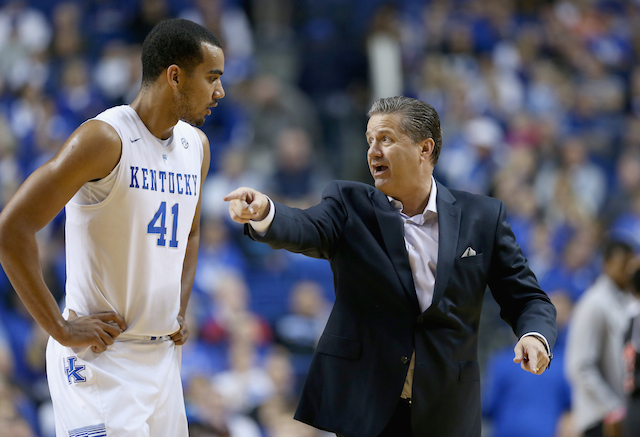 In the era of one-and-done Division-I college basketball, developing continuity and chemistry can be seemingly impossible. University of Kentucky head basketball coach John Calipari has turned the Wildcats into a pipeline for NBA talent by signing recruiting classes full of big-time prospects that only intend to be in Lexington for one season. After all, why wouldn't the best high school basketball prospects in the country want to play for Calipari, who has had at least one player selected as a lottery pick in the NBA Draft every year since he took the Kentucky job in 2009?
While several coaches across the country have made the decision to not sign players who plan to jump to the NBA after one season, Calipari has defied the critics of the NCAA's one-and-done rule and taken collections of teenage phenoms and developed them into NCAA Tournament contenders on a yearly basis. During his stint at Kentucky, he has reached the NCAA Tournament Final Four three times in five seasons, reached the championship game twice, and won the 2011-2012 National Championship. As impressive as that is, his 2014-2015 Kentucky Wildcats team may be the best of the bunch.
With arguably the deepest team in NCAA basketball history, Kentucky is currently the unanimous selection as the top-ranked team in the country with a 22-0 record. With nine games remaining on their regular season schedule, the Wildcats have an excellent chance at heading into the SEC conference tournament with an undefeated 31-0 record. In fact, given the dominant nature of most of Kentucky's wins, it would be mildly shocking if they lost a game anytime between now and the start of the NCAA Tournament in mid-march. The real question, though, is not whether or not the Wildcats can enter the Big Dance with a perfect record – Wichita State accomplished that a year ago – but more so, will they be able to complete the first perfect college basketball season since 1975-1976 when the Indiana Hoosiers pulled off the improbable feat.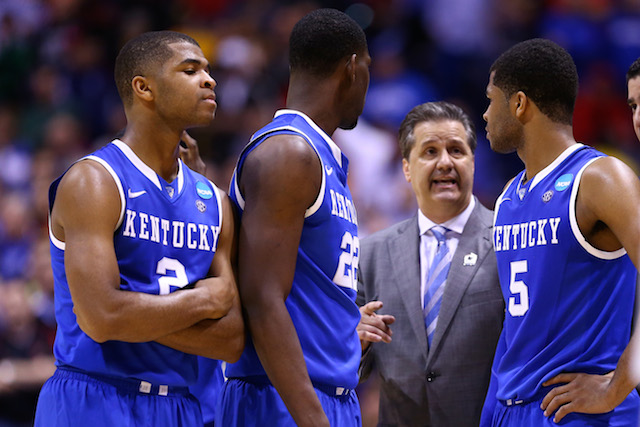 Before the first tipoff of the season, the odds on Kentucky having a perfect season were 50-1. The odds of an undefeated season have steadily increased with every Wildcats win, but historical data would continue to suggest that a perfect season is still a bit of a long shot for Calipari's team. With that being said, Vegas has Kentucky as heavy favorites be cutting down the nets in Indianapolis on April 6; for those interested in betting on the Wildcats, you would have to wager $110 to win $100.
With the way in which the 2014-2015 Wildcats have been dismantling every opponent they've faced, it's beginning to look like a perfect season is becoming a very real possibility. Kentucky already has a 32-point win over eighth-ranked Kansas, a 12-point win over 25th-ranked Texas, a 14-point win over 12th-ranked North Carolina, and an 8-point win over ninth-ranked Louisville on their resume. With each of those opponents being locks for the NCAA Tournament in March, it's safe to say that the sports books who offered 50-1 odds on an undefeated season for Kentucky should be starting to sweat.