Nearly a Year After 'Cowards' Sent Him Death Threats, Marquez Valdes-Scantling Has a Perfect Opportunity to Win Back Packers Fans' Love
UPDATE: Well, it turns out the Green Bay Packers won't be activating Marquez Valdes-Scantling after all. Below is what we originally wrote. We're still rooting for the Amari Rodgers-Aaron Rodgers trick play, by the way.
Article Highlights:
The Green Bay Packers need a big performance from fourth-year receiver Marquez Valdes-Scantling in Week 8
The USF product, if healthy, could see extended snaps with Allen Lazard and Davante Adams out
Valdes-Scantling could have an excellent opportunity to atone for last year's infamous fumble
Let the Green Bay Packers' travel roster for a Week 8 showdown with Kyler Murray and the unbeaten Arizona Cardinals serve as a reminder that, unfortunately, we're still in the coronavirus pandemic.
The Packers will be without All-Pro receiver Davante Adams, wideout Allen Lazard, and defensive coordinator Joe Barry on Thursday, Oct. 28, because of COVID-19 protocols. Those offensive absences could pave the way for veteran receiver Marquez Valdes-Scantling to not only see increased snaps but officially win back Packers fans' love in the process.
The Packers could get Marquez Valdes-Scantling back in Week 8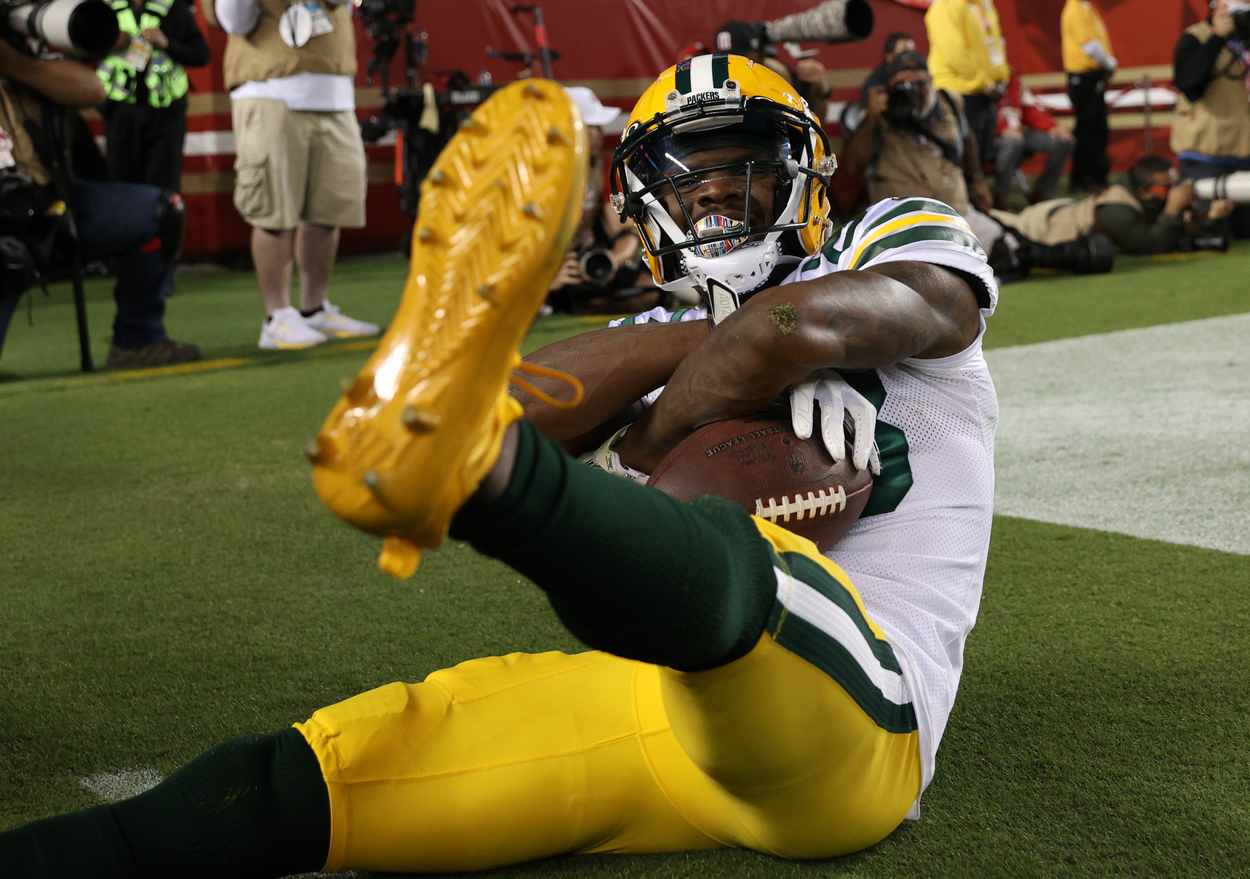 The Packers know they'll be without Adams and Lazard in Week 8. Whether or not they'll have Valdes-Scantling seeing extended action, let alone starting, is still to be determined.
As of publication, the University of South Florida product remained a game-time decision as he recovers from a hamstring injury. The good news is Valdes-Scantling did travel with the team, which bodes well for his status on Thursday Night Football.
A healthy Valdes-Scantling will be good news for a Packers team hoping to win its seventh straight game. He's a proven deep-ball threat who averaged an NFL-best 20.9 yards per reception in 2020.
The veteran wideout hauled in six catches for 76 yards, including a 47-yard connection with Aaron Rodgers in Week 3, over his first three games in 2021. He ranked second on the team in targets when he went on injured reserve with a hamstring injury ahead of a Week 4 showdown with the Pittsburgh Steelers.
Valdes-Scantling has an excellent opportunity to atone for last year's infamous fumble
For a segment of the Packers fanbase and fantasy football owners, Valdes-Scantling is still likely known as that guy, the man who had a costly fumble in a Week 11 loss to the Indianapolis Colts last year. The Colts knocked the ball out of his hands in overtime and drove for the game-winning score.
Valdes-Scantling tweeted later that night that he'd already received death threats.
"Jesus, you people need help," the wideout wrote. "It's actually sick."
According to Packers News, the receiver addressed the threats on Nov. 23, 2020, a day after the fumble, and criticized those who took to social media and attacked him.
"Social media gives cowards the right to say whatever they want with no consequences. So I guess that's one of those things with this profession that we're in; you've got to take it for what it is. Don't let it affect you."

Marquez Valdes-Scantling
In the end, Valdes-Scantling's fumble really had no impact on the Packers' season. Green Bay nonetheless obtained home-field advantage in the NFC Championship Game before losing to Tom Brady and the Tampa Bay Buccaneers. Two months after the ugly fumble, the 2018 fifth-round selection had four catches for 115 yards, a touchdown, and no drops in the Packers' 31-26 championship game loss.
Something tells us that if Valdes-Scantling replicates that level of play against the Cardinals in Week 8, there's going to be a group of Packers fans waiting to apologize and shower him with gifts, hugs, and cheese. Nothing says celebrating a Packers victory like cheese.
The Packers need at least one of the second-tier receivers to step up against the Cardinals
With respect to Rodgers and star running back Aaron Jones, the two of them likely won't be enough to take down the Cardinals. Green Bay will need one of the second-tier receivers, whether it's Valdes-Scantling or veteran Randall Cobb, to step up in primetime.
​​Cobb leads the healthy Packers receivers with 14 catches, 179 yards, and two touchdowns this season. Now is the time to get Amari Rodgers, a third-round pick from Clemson who only has two catches this year, involved on offense.
Equanimeous St. Brown hasn't factored much into the Packers' offense since his rookie season in 2018. Desperate time calls for desperate measures, though, so don't be surprised to see Rodgers — Aaron, not Amari — try working the Notre Dame product into the offense.
Head coach Matt LaFleur might need to break out all of his tricks if it means beating the Cardinals. Who knows? Maybe the Packers' game-winning play will involve Amari Rodgers throwing a touchdown to Aaron Rodgers on a gadget play.
Like Sportscasting on Facebook. Follow us on Twitter @sportscasting19.
RELATED: Aaron Rodgers Shoots Back at Critics Who Say He's Not All-In for the Green Bay Packers: 'I'm Invested Completely in This Season'