NBA: Why We Might Need to Enjoy Zion Williamson While We Can
This was supposed to be the year of Zion Williamson. After a hype-train that extended back to his high school playing days, everyone was looking forward to the basketball phenom's first season in the NBA. While he will presumably still play this year, however, there are legitimate concerns regarding Williamson's longevity in the league, and they have to do with his lingering knee problems.

Zion Williamson's promise
There may not have been a player since a young LeBron James who entered the league with the kind of potential that Zion Williamson exhibits. He has a 6-foot-6 frame with the build of a big man and the athleticism that few can do anything about. In high school, he was head over heels the best player in the nation, and many used him as an example as to why the NBA's college rule should go away.

Then, at Duke University, the five-star recruit wasted no time showing he was ready for the next level. In his lone season at Duke, he averaged 22.6 points, nearly nine rebounds, two assists and steals, and 1.8 blocks per game. There was never any doubt that he was going to be the No. 1 pick in the draft, even before he stepped foot on the floor at Duke.

However, there were also some legitimate concerns regarding his health.

Williamson's knee issues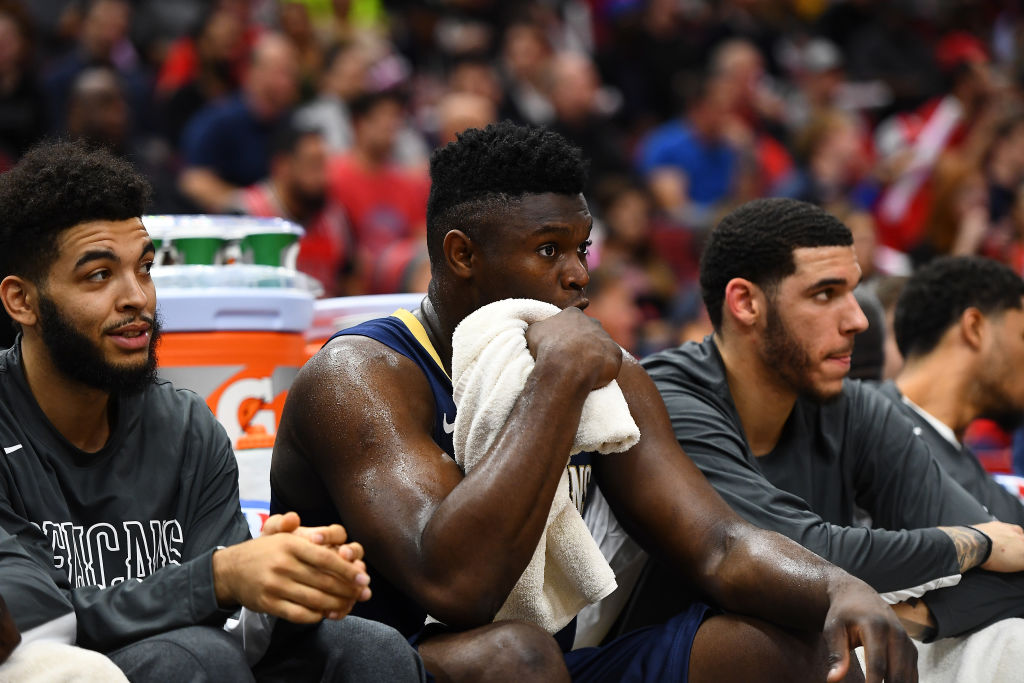 Right before the start of the regular season, the New Orleans Pelicans announced that Williamson would miss the first six to eight weeks of the NBA season after aggravating his knee in a preseason game against the San Antonio Spurs. The torn right meniscus will likely keep him out until December, if not beyond.

Williamson also missed most of the NBA summer league with a bruised left knee. That was after his knee injury against North Carolina in college set the college world ablaze. Even his legendary high school career was marred with a knee injury that caused him to miss AAU games. Going back in time and seeing all the injuries he's dealt with cannot help but harken back to other players who have had knee issues in the NBA.

We might need to enjoy Zion Williamson while we can, because some NBA players who suffer knee injuries don't play for long. Even if they play for years, they don't always return to peak form.

Brandon Roy
When people think of catastrophic knee injuries on stars, they may think of Brandon Roy. Roy was poised to be one of the next generations of superstars. Unfortunately for Roy and fans, his knees suffered from a degenerative form of arthritis that made it nearly impossible for him to stay on the court. Despite being an All-Star in three of his first four seasons, Roy was a bench player by his fifth season. He retired in 2011 at 26, and while he tried a brief comeback with the Timberwolves in 2013, it only lasted five games.

Derrick Rose
Like Roy, Rose was an almost-immediate success in the NBA. He was a three-time All-Star and a one-time MVP by the time he was 23. Then, disaster struck. Rose injured his ACL during the 2011-12 season and has never been the same since. He missed the entire 2012-13 season, then played in only 61 games over the next two seasons. Rose has shown some glimpses that he can still play in his 30s, but he is only a shell of what he was a decade ago.

Greg Oden
Like Williamson, Oden was touted as the next big superstar when he was entering the league in 2007. He was only 19, and when he was healthy, he was showing promise as the next superstar center in the NBA. After receiving microfracture surgery on his knee, Oden missed his entire rookie season after going number one over the likes of Kevin Durant in the 2007 draft.

Oden showed some promise the next year when he was finally able to take the court. He would suffer a knee-to-knee injury halfway through that took him out and hobbled him. Oden was ready for the next season and continued showing promise before a broken patella took him out 21 games into the season.

He would miss the next three seasons before having a brief comeback with the Miami Heat, but the injury bug would never leave him. If Williamson wants to look at a player as a cautionary tale, he should look at Oden. Although Oden was taller, he was a bigger player like Williamson, and with that comes more pressure on the knee. Hopefully, Zion Williamson's early struggles are nothing, but if they aren't, he could be another name on the list.