A Ben Simmons Return to the Philadelphia 76ers Is a Disaster Waiting to Happen
Just when we thought it was safe to scratch Ben Simmons off our Philadelphia 76ers rosters, reports emerged that Klutch Sports CEO Rich Paul is negotiating with the team about a return. He could be mere hours away from returning to the organization he treated with such reverence during the offseason. And that organization will be there with open arms to help scrub the tire tracks left from the countless times Simmons bounced around under various busses.
Yeah, what could possibly go wrong? Besides, you know, Philadelphia's championship dreams (again).
Paul and Daryl Morey reportedly choreographing 'Ben Simmons: The Return'
Paul has a reputation as a super-agent who can get his superstar clients out of situations they would prefer not to be in anymore. But perhaps he's learning that getting Anthony Davis moved with two years (one a player option) remaining on his contract is different from Simmons having four years left on a max extension.
On media day, Philadelphia 76ers president of basketball operations Daryl Morey envisioned a scenario similar to Aaron Rodgers's after an acrimonious offseason with the Green Bay Packers. Does that mean Simmons gets a promise to be traded next summer? Adrian Wojnarowski of ESPN reported Simmons might talk directly with team officials soon. That hasn't happened for a couple of months now.
Make no mistake. Morey is just one of 30 front-office decision-makers around the NBA rooting against the 76ers caving to Simmons' trade demand. Moving a player with that much contract and money remaining (four years and $140.4 million) is a precedent no NBA executive wants to see.
As for Paul, at least one former client (hello, Nerlens Noel) is suing because Paul didn't do such a super-agent job for a non-superstar player. Unless turning down four years and $70 million to end up with one year and $4.1 million is a new-age form of genius negotiating strategy.
However it shakes out, Simmons returning to the fold in Philadelphia promises to be entertaining, in that whole "slow down to see the crash" kind of way.
Ben Simmons staged a different kind of holdout
Ben Simmons launched a holdout previously unseen when he refused to report to the Philadelphia 76ers training camp. Holdouts are as old as teams paying players, and 99.9996% revolve around money and the players' desire for more of it. Under the NBA's collective bargaining agreement, Simmons can't make any more money than he's already getting.
Instead, this one was all about the feels. Simmons faced considerable backlash after Philadelphia's ugly playoff exit last spring. Coach Doc Rivers and superstar Joel Embiid were the mean girls, and Simmons was the victim of their bullying. That is if "bullying" can be defined as "accurately assessing the level to which a teammate sucked."
Simmons felt disrespected by the fans, the organization, his superstar teammate, and possibly the person who folds the socks in the locker room; who knows. David Aldridge of The Athletic reported recently that the star point guard/defensive savant was so unhappy he'd be willing to go to Sacramento for crying out loud.
Now the band is rehearsing happy reunion songs. But much of rhetoric crossed back and forth, directly or through allies, and that's not just going to disappear. Simmons might come back (Shams Charania of The Athletic said that could happen as soon as this week). They might all smile at the cameras and say nice things. But moving around the room will be next to impossible given the sheer mass of the elephant occupying it.
A negotiated cease-fire will backfire on both Ben Simmons and the Philadelphia 76ers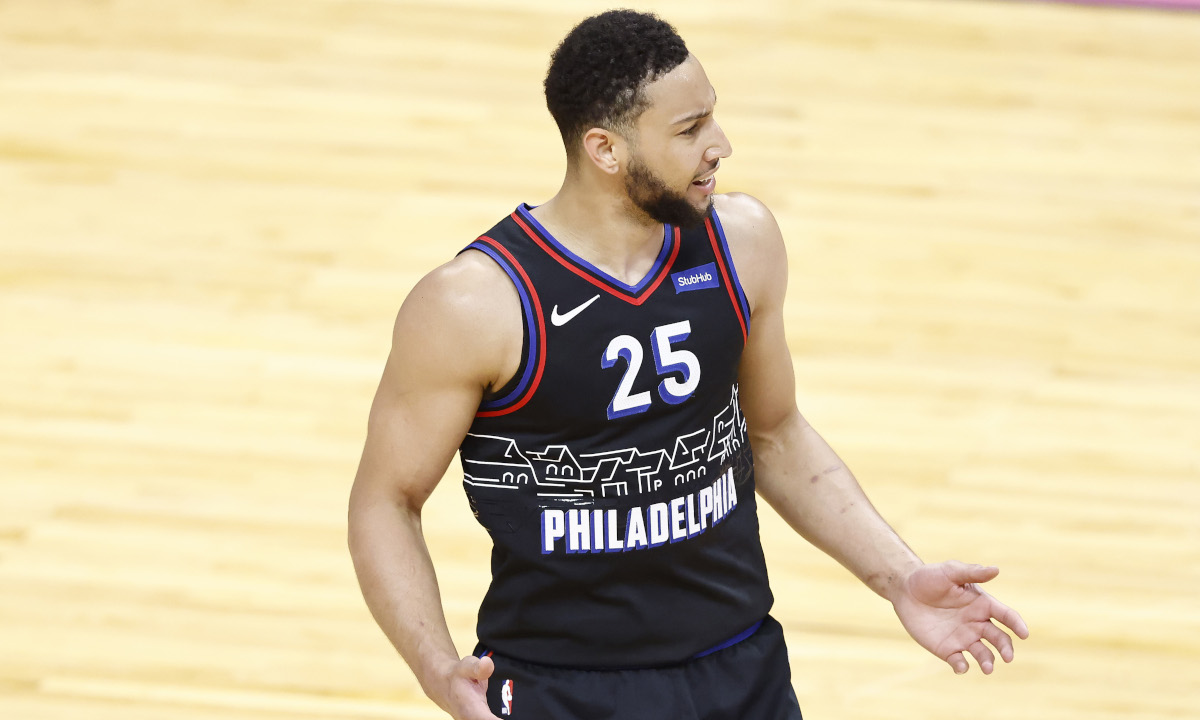 Let's say Ben Simmons returns. The Philadelphia 76ers put on a united happy face and go into the 2021–22 season. If things are successful, everything works.
But the moment Simmons clanks crucial free throws to cost the 76ers a game or defers wide-open shots to pass to covered teammates (hi there, Matisse Thybulle!), it will get ugly. That spectacle will be both rapid and make last spring seem like a mutual admiration society.
What the Philadelphia 76ers and Ben Simmons' agent are attempting to do is proven impossible time and time again. It doesn't matter what you do. That toothpaste simply will not go back into the tube.
Contract information courtesy of Spotrac.
RELATED: 76ers Are 'Waiting on a Prayer' for the Dream Trade for Ben Simmons