The Nets Could Be in Danger of Losing Their Big 3 Forever Thanks to Kyrie Irving Reportedly Looking 'the Happiest' He Has 'in Years'
Last year, it looked like a new Big Three planned to rule the NBA, as Kevin Durant, Kyrie Irving, and James Harden teamed up on the Brooklyn Nets.
However, after Irving and Harden dealt with injuries in the playoffs last year, the Nets went home early, losing to the Milwaukee Bucks in the Eastern Conference Semifinals.
Now, not even a year after forming the talented trio, the Nets could be in danger of losing it forever.
Kyrie Irving hasn't played for the Nets this season due to his refusal to get vaccinated
Kyrie Irving had arguably the best season of his career last year for the Nets, averaging 26.9 points (a career-high when playing in 21 or more games), 6.0 assists, 4.8 rebounds, and shooting a career-best 50.6% from the field.
But he hasn't played in a single game this year, as players who remain unvaccinated against COVID-19 cannot play in home games within New York City due to the town's mandate. Irving is unvaccinated and refuses to get the vaccine, so he's technically only allowed to play in away games, but the Nets essentially said he can't just be a part-time player, resulting in the guard staying off the court entirely.
In October, Irving said, "this is not a political thing; this is not about the NBA, not about any organization. This is about my life and what I am choosing to do," per ESPN. And just last week, Shams Charania of The Athletic reported on an episode of The Pat McAfee Show that Irving is "not anywhere closer to getting the vaccine."
So, it doesn't look like the seven-time All-Star plans to take the court for the Nets anytime soon, and it appears he's maybe just fine with that.
Kyrie reportedly appears to be the 'happiest' he has been 'in years'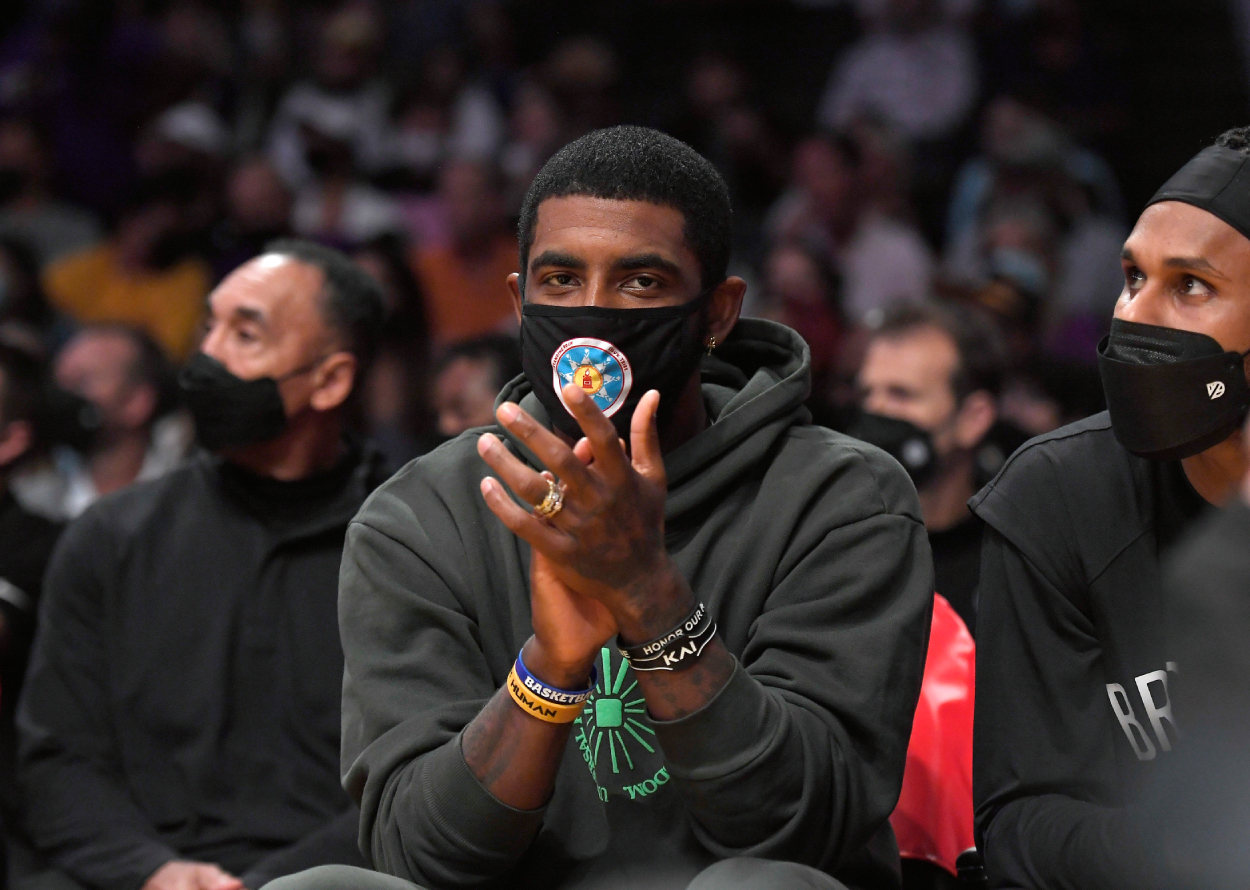 Irving may not be playing, but he is reportedly keeping busy and staying in shape.
According to Bally Sports, people close to Kyrie reportedly said he "has been working out pretty regularly, focusing on cardio, weight training and meditation, and spending time with his immediate family."
But one line within the Bally Sports article stood out the most, as a source reportedly told them, "This is the happiest that I've seen Kyrie in years."
So, Irving reportedly looks happier than he has in years during a time when he's not playing basketball? That's not great for the Nets and could mean they're in real danger of losing their Big Three forever.
Will Kyrie Irving ever play for the Nets again?
The fact Irving is reportedly pretty content with life as it is right now doesn't look great for the Nets. Will he ever get enough of an itch to play that he decides to return to his team? Who knows, but he's apparently pretty happy in his current situation.
The Nets could, of course, trade Irving if they're tired of paying him for road games and want some sort of return on their investment. Charania even said to McAfee that they are reportedly open to the idea. But given Irving's issues with the vaccine and his controversial hiatus from his team last season, he doesn't appear to have much trade value right now.
Luckily for Brooklyn, it's still 16-7 and in first place in the Eastern Conference, as Kevin Durant and James Harden are doing just fine without their star running mate.
But having Irving's talent — or at least just one other Big Three member — could be the difference in winning a championship and going home early.
So, as of right now,  the Nets' championship aspirations, and Irving's future with the team, appear to hinge on two things: him getting the vaccine or New York changing its mandate. Given the reports saying he isn't closer to getting it, though, and the fact COVID-19 is still a significant issue in America, neither of those outcomes seem likely.
Unless Irving ends up having a change of heart or COVID-19 cases start decreasing drastically, we may never see him in a Nets jersey again. His reported contentment is just another sign that Brooklyn's Big Three may be done for good.
Stats courtesy of Basketball Reference