Nets Rookie Cam Thomas Stuns the Knicks and Proves He's the Perfect Scoring Complement to Kevin Durant
Not even a week after the Brooklyn Nets traded a star in James Harden, they appear to have birthed another in rookie Cam Thomas.
The rookie combo guard led the Nets to a dramatic 28-point comeback win over the New York Knicks with a bevy of late-game heroics. It's the kind of performance that, if fans have paid attention, Thomas has started to give Brooklyn on a more consistent basis.
Thomas had a reputation as a scorer coming out of LSU and looked like a steal for the Nets after falling to the No. 27 pick in the 2021 NBA Draft. Though steady minutes haven't always been available this season, he's made the most of his recent opportunities and exploded onto the scene.
Suddenly, the rook looks like a potential franchise cornerstone and a possible co-star for Kevin Durant.
Cam Thomas scored 16 of his 21 points in the fourth quarter and hit a late dagger to lead the Nets over the Knicks in wild fashion
Fun proved difficult to come by for the Nets early in Wednesday's contest against the Knicks. For his part, Cam Thomas had an atrocious time finding anything positive.
Thomas shot 1-of-7 in the first half as New York took a 21-point lead into halftime. He made just a single attempt coming out of the break and was 2-of-11 from the field through three quarters.
The Knicks appeared to have things done and dusted. Thomas had other ideas.
After the Knicks scored on their first two possessions of the fourth quarter to take an 18-point lead, Thomas started to find his rhythm. He made a jumper off the dribble and got a layup on a second-chance opportunity. The former Tigers star found his third bucket after rebounding his own miss on a floater and finishing with a nice reverse.
As it turned out, Thomas was merely heating up.
The 20-year-old scored five straight points for the Nets between the 5:22 and 4:35 marks to tie the game at 97 apiece. He extended that run to seven consecutive points on Brooklyn's next possession, briefly giving the Nets the lead for the first time in the game.
After the two teams traded blows, Thomas completed the dramatic comeback in style. He assisted a LaMarcus Aldridge jumper that gave Brooklyn a three-point lead with just under a minute to play. Then, with the Nets still leading by three, Thomas made a ridiculous, dagger three-pointer over Knicks rookie gem Quentin Grimes.
Brooklyn earned its second win in a row on the heels of an 11-game losing streak. It also watched Thomas continue to live up to his star potential.
Thomas has played exceptional basketball as of late
Cam Thomas has always had the confidence. He once joked about beating Kevin Durant in a game of one-on-one, which KD instantly threw back in his face.
Now the hunger, swagger, and brashness are beginning to pay off.
Thomas had arguably been Brooklyn's best player in the last seven games with Durant out of action. He averaged 21.6 points on 48.7% shooting and consistently got to the charity stripe, averaging 4.4 free-throw attempts. Thomas also posted 3.9 rebounds and 2.9 assists per contest while recording an average plus-minus of 3.9, the best mark of any Nets player during that stretch.
With Kyrie Irving still in a part-time role and James Harden no longer in a Nets uniform, the growth Thomas has shown is vital.
He can get to the bucket and finish in a crowd. More importantly, the LSU product is developing a knack for getting to his mid-range spots and knocking down pull-up jumpers off the dribble when bigs play drop coverage in pick-and-roll, something he did repeatedly against the Knicks down the stretch.
As is the case with most rookies, some areas of Thomas' game need refining. He's shooting just 27% from beyond the arc, and his playmaking chops could use some fine-tuning given his propensity for getting into the restricted area.
Still, Thomas has shown the makings of a star. He's the kind of guy ready-made as an ideal scorer next to Durant going forward.
A building block for the future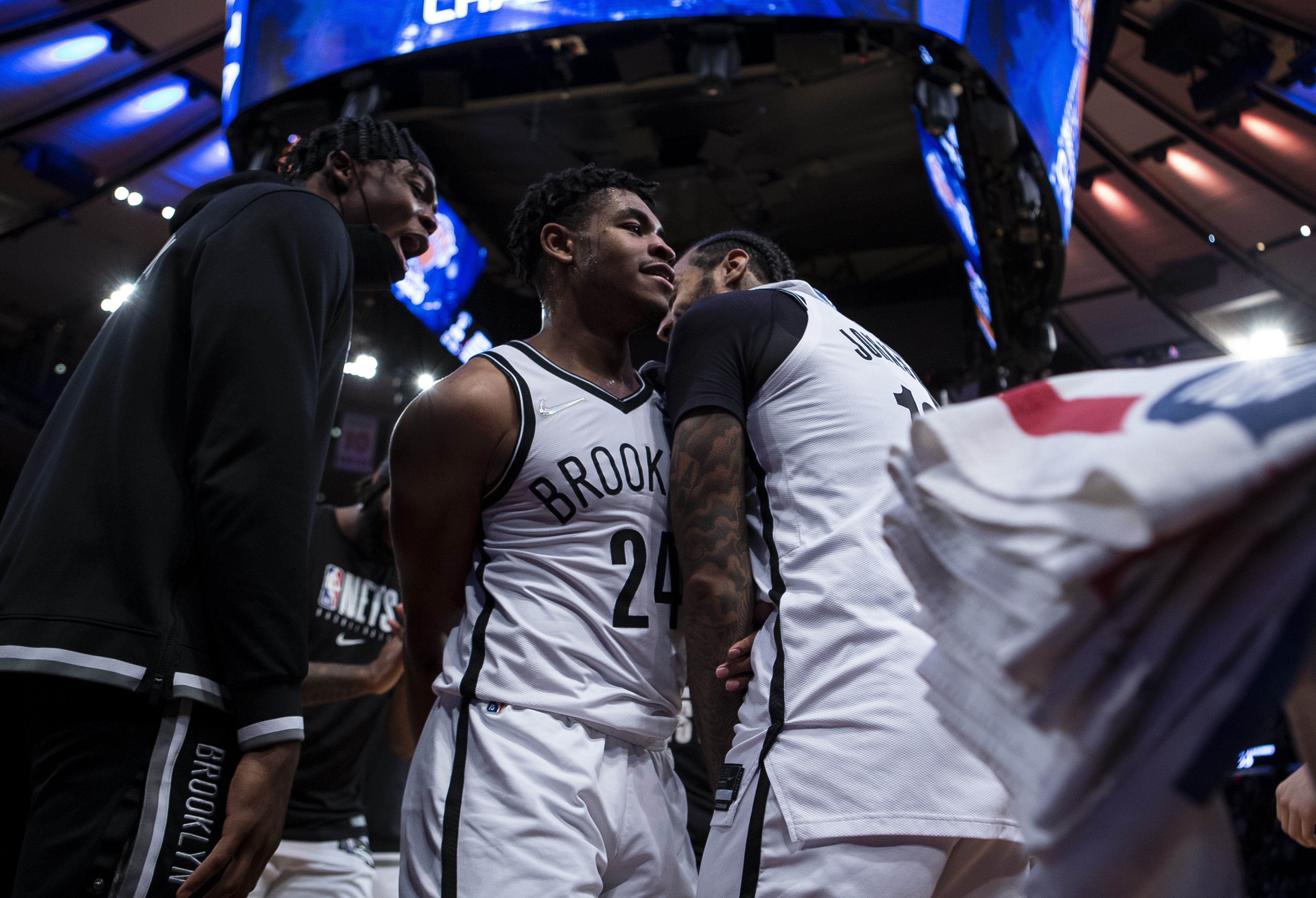 If nothing else, the Nets know their future revolves around Kevin Durant and, after acquiring him at the deadline, Ben Simmons. Everything else is a bit of a mystery.
Kyrie Irving can become an unrestricted free agent this summer, and there's no telling whether Brooklyn wants him back given his refusal to get vaccinated and the stress that has caused the Nets. Patty Mills can likewise become a free agent, and a host of the team's veterans are also headed to the open market.
Given the team's roster construction, cultivating young talent has become reasonably crucial for the Nets and was likely always in the back of the front office's mind. That, coupled with the general dearth of young wing options, is why Thomas' progress is so important.
Thomas has shown the pure scoring ability to make him an ideal piece next to KD. His knack for making plays off the bounce adds another element to Brooklyn's offense, which is suddenly even scarier once Durant and Joe Harris — an underrated piece for the Nets — are healthy and Simmons is acclimated. The Nets now have more floor-spacing with Seth Curry and legitimate bucket-getters who can get theirs at the end of the shot clock.
Just as he saved the day on Wednesday, Thomas can play a role in salvaging Brooklyn's season. More importantly for the franchise, he's become an ideal complement to Durant as the Nets hope to extend their competitive timeline.
Stats courtesy of Basketball Reference.
RELATED: James Harden's Ex-Nets Teammates Aren't Sad to See Him Go