The Nets Shockingly Steal Goran Dragic Away From the Bucks
The Brooklyn Nets' 11-game losing streak at the end of January and into February put them in a rather haunting position heading into NBA All-Star Weekend. But the Nets are fighting hard to make a run as they await full-strength lineups. They looked to the buyout market to attract impact players to Brooklyn and, in the process, just robbed the Milwaukee Bucks of Goran Dragic, thanks to Steve Nash.
The Bucks reportedly grew more aggressive in their pursuit of Dragic over the past several days. He became a free agent after the Toronto Raptors traded him to the San Antonio Spurs, where he promptly got bought out. The 35-year-old would give Milwaukee backcourt depth after the Bucks traded Donte DiVincenzo and lost Pat Connaughton to injury.
However, the Nets interceded.
Brooklyn head coach Steve Nash mentored Dragic when the two played for the Phoenix Suns. Now, he has reportedly helped the Nets land Dragic.
The Nets are reportedly signing Goran Dragic after Steve Nash recruited him to Brooklyn
Dragic was arguably the most highly sought-after player on the NBA buyout market. In the end, however, past relationships have seemingly played a vital role in his decision.
Shams Charania of The Athletic reported that Dragic plans to sign with the Nets. He now reunited with Nash, who likely factored largely into his decision.
A source told veteran NBA Insider Marc Stein (h/t Substack) that Dragic had been "really open-minded" regarding the pitches he has received. But Nash's pitch won out. According to Stein, the Hall of Fame point guard led the charge in the Nets' recruitment of his former teammate.
League sources say Nash registered key aspects of the Nets' bid to Dragic on Friday as Brooklyn also maintains hope that Kyrie Irving will be more available for the stretch run if the vaccine mandate that has ruled him out of home games all season is finally lifted in New York City.

–Marc Stein, via Substack
The relationship between player and coach is enormous. Given his history with Nash, Dragic likely felt a sense of comfort suiting up for a guy who understands his strengths and can put him in a position to succeed.
Urgency certainly matters. Yes, Brooklyn is No. 8 seed in the Eastern Conference, and Dragic wants to win his first championship. However, Nash and the Nets offer the veteran guard a straightforward pathway to immediate playing time.
Indeed, Dragic can serve as a critical stopgap in Brooklyn's backcourt.
A temporary solution in Ben Simmons' and Kyrie Irving's absences
The full-strength Nets have scary potential. The problem is, there's no telling when they will officially get back to full strength.
Brooklyn acquired an elite perimeter defender and top playmaker in Ben Simmons. However, Simmons and the team have yet to set a possible timeline for his return from the court. Additionally, Kyrie Irving remains in a part-time role because he refuses to get vaccinated. That could change if New York City Mayor Eric Adams adjusts the city's vaccine mandate, but that remains to be seen.
In any case, the Nets are missing a pair of backcourt players who are essential to their title hopes. Although rookie Cam Thomas has flashed in recent weeks, he's more of a scoring guard than a guy who can operate the point efficiently.
Enter Goran Dragic.
The 14-year man has played more of a combo guard role in recent seasons. But he's a capable facilitator and remains a strong shot-creator with his ability to break defenders down off the dribble and get into the restricted area. Dragic can also improve Brooklyn's floor-spacing, given he's a 36.4% shooter from beyond the arc in his career.
The Nets can look to Dragic as their point guard until Simmons is ready or Irving receives full-time clearance. Even if Brooklyn has all its pieces back and healthy, however, Dragic can still provide offense off the bench.
Can Dragic keep Brooklyn afloat?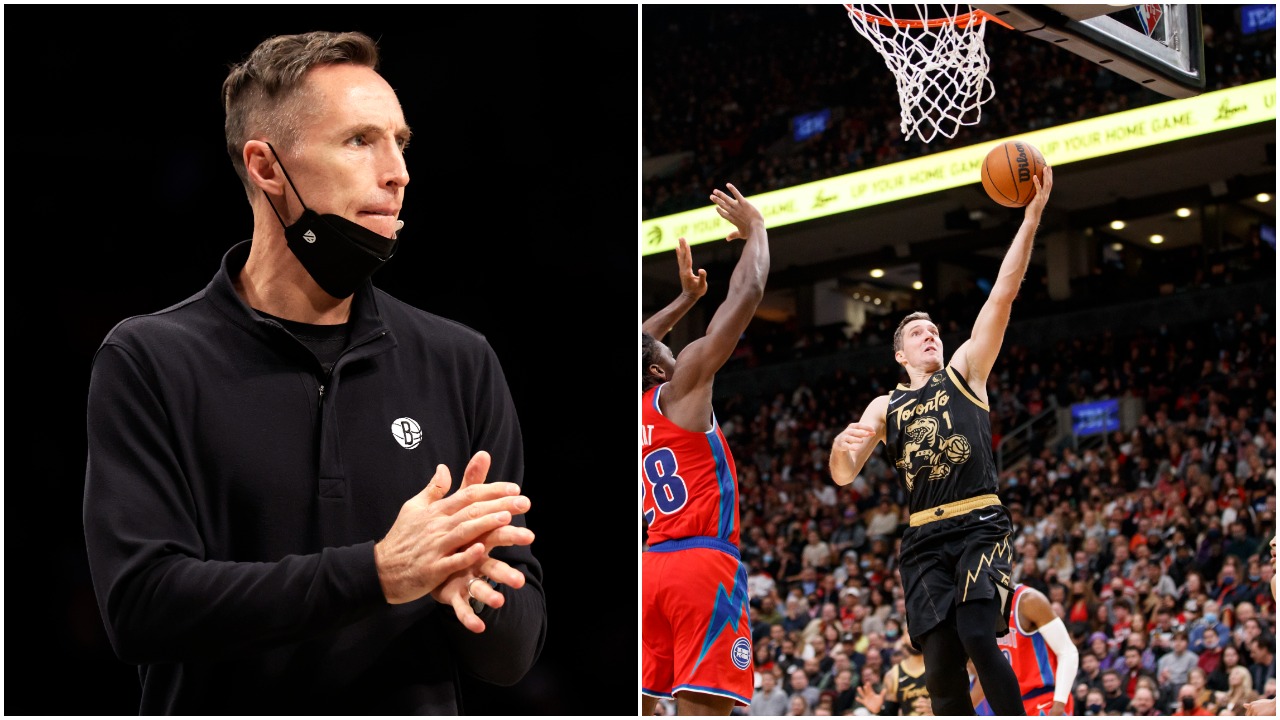 The Nets had to deal with a crowded market in order to land Goran Dragic.
Adrian Wojnarowski of ESPN reported the Los Angeles Lakers and LA Clippers were both contenders to sign Dragic. The Lakers needed stability in light of Russell Westbrook's tumultuous season, while the Clippers could have used another backcourt piece after the injury to Normal Powell. Wojnarowski included the Chicago Bulls as a suitor, but they likely felt less urgency after signing Tristan Thompson from the NBA buyout market.
The Nets and Bucks felt like the best bets in terms of Dragic's final destination. Now, he's focused on trying to lead Brooklyn back to the top of the East. It could prove challenging.
Aside from the uncertainty surrounding Irving and Simmons, the Nets remain without Kevin Durant (MCL) and Joe Harris (ankle). Dragic provides veteran leadership and fits well with Seth Curry, but Brooklyn needs its impact guys back on the court.
What kind of role does Nash envision for Dragic? The answer to that question is currently unknown. Regardless, the Nets will hope that adding Dragic bolsters their depth and makes them stronger for the playoff push.
Stats courtesy of Basketball Reference.
RELATED: The Boston Celtics and 4 Other Teams to Watch After the NBA All-Star Break