The Nets' Win Over the Knicks Showed Exactly How Brooklyn's Depth Makes Them Even More of a Title Threat After the James Harden Trade
The Philadelphia 76ers may have gotten the best player in the James Harden-Ben Simmons trade, but the NBA's biggest trade-deadline deal was a win for the Brooklyn Nets.
Besides acquiring Simmons — who's still an uber-talent in his own right — Brooklyn was able to land Andre Drummond and Seth Curry to help fill out a starting lineup and rotation alongside Kevin Durant and Kyrie Irving (half the time).
That depth — which already included players like Bruce Brown, Patty Mills, and LaMarcus Aldridge — was, on paper, one of the Nets' newfound strengths. But after a comeback win over the New York Knicks in Madison Square Garden, it's no longer just on-paper depth.
The Nets responded from a 28-point deficit to win vs. the Knicks at MSG
Part of the Brooklyn Nets re-tooled roster includes rookie Cam Thomas, who was almost single-handedly responsible for the team's comeback win over the Knicks.
Thomas has been a part of Brooklyn's rotation in 2021-22, but in a game without Kyrie or KD, the 6-foot-3 guard took it upon himself to get buckets when his team needed them most.
New York led by 20 after the first quarter and by 21 at halftime. The Nets clawed back to within 14 heading into the fourth, but it was still a steep mountain to climb.
Enter Thomas.
The 20-year-old had 16 of his team-high 21 points in the final quarter, and Brooklyn outscored the Knicks 38-19 to bring home a 111-106 win at the Garden.
Thomas was a pure point-getter at LSU. He didn't grab a whole lot of rebounds or dish out many assists. He looked to score, score, and score some more. He's averaging 9.6 points a game this season in 19.4 minutes, but he got an expanded role against New York and made the most of it.
"I think he has a deep belief in his ability and I think he seeks those moments," Nets coach Steve Nash said via NBA.com. "So that's something that's inside of him that's rare."
In other words, Cam doesn't lack confidence, and he came up big in the absences of Durant and Irving.
The Brooklyn Nets roster is simply better after the Simmons-Harden swap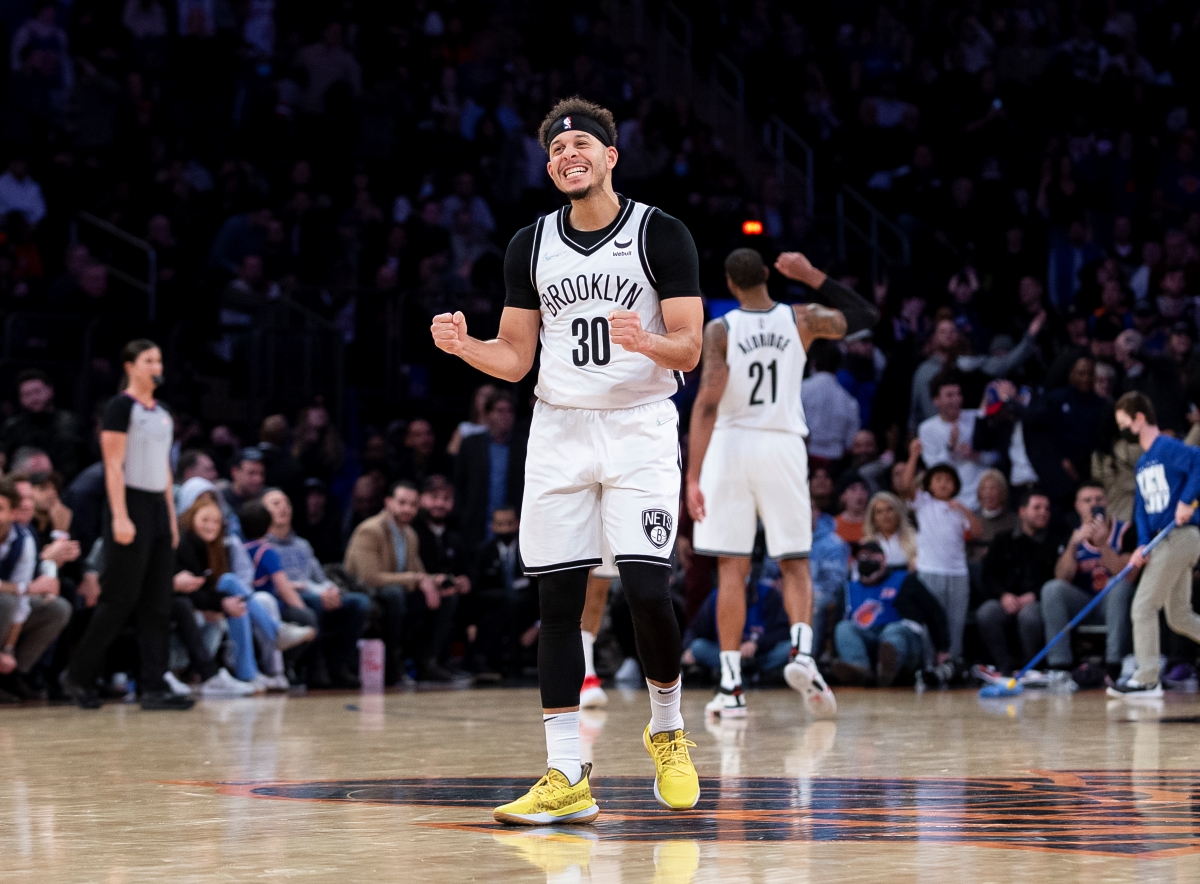 But Thomas wasn't the only critical part of Feb. 16's win.
Seth Curry played the second-most minutes for Brooklyn and scored the team's second-most points, dropping 20 on 50% shooting from the floor and 6-of-9 from three.
Andre Drummond played more than 22 minutes and did what he does best as a double-double machine, scoring 11 points and grabbing 19 rebounds.
Julius Randle led New York with 10 boards in more than 37 minutes.
Simmons was obviously the headliner in the Harden trade, but Nets general manager Sean Marks was able to grab both Curry and Drummond in the deal as well.
Thomas will get the pub for his fourth-quarter performance and clutch three to seal the win, but Brooklyn likely falls short of that 'W' in such a close game without the performances of Curry and Drummond.
The younger Curry brother is a likely starter for the Nets the rest of the year. He'll be a significant boost with or without Kyrie as a floor spacer, scorer, and playmaker alongside Durant.
Since Brooklyn assembled its Big Three, the team's most significant missing piece has been an inside presence that can rebound and protect the rim. Drummond showed exactly what he can do to fill that role and what kind of an upgrade he is over Nic Claxton (DNP — coach's decision vs. the Knicks, by the way).
The comeback win at MSG showed how much more balanced and deep Brooklyn is after dropping Harden.
Durant and Co. are now more of a threat to win the East
KD, Kyrie, and Simmons all watched from the bench (metaphorically speaking in Irving's case) as Thomas, Curry, and Drummond helped their team to a win. Sure, it was against the struggling Knicks — but it's still a significant win for a depleted Nets group.
Thomas's minutes will likely drop once KD and Simmons are in the lineup and whenever Irving plays. But this particular win was a perfect example of how scary Brooklyn can be with its new roster. Instead of a tanking and injured Harden, the combination of Seth, Cam, and Andre was enough to pull out a win after trailing by almost 30.
Once the team is at full strength, the Nets will be a serious threat in the East; perhaps even more so than they were last year.
All statistics courtesy of NBA.com.
RELATED: James Harden Trade: Daryl Morey's Desperate Overpay Just Handed the Brooklyn Nets the Ammunition to Beat the Sixers En Route to Winning the East