The Nets Wouldn't Dare Trade James Harden After Kevin Durant Makes His Feelings Known
The Nets sent the NBA community into a tizzy on Friday after reports surfaced of their apparent openness to engage the Philadelphia 76ers on a James Harden trade. But don't get bent out of shape just yet. Kevin Durant had yet to say his piece.
Brooklyn's reported willingness to discuss Harden would seem to heighten Sixers president Daryl Morey's sense of urgency to orchestrate a swap for the disgruntled Ben Simmons. The Nets would surely demand more, but the sheer notion that they would have talks with Philly suggests that a Harden-for-Simmons framework is somewhat amenable to Brooklyn's front office.
However, if the Nets traded The Beard, they'd essentially break faith with Durant, who desperately wants the team's holy triumvirate of himself, Harden, and Kyrie Irving to remain intact. As such, Harden will almost certainly not move before the Feb. 10 NBA trade deadline.
Kevin Durant told Nets management he wants James Harden to stay in Brooklyn
Plenty of noise has surrounded the Nets and James Harden's purported frustrations in recent weeks. Conversely, nothing has changed about Kevin Durant's mentality.
Adrian Wojnarowski of ESPN reported Saturday on NBA Countdown that Durant wants Harden to remain in Brooklyn and that KD still believes this group can win a championship. Wojnarowski added that Harden told both Durant and Nets management he wants to stay with the Nets past the Feb. 10 trade deadline.
It's not as though Durant doesn't understand the tenuousness of the situation. According to Wojnarowski, KD is insistent that the players and members of the organization are committed to winning a championship. Still, he has faith that The Beard shares his vision in that regard.
On the one hand, the Nets' front office has every reason to feel concerned. Harden can become a free agent this summer. Brooklyn would assuredly prefer to get value back in a trade than watch the three-time scoring champion walk in free agency.
That said, trading Harden runs directly counter to Kevin Durant's wishes. For that reason, such a move might as well be a nonstarter.
The Nets cannot risk alienating Durant by trading Harden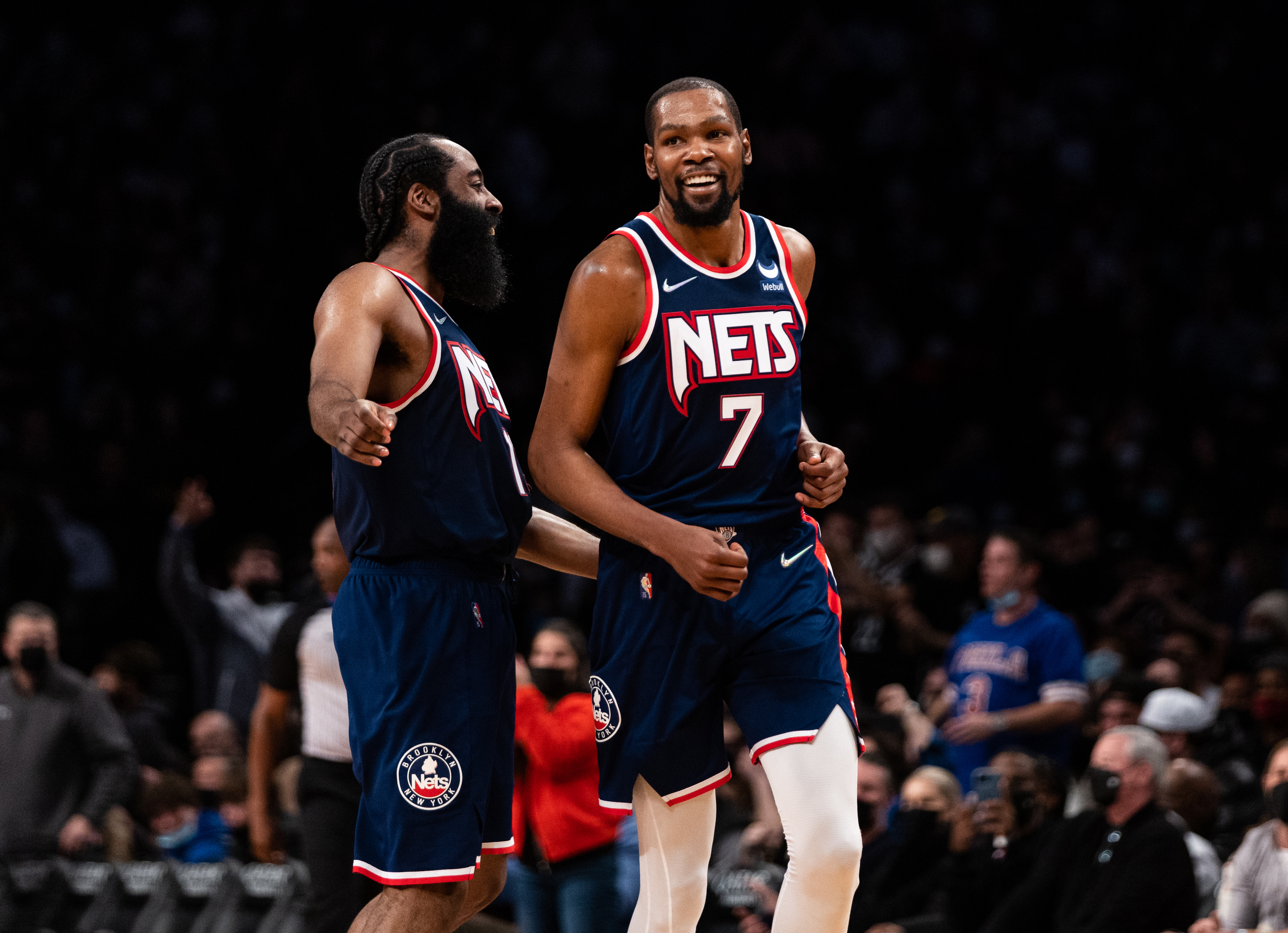 The Nets just signed Kevin Durant to a four-year, $198 million extension this offseason, making KD a member of the $500 million fraternity and clearly establishing the two-time NBA Finals MVP as the franchise centerpiece.
Brooklyn likely wants to do everything in its power to appease Durant and roster-build in accordance with his wishes, at least in part. How does trading James Harden accomplish that goal?
Durant helped bring The Beard to the Nets. He has since reiterated his belief that this group can win a championship. Thus, trading Harden would essentially mark the organization breaking faith with KD. That's almost certainly not going to happen.
Durant is a self-aware individual. For all his brilliance, he probably recognizes that recent injuries are shrinking the timeline regarding his ability to stay at his peak. That, in turn, shrinks Brooklyn's timeline for winning a championship.
If KD feels the team has a greater chance of capturing a title with Harden, then who are the Nets to argue? They've hitched their cart to Durant. Brooklyn cannot run from that.
Where to go from here?
Even if the Nets refrain from trading James Harden, something needs to change.
Brooklyn has shockingly lost seven straight games. Durant remains sidelined with an MCL sprain, while Harden's hamstring issue is again in the picture. Kyrie Irving is still in a part-time role and dealing with ankle issues.
Meanwhile, Joe Harris' absence contributes to a frustratingly inconsistent offense. Wojnarowski reported that Harris could need a second surgery on his injured ankle, further illustrating the need for adjustments.
Naturally, improved health serves to benefit the Nets, especially Durant's eventual return to the roster. Regardless, Brooklyn has to make moves before the Feb. 10 trade deadline, and it must do so while negotiating luxury-tax issues.
Perhaps the Nets can find low-cost upgrades or exploit the buyout market. Either way, it's unlikely they move Harden before Feb. 10, given his reported commitment to the organization and Durant's insistence about this group having enough to win.
RELATED: NBA All-Star Game: James Harden Didn't Deserve a Place on the Roster, Even as a Reserve