Never Give Up: Lauren Hill's Unforgettable College Basketball Debut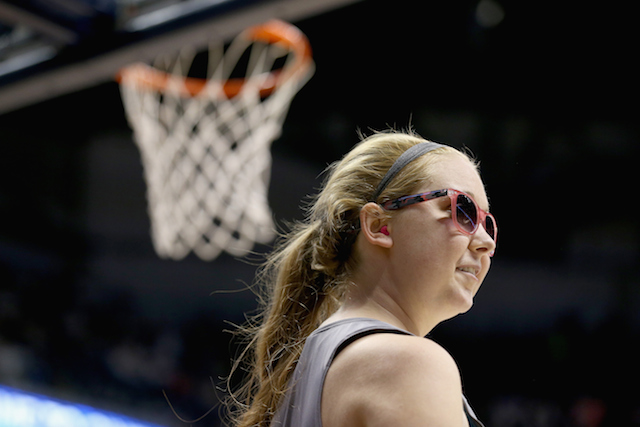 A Division III women's basketball game captivated a nation Sunday afternoon. Or, to be more precise, a Division III women's basketball player. That's what Lauren Hill is: A basketball player. Even though she's fighting a terminal form of brain cancer known as DIPG. Even though the official box score from Sunday's game, her freshman debut, says she played a total of zero minutes. Even though she sat on the bench for the majority of the game with headphones and sunglasses on because the environment would be too overwhelming otherwise.
Lauren Hill is a basketball player. She's now a 1-0 basketball player, because her Mount St. Joseph team beat Hiram 66-55 in the first game of the 2014-2015 season. You likely know the story, but the NCAA gave special approval for the season opener date to be moved up to the first weekend of November, because no one knows how many days or weeks Lauren Hill has left to play basketball. A recent MRI made clear just how much her tumor has grown, and she wanted to take the floor for her team while she still could.
Yes, Lauren Hill is a basketball player, but she's more than that. She's also an inspiration. Her bravery, courage, and dedication to finding a cure for her disease (although she knows it almost certainly won't come in time to make a difference for her, personally) have made a permanent impact all over the nation. That's what Sunday's game was about. That's why more than 10,000 people sold out Xavier University's Cintas Center (in less than an hour) to be there to cheer on Lauren Hill for her first game, with countless more basketball fans — or just Lauren Hill fans — watching on television. The event was billed by many as "Lauren's one last game," but with her self-described "never-give-up attitude," that's not how Hill herself sees it.
"Let's not call it my last game," Hill told Fox Sports Ohio during an in-game interview. "This is my first collegiate game."
Hill was in the starting lineup for her first collegiate game, and it didn't take long for her to give the capacity crowd the highlight they were waiting for. The Mount controlled the opening tip and ran a special play designed for Lauren, who converted a left-hand layup to score the first points of the season. The fans understandably went wild, including plenty of stars from the basketball community who had made a special effort to come to Cincinnati and support Lauren and her cause (WNBA standouts Elena Delle Donne, Skylar Diggins, and Tamika Catchings, just to name a few, were among those in attendance Sunday afternoon).
Stephanie White, head coach of the WNBA's Indiana Fever, was there as well, and she told The Cheat Sheet that she'll always remember Lauren Hill's first basket. "The team executed the play perfectly, and you could feel the emotion, pride, and genuine love from the crowd. It was such a heartfelt moment and I will never forget it."
Almost every team in Mount St. Joseph's conference, the HCAC, came to southwest Ohio to watch Lauren and the Mount tip-off the season. Heidi Messer, an assistant coach for league rival Manchester, said the opening points were "everything a sports moment should be."
"There was no emotion in that arena other than pure joy and excitement for what Lauren was being able to do," Messer said. "It was beautiful."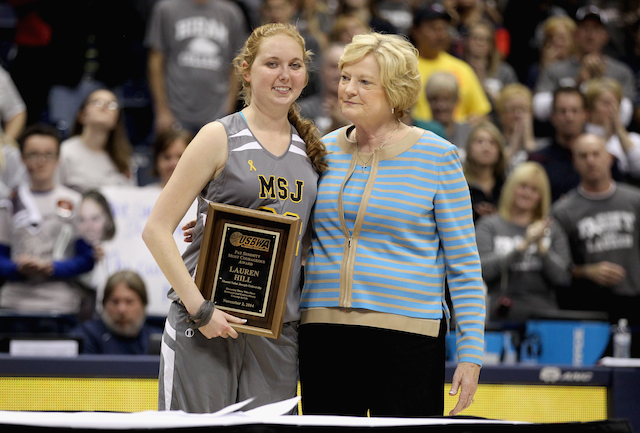 At halftime, Lauren Hill was presented the Pat Summitt Courage Award in an unprecedented gesture. The award is usually given out at the end of the season, not the beginning, but the U.S. Basketball Writers Association made an exception to recognize Lauren. Pat Summitt herself was on-hand to bestow the honor, surprising those in attendance. "I didn't expect the magnitude of this day to reach what it did," Messer said after watching the ceremony. "This truly captured more of the sports world's attention than I think they could have imagined when Mount St. Joseph made the request to have the game early."
"For our team, and the other teams in the conference, it was an easy decision to go to the game," Messer added. "To be able to show support to a fellow basketball lover was something we as coaches and our players felt strongly about…It was humbling to witness what Lauren described as the best day of her life. To be a part of such a great game that would fulfill one of her life dreams and be a small part of the start of an awareness for this particular brain cancer is something that will stay in my mind for a long time."
Hill got a curtain call in the game's final minute, re-entering the contest and scoring one final basket, this time with her dominant right hand (the one she struggles to use because of the effects of her disease). Her stat line was impressive: 2-for-3 from the floor for four points in less than a minute of playing time. But, Sunday was about much more than stats. "I think we all know that sports gives us a platform to make a difference in others' lives," Coach White said of the MSJ freshman. "Lauren's love of the game has given her strength and helped her fight this disease. It has also provided her the opportunity to reach people around the world and bring awareness to DIPG. We were connected to Lauren originally because she's a ballplayer…However, once we met her and her family, we connected to her brave spirit, her commitment to making sure we were educated and aware of this disease, and her compassionate heart." Coach White continued:
This incredible young woman isn't asking the question, "Why?" She's using this diagnosis to bring attention to a disease that has affected many children and families, yet few people were aware of. She's making a difference and it's our job to make sure that once the media attention goes away, we continue to make a difference. We help promote and continue her fight to not only treat this disease, but find a cure for it.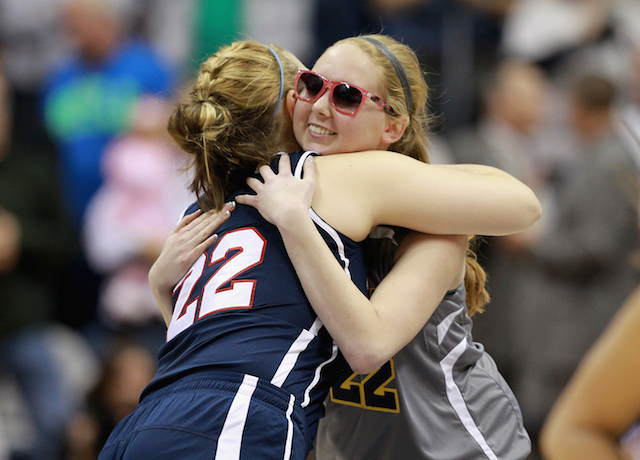 That's Lauren's mission. She's already completed one mission: Play in her first college basketball game. The next mission is still ongoing, and she's hoping her first college basketball game is part of fulfilling it. "Donate to The Cure Starts Now," she told the television audience as the first half played out a few feet in front of her. "I really think that if they get research for this tumor, that they can find the 'home run cure,' and hopefully cure all cancers. Even though I might not be here — I might not be around when it comes — I think the cure for cancer is coming. I hope that this game isn't it for donations: I hope people keep donating and keep being a part of this and keep fighting cancer."
Sometimes, sports is about more than sports. Sunday was one of those days. The fans at Cintas Center understood that. To their credit, the opposing team, Hiram also understood that. In a day when winning often seems to be everything, how many schools would give up a home game, intentionally play less-than-stellar defense on a pair of possessions, and then applaud, hug, and celebrate the opposition?
And, of course, Lauren Hill understands that. "I've never felt so good in my entire life," she told Fox Sports Ohio. "I expected it to stay small, like a community kind of thing. This is the biggest community…everyone has come together and it's just been so amazing."
And it's all because of a basketball player.
To learn more about Lauren Hill or donate to the cause she's championing, visit 1More4Lauren.com.