New Auburn QB TJ Finley May Have Already Shaken Up the 2022 NFL Draft Despite Being an Ineligible Prospect
LSU quarterback TJ Finley took advantage of college football's transfer portal, and he may have already had a significant impact on the 2022 NFL draft.
Finley transferred to Auburn, and he is expected to be immediately eligible to play for the Tigers. Those preparing for next year's draft should already be paying attention to the quarterback situation at Auburn.
LSU quarterback TJ Finley transferred to Auburn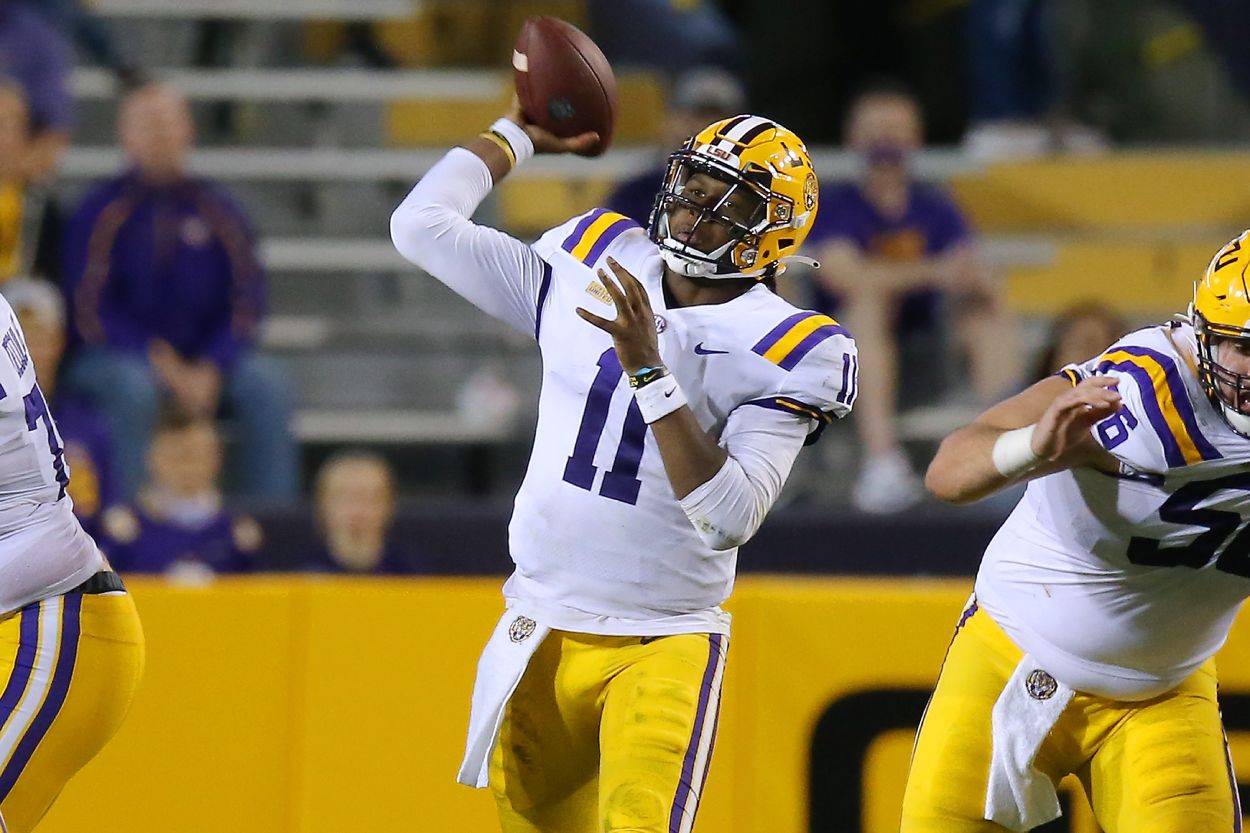 The transfer portal never sleeps, and TJ Finley will spend the fall waking up at a new SEC school.
After playing at LSU as a true freshman, the former elite high school quarterback prospect transferred to Auburn. He is expected to have full eligibility during the 2021 season, complete with an opportunity to compete for the Tigers' starting quarterback position.
He completed 57.1% of his passes for 941 yards, five touchdowns, and five interceptions in five games at LSU last year. The true freshman also scored a rushing touchdown.
Finley's arrival may affect Bo Nix and the 2022 NFL draft
If Finley is eligible to play in 2021, he will enter a quarterback competition with Bo Nix, the reigning incumbent. That is, unless Nix transfers to another school.
Although Finley is ineligible to be selected in the 2022 NFL draft because he won't have spent enough time in college, his arrival at Auburn could pay major dividends for the quarterback class. Nix is a rising junior and a talented prospect who battled inconsistency in his first two seasons.
However, the likes of Joe Burrow, Mac Jones, and Zach Wilson are full proof of how much things can change in one year. Jordan Palmer, a former NFL quarterback and a private coach, already predicted Nix would be the No. 1 overall selection in 2022, and that proclamation came in the spring of 2020.
As of publication, Nix had not yet transferred or even hinted at leaving Auburn. But with a new head coach in Bryan Harsin, someone who may have already handpicked his quarterback of the future, Nix may decide he wants to start at another school.
His former head coach, Gus Malzahn, now holds the same position at UCF. However, the Knights already have an established starting quarterback in Dillon Gabriel. If Nix stays at Auburn and doesn't play much this fall, he almost certainly won't be a fast-riser in the draft process.
Which quarterbacks are considered early favorites to go early in the 2022 NFL draft?
Anyone who listened to Palmer and penciled Nix in as a first-round pick in 2022 may want to slow down and rethink their plans. And, obviously, Finley is ineligible, so he also won't be selected atop the draft.
So, who else could go early next year? Oklahoma's Spencer Rattler and North Carolina's Sam Howell are each early favorites to be the first quarterback selected, if not the No. 1 overall pick, entering the 2022 season.
Liberty quarterback Malik Willis, who began his career at Auburn, is talented enough to potentially be a first-round selection. JT Daniels, the starting quarterback at Georgia, has also seen his name linked to the first round.
Perhaps Gabriel, a prolific quarterback at UCF, will be this year's Burrow or Wilson. But for Nix to be a fast-riser, he'll need to hold off Finley and win a new coaching staff over.
Like Sportscasting on Facebook. Follow us on Twitter @sportscasting19.
RELATED: The Jaguars Accidentally Exposed Their Grades on Trevor Lawrence, Zach Wilson, and Other NFL Draft Prospects to Public Scrutiny