New Chiefs Punter Tommy Townsend Received Over $82,000 as an Undrafted Rookie
The Kansas City Chiefs wanted to do everything in their power to sure Florida Gators punter Tommy Townsend traded blue and white for red and gold.
When Townsend went unselected in the 2020 NFL draft, the Chiefs moved in and gave Townsend not only over $80,000 in guaranteed money but a significant signing bonus in up-front money.
Who is Tommy Townsend, and why did the Kansas City Chiefs give so much money to an undrafted punter? Let's take a look.
Tommy Townsend was an excellent punter at Florida
Tommy Townsend was one of the nation's top punters over the last two years. The 6-foot-2 punter from Orlando was a two-time semifinalist for the Ray Guy Award, an honor given to college football's best punter.
Townsend holds the UF record for most punt yards in a game and had three career punts that went over 70 yards.
Although Townsend participated in the NFL Combine earlier this year, that wasn't enough to earn him a selection. The New York Jets used a sixth-round pick on Texas A&M's Brandon Mann, a two-time All-SEC selection and the 2018 Ray Guy Award winner.
Atlanta drafted Syracuse's Sterling Hofrichter, a three-time All-ACC selection, in the seventh round. Hofrichter earned All-American honors last year.
Townsend is longtime punter Dustin Colquitt's replacement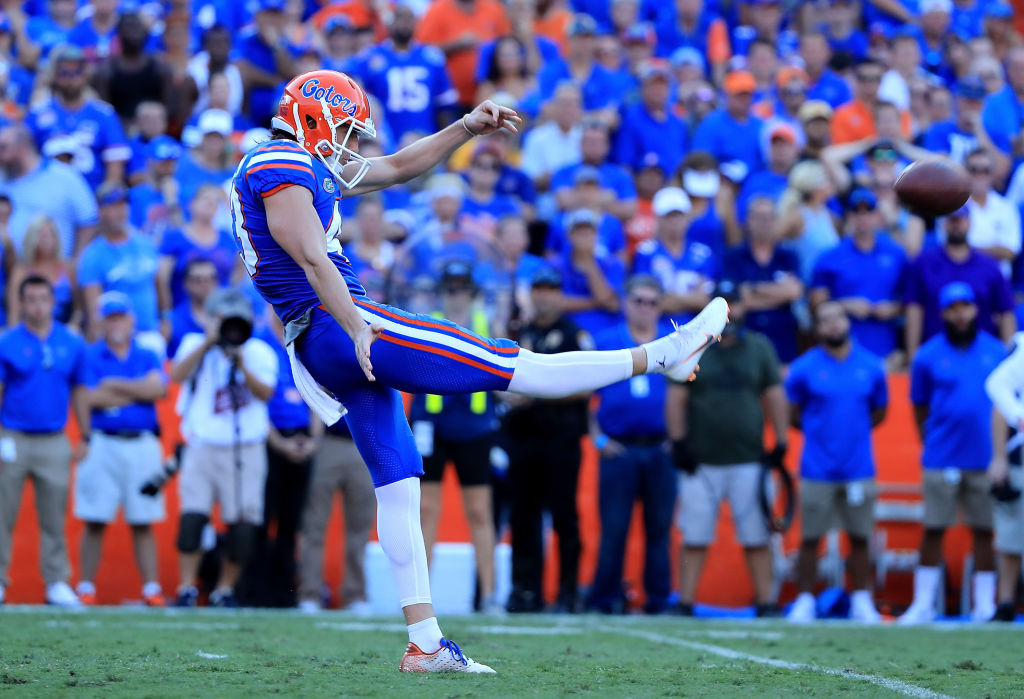 Tommy Townsend's arrival coincided with Dustin Colquitt's departure. A third-round pick of the Chiefs in 2005, the 37-year-old Colquitt is among the greatest players in franchise history and made two Pro Bowls in Kansas City.
Colquitt's 15 seasons are tied for the most by any player in Chiefs history. He averaged 44.3 yards per punt for the Super Bowl champions last season.
Notably, Colquitt had a team-record 81-yard punt in 2007.
A two-time Walter Payton NFL Man of the Year nominee, Colquitt called it an "honor" to play for the Chiefs. He has not yet announced if he intends to play in 2020, or if he will take the year off.
The Chiefs paid Tommy Townsend big money as an undrafted rookie
Tommy Townsend already stands to make a great deal of money even after going undrafted. Kansas City gave Townsend $82,500 in guaranteed money and a $7,500 signing bonus.
Those financial commitments already make Townsend the favorite to start at punter next season.
It is not known yet what the full extent of Tommy Townsend's contract looks like. The NFL rookie minimum in 2019 was $495,000, according to Spotrac.
Even with the early payday, Townsend entered the NFL with something to prove.
In a recent interview with Sports Illustrated, Townsend explained how his attitude made him such a terrific college punter and why he feels that will transition into the pros.
"I approach punting with a completely different mindset than any other punter in the league and any other punter in college. I have a very aggressive mindset, I think I am more of a dog. It just comes natural to me from playing safety in high school.

I've always been extremely competitive. I don't back down from competition, I'm always looking to get better and take down the guys that are in front of me."