New Contract or Not, Lamar Jackson Has an Excellent Opportunity to Make a Bold Statement This Preseason
Baltimore Ravens quarterback Lamar Jackson likely hoped his fourth NFL season would have gotten off to a much better start.
Jackson, the 2019 NFL MVP, missed the first week of training camp as he sat on the NFL's COVID-19 list. Although he's back now and preparing to sign a massive contract extension, the fourth-year quarterback needs to strongly consider making multiple bold decisions involving the vaccine.
Lamar Jackson has already missed time in each of the last two years following positive COVID-19 tests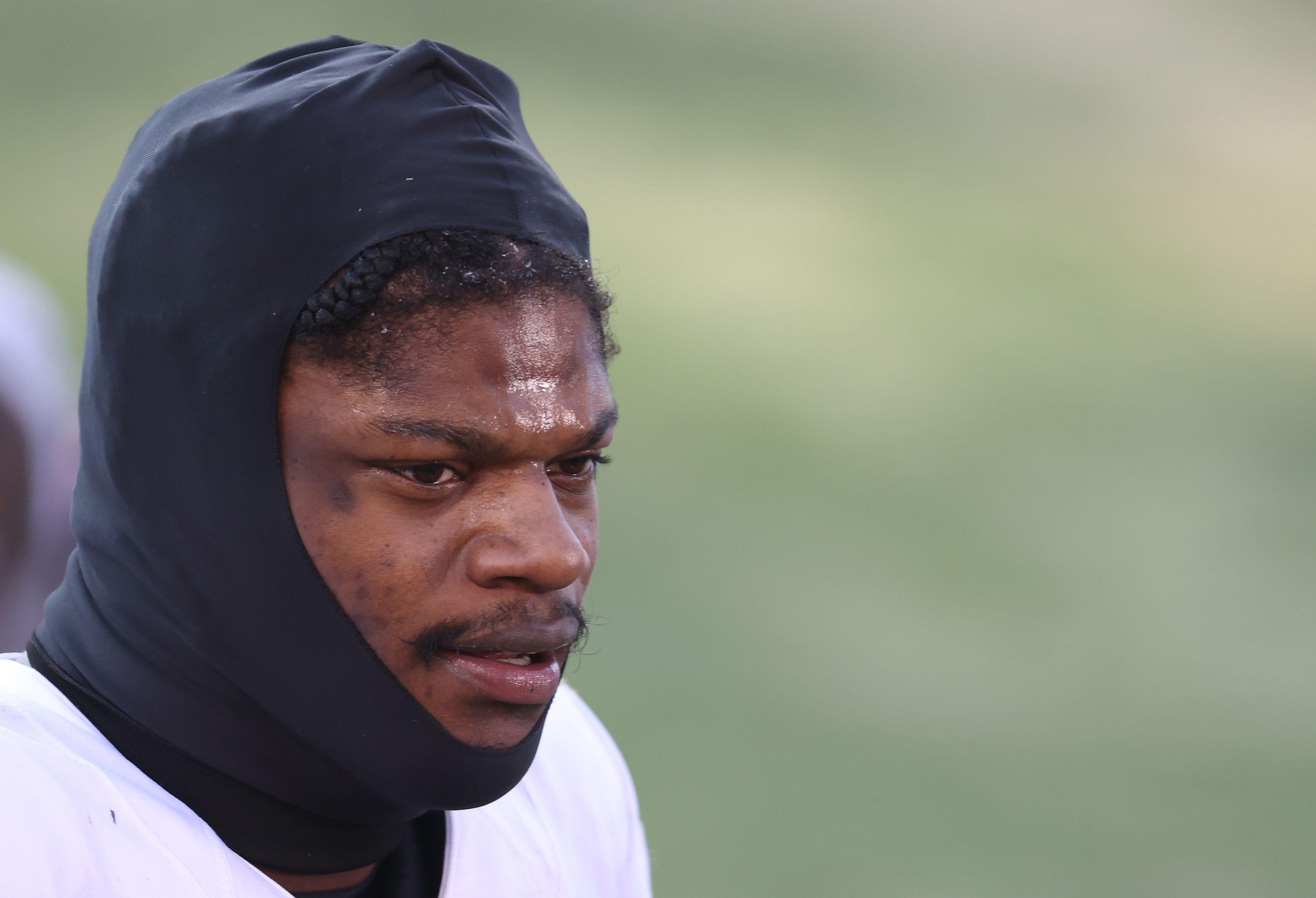 Jackson isn't a stranger to the NFL's COVID-19 list. He was among the players who missed a Week 12 victory over the Pittsburgh Steelers last December when the Ravens had an outbreak.
Then came July of this year when the fourth-year quarterback tested positive once again. He missed the first week of training camp and remained out until the Ravens activated him off the COVID-19 list on Friday, August 6. He returned to practice that day and has not missed any further time as of publication.
As one would expect, Jackson missed 10 days of training camp and eight total practices because he was unvaccinated. Ravens head coach John Harbaugh told reporters that the quarterback experienced symptoms after testing positive. 
According to the Centers for Disease Control and Prevention (CDC), "COVID-19 vaccines were evaluated in tens of thousands of participants in clinical trials. The vaccines met the Food and Drug Administration's (FDA) rigorous scientific standards for safety, effectiveness, and manufacturing quality needed to support emergency use authorization (EUA)."
As of publication, it was not yet known whether he had received his first — or, depending on which vaccine he may take, only — shot.
The NFL desperately needs a superstar player to promote getting the vaccine
Jackson is in rare territory as a professional athlete who has twice tested positive for COVID-19. And as more NFL players speak out against getting the COVID-19 vaccine, the Pro Bowl quarterback has an opportunity to step up and be the voice the league needs in endorsing both the vaccine and receiving the shot.
If or when Jackson gets his shot, he should strongly consider advocating for the vaccine. There remain far too many players, such as Miami Dolphins tight end Adam Shaheen, who have publicly said they do not intend to get vaccinated. Unvaccinated players need to continue wearing masks and adhering to the league's strict guidelines.
Even if NFL teams purge the unvaccinated players as the regular season nears, the likes of Cole Beasley and Kirk Cousins will still be on rosters. Jackson, who has emerged as one of the league's most popular players, may not be able to convince those two, but he'd have the chance to attempt influencing other players and fans who remain reluctant.
Jackson can speak to the point that those stubborn players may soon understand firsthand. If they miss time during the season, they risk losing money — and, if a team has a mass outbreak, forfeiting a game. There's also the reality that if Jackson can get it twice, anyone can. But if he's willing to get vaccinated after initial concerns, why shouldn't players like Shaheen follow in his footsteps?
Seattle Seahawks star quarterback Russell Wilson has been a fierce vaccine advocate over the last year. Wilson and his wife hosted a vaccination special on NBC in April and encouraged those watching to get their shots. The time has come for other influential players, including Jackson, to join the eight-time Pro Bowler in making their voices heard to protect themselves and their teams.
Jackson is also still waiting to sign a new contract
New contract or not, Jackson and the Ravens would strongly benefit from him getting vaccinated. At this point, it seems extremely unlikely that his two positive tests will keep the Ravens from locking him up long-term.
Jackson already may have an idea of what his new deal could include. The Buffalo Bills recently signed Josh Allen, the seventh overall pick in the 2018 NFL Draft, to a six-year contract worth $258 million with $150 million guaranteed. Jackson went 32nd overall in that same draft and is eligible to sign a new contract.
Cleveland Browns quarterback Baker Mayfield, the top pick in 2018, also hadn't signed an extension as of publication. Allen has already set the baseline for what the other two quarterbacks can try earning from their respective teams.
Although the Ravens don't play the Bills this season, Jackson and teammates have two matchups with Mayfield and the Browns during a three-week stretch in the season's second half. For all of our sakes, let's hope that neither quarterback is on the COVID-19 list at that time.
Like Sportscasting on Facebook. Follow us on Twitter @sportscasting19.