New Dallas Cowboys Offensive Lineman Josh Ball Had a Disturbing History of Dating Violence Allegations While in College
The Dallas Cowboys may already have a problem on their hands in rookie offensive lineman Josh Ball.
Ball, who completed his college career at Marshall, joins a Cowboys team in need of young offensive line prospects. However, Dallas will need to address its decision to add a prospect who had a disturbing history of dating violence allegations in college.
Florida State suspended Josh Ball for dating violence in college
RELATED: Seahawks OL Chad Wheeler Arrested After Terrifying Domestic Violence Charges
A top offensive line prospect from Virginia, Ball began his college football career under Jimbo Fisher at Florida State.
After he started nine games at left tackle during the 2017 season, Ball's college career came to a halt in May 2018. According to Sports Illustrated, the university suspended him after a judicial panel hearing. SI reported that he and his accuser had reached an agreement "in a petition for protection against dating violence" in November 2017.
The injunction mentioned 11 incidents between Ball and his accuser, three of which involved physical contact. Ball allegedly assaulted the woman after breaking her cell phone during one incident. He allegedly threw her into a closet during a separate incident because she did not return his text messages quickly enough.
The agreement mandated Ball had to stay at least 500 feet away from her residence, her parent's residence, and her church. Ball transferred to Butler Community College (Kansas) after his suspension.
Ball went to Marshall after his stint in junior college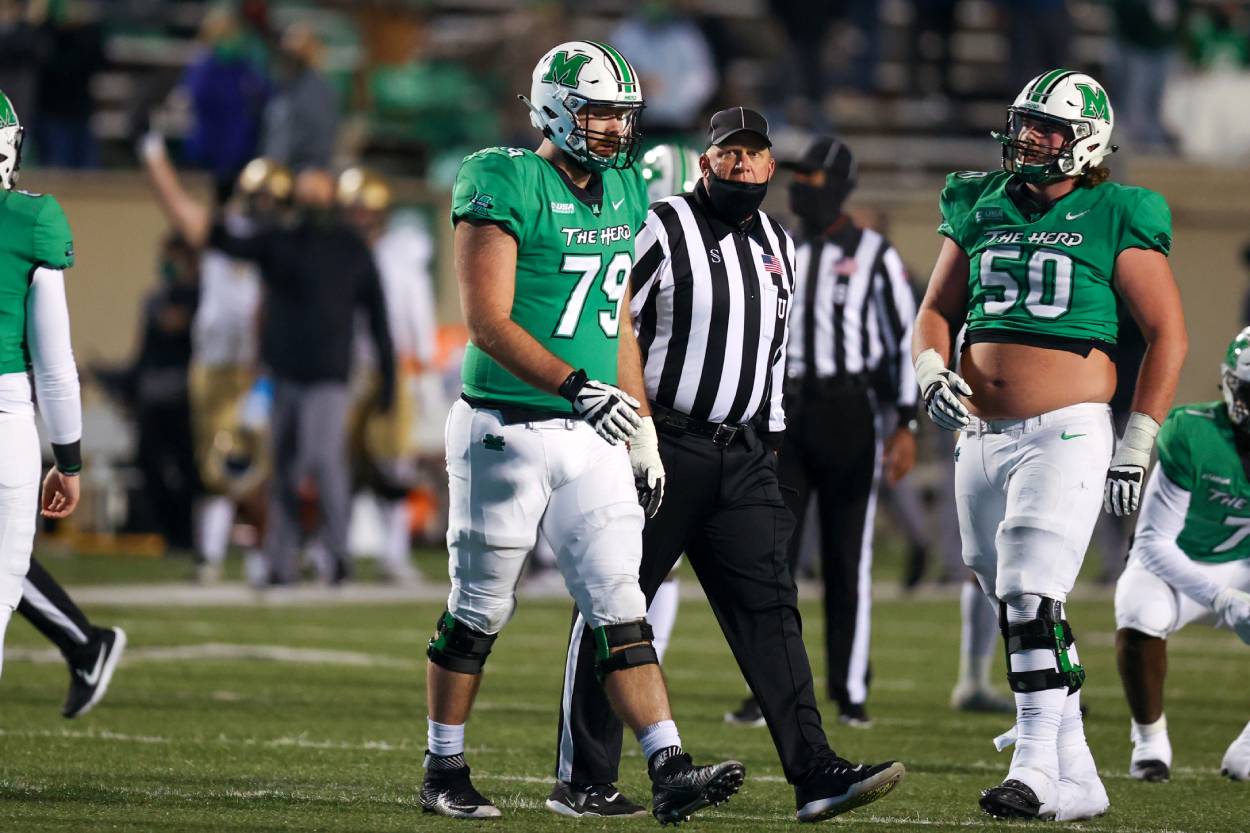 RELATED: Jason Kidd's Violent Domestic Abuse Arrest Led to His Trade to New Jersey
After a year in junior college, Ball hoped to return to the FBS level. By December 2018, he had his eyes set on a reunion at Florida State.
The Athletic reported at that time that Ball was interested in re-enrolling at FSU and joining the Seminoles in January 2019. Ball's ex-girlfriend released a public statement in which she expressed her frustration with the school's administration and head football coach Willie Taggart for exploring the idea of bringing him back.
Ball did not return to FSU, and he instead signed with Marshall. He spent two seasons there and started at left tackle in 2020.
The Cowboys need to address the decision to draft Ball
RELATED: Frightening Details About Chad Wheeler's Wild Struggle With Police Include a Scary Moment With a Taser
In a radio interview in December 2018, Dallas Cowboys owner Jerry Jones said the team has "zero tolerance for domestic abuse." Jones had previously signed Greg Hardy and later re-signed Ezekiel Elliott, both of whom had prior domestic violence allegations.
With those comments on the record, the Cowboys need to publicly address the decision to draft Ball. Although he brings size — he stands 6-foot-7 and weighs 305 pounds — and potential to the Cowboys, he also arrives with several red flags and allegations.
Ball spoke to reporters shortly after the Cowboys drafted him in the fourth round on Saturday, May 1. According to the Dallas News, he briefly addressed his past on that call:
"I've taken the time to grow as a human being and grow as a man, and I think I've done a great job of that. I'm just ready to get down to Dallas and just be a great football player and athlete, and I've learned from my mistakes, and I've learned from the past. I've grown as a human being, and I'm ready to get down to Frisco and get ready to work."

Josh Ball
Cowboys executive vice president Stephen Jones told reporters that the team did in-depth research on Ball prior to selecting him. 
"These are young men and not everybody is perfect and one of the biggest criteria we look at when we look at a young man is how he responds to adversity," Jones said. "How he moves forward? We felt comfortable with him and felt like he was going to do a great job for us going forward."
How to get help: Text HOME to 741-741 to connect with a trained crisis counselor at the free Crisis Text Line.