A New Jersey Man Stands to Make $10 Million on Rare, Mint Condition Mickey Mantle Card
Mickey Mantle is one of the most relevant MLB players once more. The late New York Yankees legend is in that rare club of baseball players decades removed from his playing days who even non-sports fans recognize. The speculation rush around sports cards in the '90s burned so brightly that its collapse was nearly as spectacular.
Baseball cards in particular crashed massively. So why is there so much interest around some Mantle card in 2022? It's about a little bit more than the age and rarity of the card itself.
Sports card collecting is back in the spotlight
To understand what's going on with trading card prices lately, one needs to talk about Mike Trout. The Los Angeles Angels superstar is quietly putting in some of the best seasons of any living player.  He's on a bad team, which makes him of little interest to the public at large — but he has a lot of love among plugged-in sports fans.
His steady rise to excellence was a surprise, so his rookie cards are exceedingly rare. Signed, low-print run variants are even rarer. That added up to an active player's card selling for $900,000 at auction in 2020.
That price would've been impossible just a year or so before. The Economist reports that there was a boom in collectibles speculation of all kinds. Comic books, video games, antiques, you name it.
Thanks to the stock market taking an unexpectedly massive upswing after the tenuous early months of the pandemic, people were ready to bet on rare finds.
A Mickey Mantle card is making a big splash on the sports card speculation market
If Trout can pull in nearly a million bucks, suddenly the Yankees' most famous switch-hitting superstar pulling in big bucks makes a lot more sense. ESPN reports that the highest-rated version of a 1952 Mantle card known to exist is on the auction block. The projected bidding for this one is a shocking $10 million.
To put this in perspective, the most valuable baseball card ever went for $3.2 million. That was just before the speculation boom hit its stride. The 1909 Honus Wagner card drew interest outside of the sports world, thanks to being a rare artifact of a long-gone era. Somehow, that eye-watering price may be a lowball compared to what it might go for today.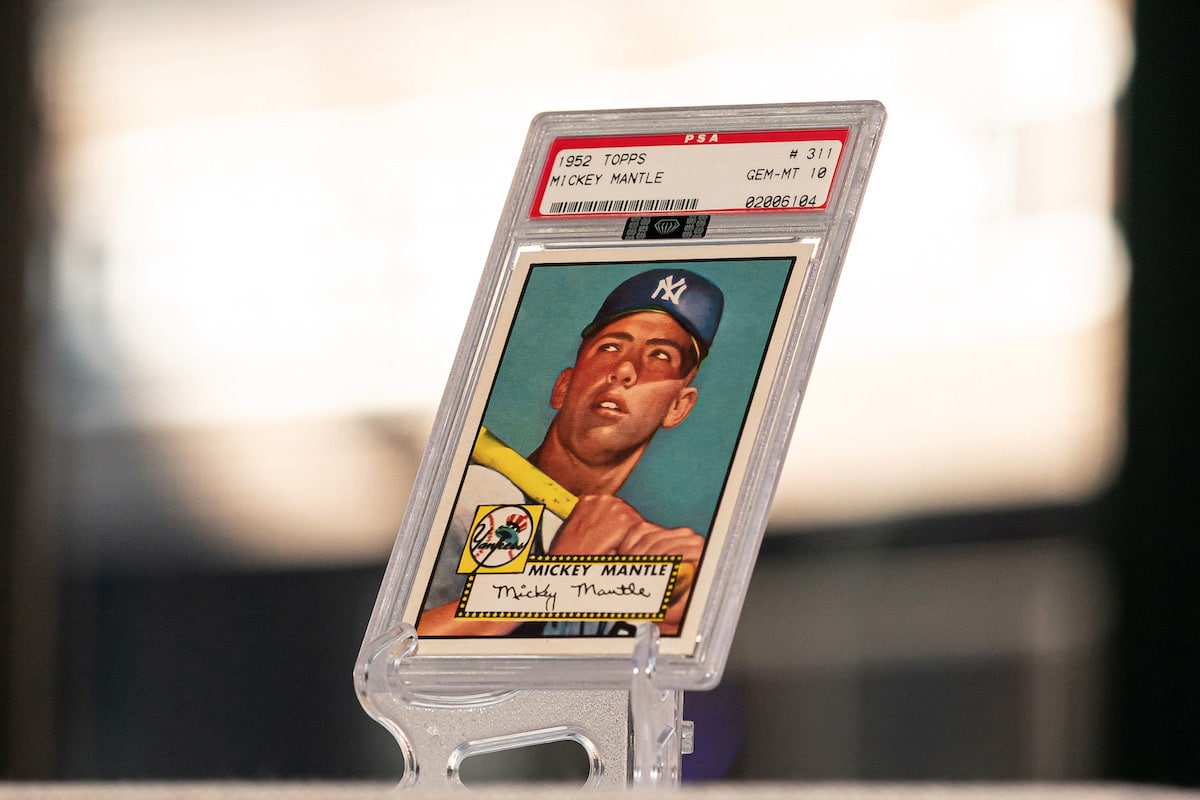 With that in mind, let's return to that Mantle card. The Washington Post reports that this incredible piece of Yankees memorabilia already has bids over $6 million. That obviously crushes the previous pre-speculation boom record. Even if the $10 million number is overestimated, the final bid won't be a modest one.
Are other baseball cards capable of selling for millions at an auction in 2022?
This 1952 Mantle card is a spectacular piece. It is literally singular in the sense that there is no other example known to the public that matches or exceeds its 9.5 quality rating. This could be the defining trading card sale of this latest speculation boom.
There are signs that this auction could be on the waning end of it all. Sure, there is no shortage of strange and unique cards to invest in. But the gold rush has shady practices harming the space. Even the venerable Topps has been caught engaging in alarming tactics to juice the value of cards.
With trust eroding, and the pandemic-era stock market boom settling into the dip that was expected in the first place, the market could be normalizing. That said, the top end is healthier than ever.
Remember that baseball player by the name of Wagner, and his $3.2 million 1909 card? According to Beckett, the value of a similar piece sold for $7.2 million earlier this month.
RELATED: Basketball Cards Are Slowly Becoming the Most Valuable Type of Trading Cards