New MLB Commissioner Recants 'Hitting for Dummies' Idea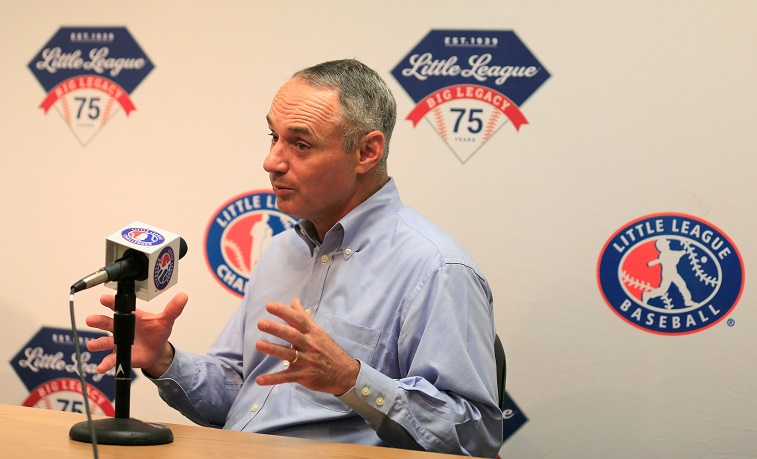 Ban defensive shifts, Rob Manfred, if you think it offers teams an unfair advantage over opposing MLB hitters and could help inject offense in the game.
But why stop there?
Major League Baseball ought to go further and consider banning curveballs, changeups, and appearances by relief pitchers before the seventh inning. Then hitters would be sure they couldn't succumb to the trickery of opposing pitchers and the wily managers who invent ways to get them out. We suggest a "Hitting for Dummies" series to accompany the rule changes.
In all seriousness, though, we immediately joined the ranks of those horrified by the idea of banning defensive shifts in baseball. And we're glad Rob Manfred appears to agree.
Manfred on shifts: 'Open' to the idea
Manfred, who just began his tenure as MLB Commissioner, grabbed headlines in a slow time for baseball news when he told ESPN he would look at "eliminating shifts" as one of the measures that could inject offense into the game. The reaction from baseball's purists was swift: Buster Olney called it "absurd," while other less-decorous figures derided the idea as stupid or worse.
Many argued — as did Grantland — that the reason eliminating shifts is silly is that it wouldn't really boost offense in the game. (Many charts of BABIP, several of which may impair your vision, were offered as evidence.) That's useful in the argument against eliminating shift, but in the bigger picture the concept is offensive on the grounds it's babying the world's greatest hitters. To put it another way:
If David Ortiz or Jason Giambi can't hit a ball on the ground to the opposite field, do they deserve a base hit?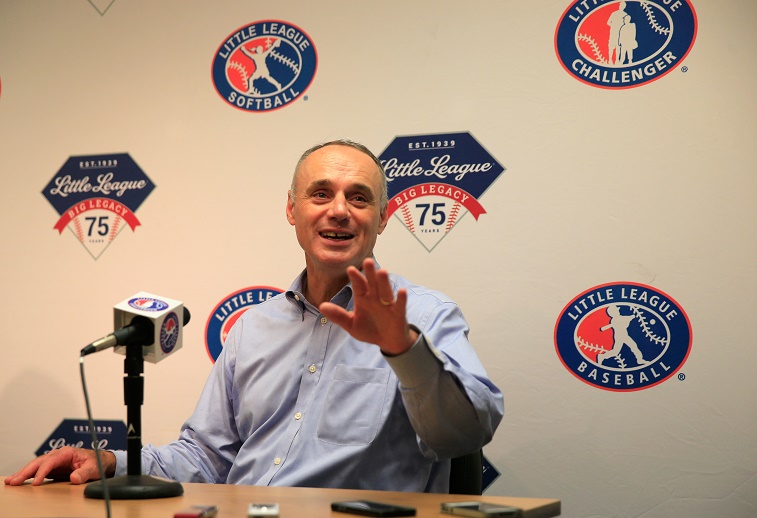 Shifts safe for time being
To be fair, Manfred said he merely "would be open to those sorts of ideas," not that he would be instituting a ban on Opening Day. In a subsequent interview with Fox Sports's Ken Rosenthal, Manfred suggested the legions of ticked-off fans may have read too much into the shift comments. The commissioner then made a case for what we would call the Miguel Cabrera approach to hitting.
"[Y]ou never know when [hitters] are going to adjust," Manfred told Fox Sports. "Maybe a lot of hitters went home this winter and they figured out how to go the other way against the shift and it will self-correct and we're not going to need to make a change." He even acknowledged the backlash that came from his suggestions in the ESPN interview. When Rosenthal pressed him on the lack of offense, Manfred demurred.
"There are a package of things that you might want to look at to address this action issue. But given the reaction I got on shifts I think I'm going to stop right there (laughs)."
In many ways, baseball fans should be happy the commissioner is open to addressing some problems in the game, even if the problems are related to revenue and future fans. After all, everyone wins when Major League Baseball is at its strongest. Just stay away from banning defensive shifts or other moves that dumb down a fantastically complex game.
Considering Major League Baseball hit record revenues over $9 billion in 2014 — just behind the NFL, a league of supposedly infinite popularity  — something is working right.