New NBA Players Union Exec Is Already Planning for 2017 Lockout
Meet the first woman to lead a male sports union in N. America http://t.co/tR4Nqim1C9 From @Globe_Sports #NBA pic.twitter.com/vbD0Rj66Bu

— The Globe and Mail (@globeandmail) July 30, 2014
The last time NBA owners locked out the players, it was a disaster — so miserable for the players union, in fact, that members spent the majority of the following season and beyond involved in a legal battle with former union executive Billy Hunter, who claims he was wrongly terminated but undoubtedly dropped the ball in labor negotiations regardless. (Hunter is currently suing Derek Fisher, who was the second in command during the 2011 labor negotiations.)
The players lost in the last lockout, and they lost badly. While the collective bargaining agreement is slated to run through the NBA's 2020-2021 season, an opt-out clause, which can be enacted by either side, is available as soon as the 2016-2017 season is in the books.
Enter Michele Roberts, the new executive director for the National Basketball Players Association (NBPA), who interrupted explaining her résumé and credentials  to NBA players last month in order to address what was, until that point, an unvoiced but very present concern.
"I bet you can tell I'm a woman," she told the players assembled, according to The New York Times, "and I suspect the rest of the world can, too." She went on to say, "My past is littered with the bones of men who were foolish enough to think I was someone they could sleep on." Roberts would leave the room as the new NBPA executive, earning 32 of 34 possible votes, a strong showing from a union that is (rightfully) seen as one of the weakest in pro sports, having come out on the losing end of every policy point of the last lockout.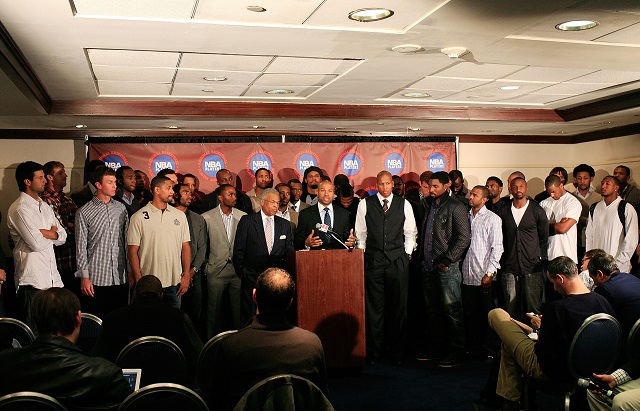 Describing Hunter's players union tenure as a "mom-and-pop shop" to the Times and promising a total overhaul, Roberts also told the Associated Press that negotiating a more favorable deal was her first priority, indicating that a new collective bargaining agreement is the first thing to tackle.
"As far as I'm concerned, preparations for CBA negotiations started yesterday," Roberts said to the AP in July. "It's at the top of my list of things that I've been instructed to begin the process of preparing for, and sure it's a lot to do, but I've never been shy about hard work and long hours, so we'll get it done. We'll be ready." That means NBA fans should expect a lockout in summer 2017, but one that's unlikely to last for an entire season, since the league has never been better off, financially speaking.