New (Old) Los Angeles Lakers Point Guard Rajon Rondo Admits LeBron James and Co. Are Over the Hill, But That's Exactly the Reason They Can Win Another NBA Title
"We don't receive wisdom; we must discover it for ourselves after a journey that no one can take for us or spare us." — French writer Marcel Proust
Rajon Rondo is no novelist, but he did make a solid point after re-signing with the Los Angeles Lakers. Rondo was a key contributor for LA when the team won its 2020 NBA Championship in the Orlando bubble. Rondo admitted that he's joining LeBron James and an aging core of players, but he also said that's exactly the reason the Lakers can win another NBA title.
Rajon Rondo admitted the Los Angeles Lakers are over the hill, but said with age comes wisdom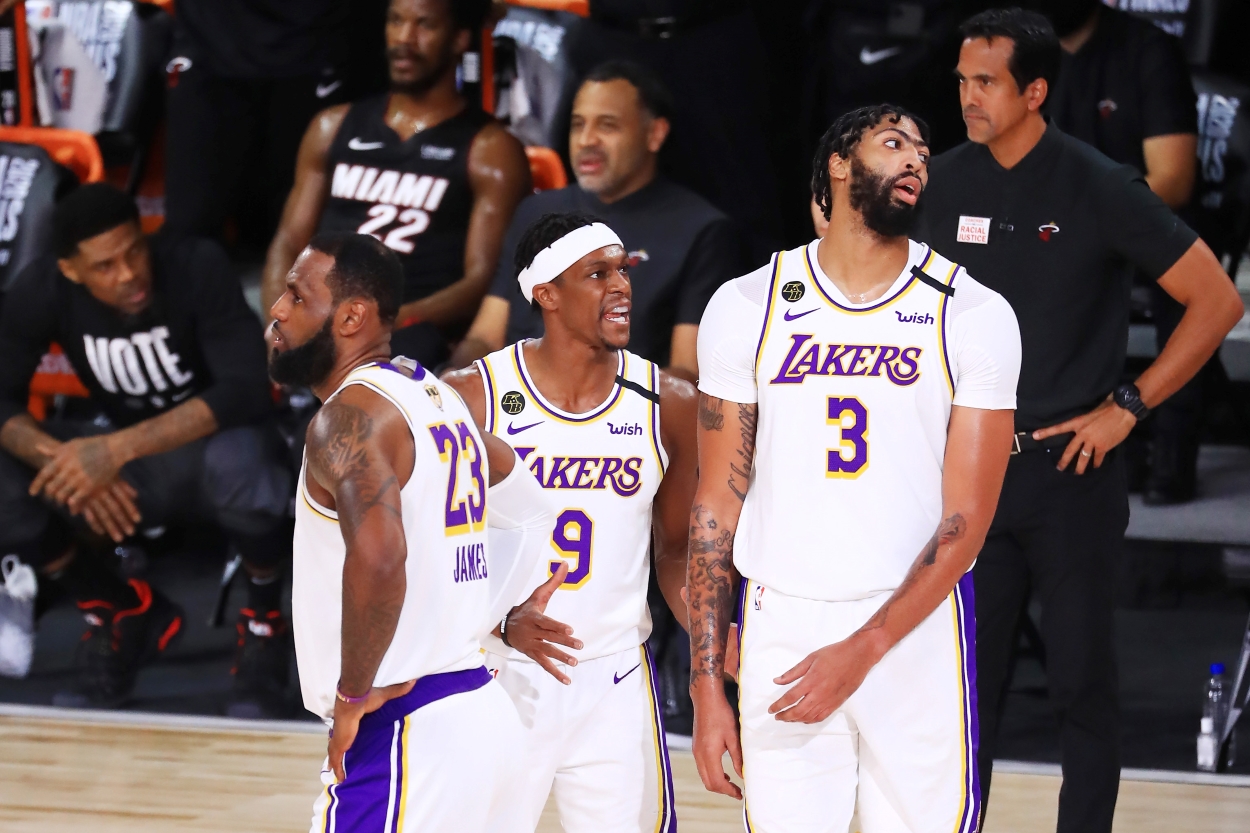 If wisdom is synonymous with being old, then yes, LA has plenty of wisdom.
Along with James, the Lakers brought in Carmelo Anthony (37), Trevor Ariza (36), and Dwight Howard (35). It's Howard's second go-round with the team as he was also part of the championship-winning squad in 2020 along with Rondo, who also happens to be 35 years old. 36-year-old Marc Gasol is still on the roster too.
But that's exactly why the Lakers can win another title, Rondo said, according to ESPN:
"Wisdom is definitely key to winning a championship. We have a lot of that, obviously, with the age and experience on the court.

"I'm looking forward to it, looking forward to the naysayers saying our age being a problem, but you don't have longevity in this league without discipline. We have guys that have the mileage, but there's a reason they're still playing in this league at this level for so many years."

Rajon Rondo on re-joining the Los Angeles Lakers and their aging core of players
LeBron James will be playing alongside a slew of old dudes this season
The Lakers' biggest offseason acquisition, Russell Westbrook, is 32. He's a young whippersnapper on this year's roster.
James is obviously the team's focal point, but he's now surrounded by a large group of — old, yes — but experienced vets. Anthony is the oldest, but James, Ariza, and Gasol are all 36. Rondo and Howard are 35. Wes Matthews is 34. Wayne Ellington is 33. Kent Bazemore is 32. The roster current sits at 16 players and 10 of them are 32 or older.
According to RealGM, the Lakers are set to be the oldest team in the league by a wide margin. LA's average age is 30.9 years old. The Utah Jazz — the second oldest NBA roster — has an average age of 27.9, a full three years younger.
But that wisdom Rondo referenced certainly comes into play when considering the team's playoff and championship training. James has played in 50 playoff series and won four titles. Gasol won a championship with Toronto. Melo has been to the playoffs in 13 different seasons. Ariza has been to the playoffs 10 different times and won a title with LA in 2009. Westbrook has played in the postseason every year he's been in the league except for 2015 and played against James in the finals. Matthews and Bazemore have significant playoff experience. Howard has been to multiple finals and won with James and Rondo in 2020.
Rondo's point about this year's Los Angeles Lakers roster has real validity
Wisdom, maybe. Experience, definitely. The former Kentucky standout has been through the ringer enough times to know that there's no substitute for playoff struggles. He's now on a team that's been through a lot of those, and plenty of triumphs on the other side as well.
That experience won't matter if a team this old isn't managed correctly. The best ability is availability and that can become a question mark quickly on a team this old. But Rondo's point is that more than anything else, this version of the Lakers understands what it takes to win, and maybe that's the most important ingredient of all.
All statistics courtesy of Basketball-Reference.
RELATED: Penny Hardaway and the Memphis Tigers Are Adding Another Basketball Legend to Their Coaching Staff