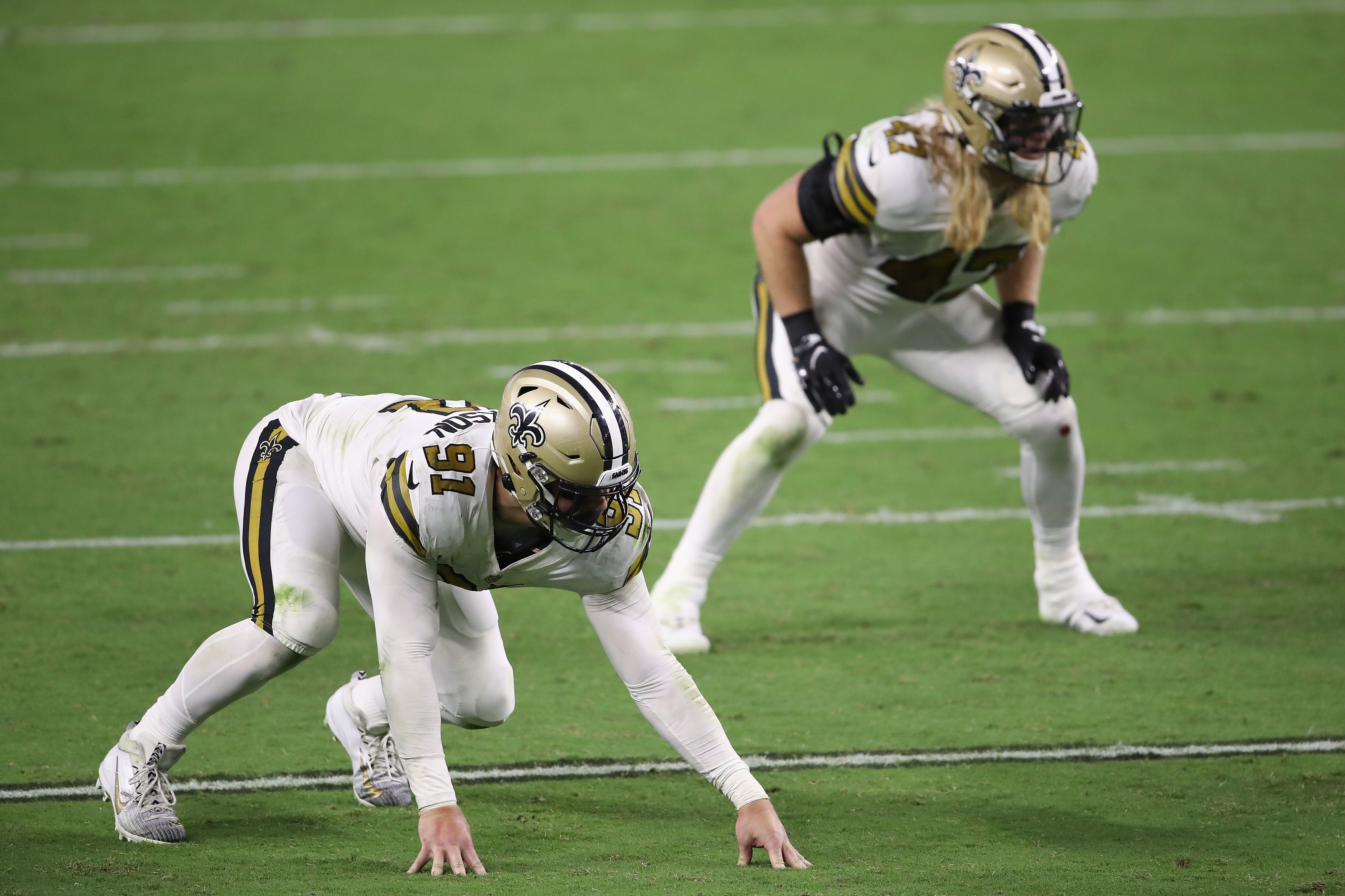 New Orleans Needs to Lock up Its $825,000 Defensive Stud — and Quickly
Defensive end Trey Hendrickson is having a breakout 2020 season for the New Orleans Saints. Hendrickson is playing his way into a major contract extension.
The New Orleans Saints and Trey Hendrickson have finally clicked on all cylinders.
Hendrickson, a fourth-year defensive end from Florida Atlantic, has played a significant role for head coach Sean Payton's defense this year. The veteran pass-rusher is among the league leaders in sacks and has the Saints gunning for another NFC South Division title.
Hendrickson is also putting the New Orleans Saints on notice. If they don't sign him this offseason, someone else will give Hendrickson a lot of money.
Trey Hendrickson is having a breakout 2020
A third-round pick of the New Orleans Saints in 2017, Trey Hendrickson is finally breaking out this year.
That's not to say Hendrickson had a poor career before 2020. Hendrickson had a career-high 4.5 sacks, four tackles for loss, and a forced fumble in 13 games (three starts) last year.
What he's done this year, however, has the Saints in great shape. Hendrickson had 5.5 sacks and six tackles for loss in his first seven games.
New Orleans, despite some scares involving veteran quarterback Drew Brees, won four straight games after a 1-2 start.
Hendrickson is a free agent after the season
Trey Hendrickson is coming on at the right time, both for himself and the New Orleans Saints.
When the Saints used a third-round pick on Hendrickson in 2017, they signed him to a standard four-year contract worth $3.1 million. According to Spotrac, Hendrickson is making $825,000 this season.
Hendrickson could be in high demand when the offseason arrives. He turns 26 in December and is just now entering the prime of his career.
Even in an uncertain free agent market because of the coronavirus pandemic, a 26-year-old pass-rusher coming off a career-best season will make his money.
Hendrickson played a career-high 60% of the Saints' defensive snaps in his first seven games. He is still contributing on special teams and played 17% of those snaps in that span.
New Orleans needs to lock Trey Hendrickson up — and quickly
If the New Orleans Saints are smart, they'll want to start thinking about an extension for Trey Hendrickson right now.
Hendrickson is young, of good character, and is an impactful contributor in the trenches and on special teams. He is exactly the type of player a team like the Saints, one with a veteran quarterback possibly in his final season, will need to continue the culture.
Hendrickson could command a decent amount of money for himself next spring. Teams should be salivating at the mouth to add a talented pass-rusher like Hendrickson, who appears only to have the best ahead of him.
New Orleans still has Cameron Jordan and former first-round pick Marcus Davenport at defensive end. Jordan turns 32 next June, however, and Davenport has battled injuries this season.
New Orleans will have to decide next spring if they will pick up the fifth-year option on Davenport's rookie contract. Davenport had six sacks last year but hasn't blossomed into the tremendous pass-rusher that New Orleans expected him to be when they used the 14th overall pick on him two years ago.
All contract figures courtesy of Spotrac.