New Orleans Pelicans Have 99 Problems and Zion Williamson Is Just 1
The fact that Zion Williamson has played more games in his first two-plus NBA seasons than fellow No. 1 overall pick Greg Oden is little consolation for fans of the beleaguered New Orleans Pelicans. Williamson continues to sit with a broken foot that was supposed to be ready by opening night. And the rest of the franchise is burning while somewhere a dog in a meme (presumably executive vice president of basketball operations David Griffin) declares, "this is fine."
New coach Willie Green blasted his team in the wake of an ugly 108–100 loss to the not-quite-as-moribund Oklahoma City Thunder. The Pelicans picked up not one, not two, but five technical fouls in the second quarter of the loss. But the problems in the Big Easy go far beyond whining at referees, bad injury breaks, or some bad bounces.
There is no Zion Williamson to rescue the New Orleans Pelicans, at least not soon
The New Orleans Pelicans took Zion Williamson with the first overall pick in the 2019 NBA Draft with the idea of building around him. That decision came after the Pelicans traded away yet another franchise player, this time Anthony Davis. He took the same highway to LA that Chris Paul traveled nearly eight years earlier.
But Williamson injured a knee in his first and only Summer League appearance. He played only 24 games as a rookie, showing promise despite a minutes restriction. Last season, he was an All-Star, averaging 27.0 points, 7.2 rebounds, and 3.7 assists a game.
Listed at 6-foot-7 and 284 pounds, Williamson's conditioning is a near-constant question. TNT analysts Shaquille O'Neal and Charles Barkley recently went after the young star about his weight. The only players in the league listed heavier than Williamson are also considerably taller. Tacko Fall is 311 pounds at 7-foot-6, Boban Marjanović measured 7-foot-3 and 290 pounds, and Jusuf Nurkić is also 290 pounds while measured at 6-foot-11.
Williamson has played 85 NBA games. That's one less than the poster child for injured superstars, Bill Walton, managed in his first two seasons. The Pelicans must decide whether to offer Williamson an extension next summer or risk him leaving the way every other superstar has left New Orleans.
The Pelicans are simply not competing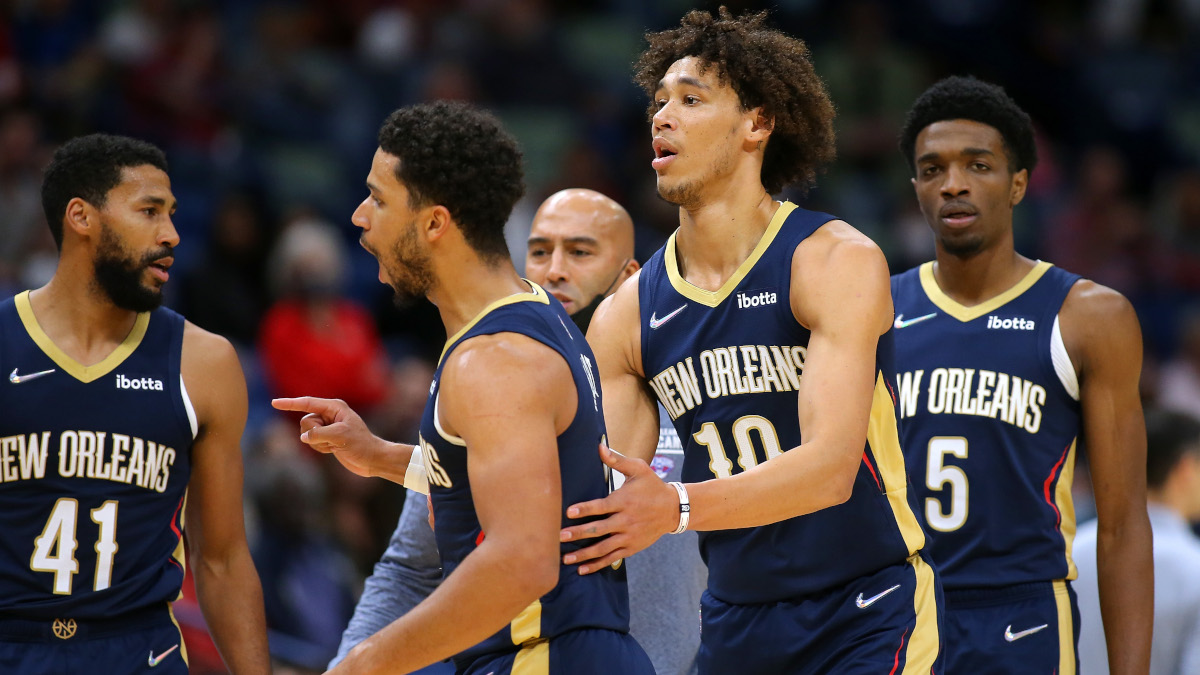 Green laid into his players after the loss to the Thunder. It wasn't as much about the technical fouls or the eight straight losses. It was more about the team's effort, per Andrew Lopez of ESPN:
"It's not the losing streak. It's not one quarter. It's our approach to this game. There were moments in the game where we just didn't have guys who didn't compete hard enough for me. Hard enough for our team. That's a non-negotiable for me. That's the deal. That's who we are. As the leader of this team, I can't have that. I can't have guys on the floor if they aren't going to give 110%."
Setting aside the flawed math in Green's statement, the New Orleans Pelicans fit the profile of a 1–11 team. They are 26th in the league in offensive efficiency and 29th at the defensive end. Their net rating of minus-11 per 100 possessions is by far the NBA's worst.
They gave up Lonzo Ball, bringing in former Charlotte Hornets point guard Devonte' Graham to replace him. Graham is an inferior defender to Ball, a small guard who be victimized by mismatches. He's also a worse shooter, hitting just 37.3% overall and 34.9% from 3-point range.
Those aren't aberrations. Graham hits 37.5% from the field and 36.3% from deep for his career. That Ball is shooting a career-best 44.7% from long range for the 8–4 Chicago Bulls is just salt in the wound.
Griffin doesn't seem to know what he wants to do with the New Orleans Pelicans
Griffin joined the New Orleans Pelicans shortly after the 2018–19 season ended. Green is his third coach in three seasons. He dumped the coach he inherited, Alvin Gentry, after 2019–20. Successor Stan Van Gundy got the boot after one season. Now Green is tasked with turning things around.
Pro basketball in New Orleans has been historically rife with peril. Their first entry in the old American Basketball Association lasted three seasons before leaving for Memphis. The old New Orleans Jazz played just five years in the Crescent City before picking up stakes for Utah.
Since the old Charlotte Hornets arrived in 2002, the franchise has had seven playoff appearances and two series victories. They've never gone past the second round.
And superstars? They've been few and far between. Paul forced his way out in 2011, first to the Lakers before David Stern imposed his will, and then to the Clippers. Griffin sent Davis to the Lakers in 2019 as his first move (unofficially in any event).
With Brandon Ingram and Jonas Valančiūnas, the New Orleans Pelicans shouldn't be this bad, even with Williamson out until opening night for a few more weeks ("indefinitely" coming soon to a press release near you). Listless players, a lack of direction from the front office, and a first-time head coach has proven to be a recipe for disaster. And it doesn't look like better days are ahead anytime soon.
Statistics courtesy of Basketball Reference and NBA.com.