The New Orleans Pelicans Need to Keep Zion Williamson From Making a Historic $181 Million Power Move
More and more NBA superstars seem to get disgruntled with their current situations every year. Right now, it's Ben Simmons, but last year it was James Harden, before that Kyrie Irving, and before him, it was Anthony Davis. The latest franchise player who might be heading out the door — and in doing so could make a historically unprecedented move — might be Zion Williamson if he decides he's done with the New Orleans Pelicans.
Reports have surfaced that Williamson isn't happy with how the organization has treated him his first two seasons in the league, and New Orleans has yet to field a competitive team around him. Both of those things should make the Pelicans nervous.
Zion Williamson is reportedly already unhappy in New Orleans after only two seasons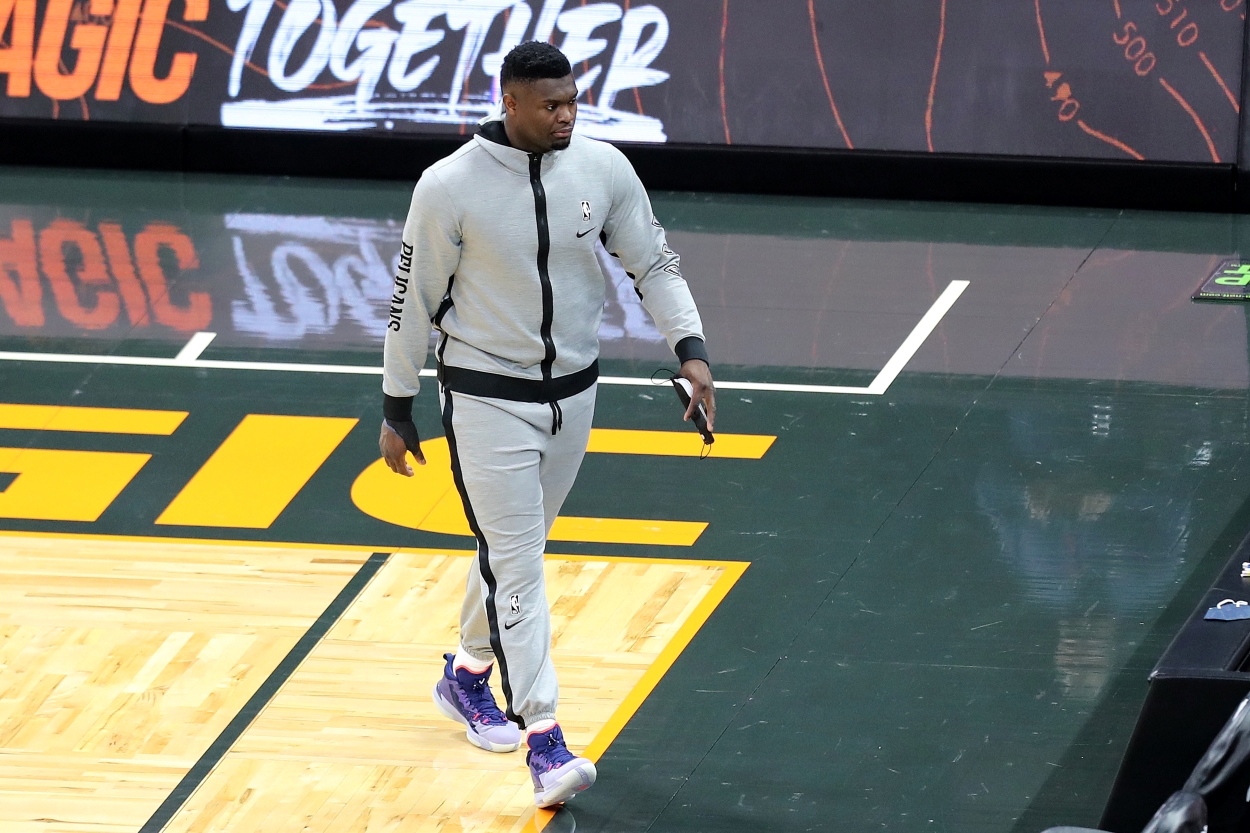 Zion was already frustrated with the franchise during his rookie year, according to Christian Clark of NOLA.com. The Pelicans handled Williamson's knee injury too cautiously, the former Duke star believed, as the team only allowed him to play in short bursts. That caused tension between the No. 1 pick in the 2019 draft and the organization's medical staff.
Clark also explained that Williamson and vice president of basketball operations David Griffin no longer have a great relationship. Additionally, Griffin isn't liked by a number of other people in the organization either, according to Clark's report. His decision to hire Stan Van Gundy before last season was met with (at best) confusion. Griffin then fired Van Gundy after one season.
New Orleans has also finished 13th and 11th, respectively, in the Western Conference the first two seasons of the 284-pound forward's career. The No. 1 reason superstars, at least lately, have demanded a trade is to move from a losing situation to a winning one.
If the Pels keep losing, that's reason enough for Williamson to want out. But if they continue to frustrate their franchise superstar off the court as well, it spells trouble for New Orleans.
Williams could be the first player in NBA history not to sign his rookie max extension
It's always been a given that the best young players in the league sign their rookie max extensions. That extension, as defined by CBABreakdown.com, "Adds 5 new years to the player's Rookie Scale Contract (for a total of 6 years when the remaining year is included). … Players signed under this rule must have a first-year salary in the extended term of at least 25% of that year's salary cap."
If nothing else, players sign it to get the most money possible and then demand a trade after. But eventually, a young star will blow through his rookie contract, decline the extension, and decide his own fate in free agency.
Williamson is eligible to sign his rookie extension after this season. Since that deal has to constitute at least 25% of the team's salary cap, it would be for five years and $181 million.
New Orleans has already exercised its player option on Zion's rookie deal. He's guaranteed to stay with the Pelicans through 2022-23, regardless of whether or not he signs his extension. But in 2023-24, the best the organization can do is extend him a $17.5 million qualifying offer. Williamson can decline it if he so chooses and become a restricted free agent in 2023 and an unrestricted free agent in 2024.
If New Orleans doesn't improve the team around Williamson, he could be the franchise's next superstar to leave town
Davis forced his way out of New Orleans in 2019. Chris Paul had had enough of the organization in 2011 and demanded a trade as well. If the Pelicans aren't careful, their current franchise superstar will be next.
No player has ever declined a rookie max extension if it was offered. The guaranteed money is often too much to ignore. Maybe Williamson, with his injury history, will take the financial security as soon as he can.
But maybe the 6-foot-7 athletic marvel will bet on himself instead. If he doesn't feel like he can win in New Orleans and doesn't feel like he's being treated fairly by the organization, Williamson could be the first to take the chance on bypassing the rookie max extension and deciding his own fate.
All statistics courtesy of Basketball-Reference and contract details courtesy of Spotrac.
RELATED: The Next NBA Superstar to Be Traded Won't Be Damian Lillard or Bradley Beal