Who Is New PGA Tour Golfer Michael Visacki?
No matter how talented a high school or college athlete may be, the odds of making it as a pro are astronomically small. Many simply recognize the writing on the wall and move on. Others remain doggedly focused on their goal, which often means spending years struggling at the amateur or semi-pro level.
Every once in a while, a player breaks through. That's exactly what happened recently with golfer Michael Visacki, who at age 27 earned his first career PGA Tour start.
Michael Visacki's golf career so far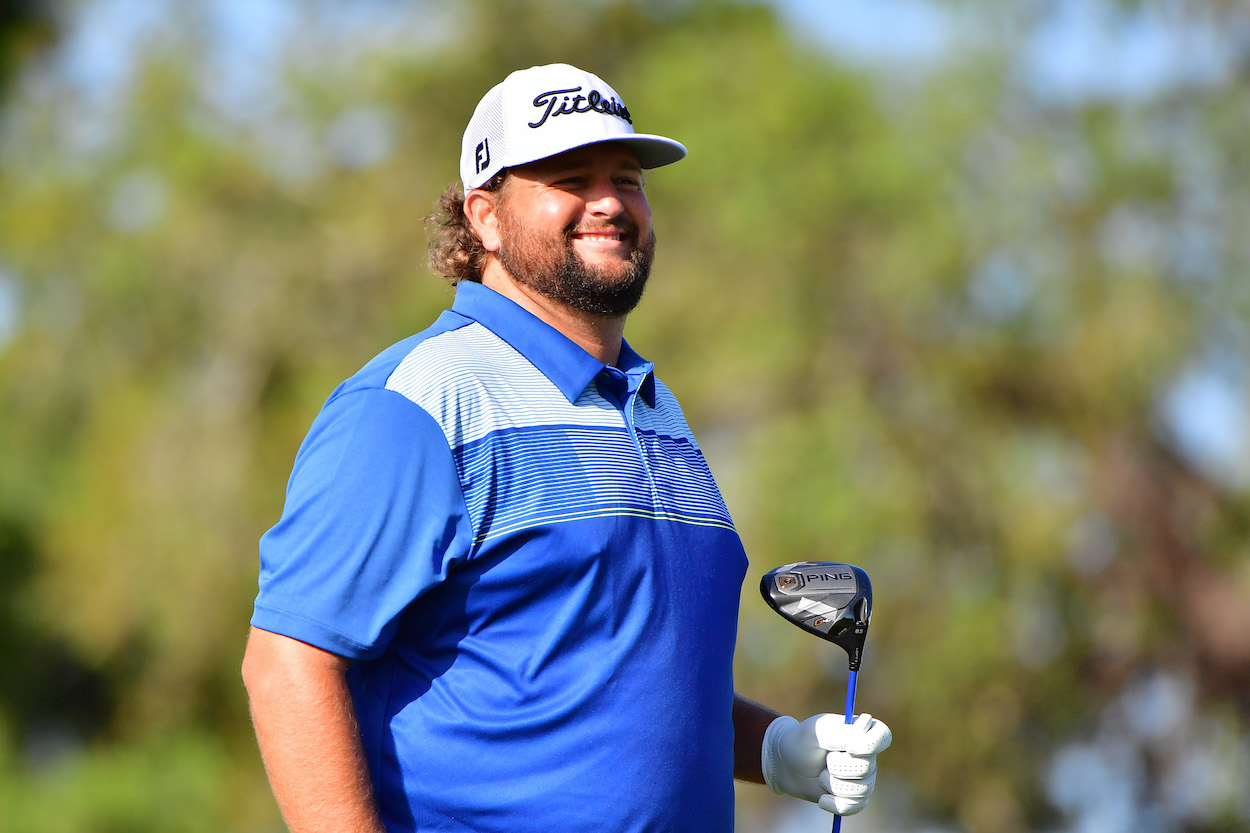 Visacki grew up in Sarasota, Florida. He developed a passion for golf as a boy and showed enough talent to begin competing in junior competitions around the state. Visacki's parents never hesitated to support their son's hobby, even when it meant making sacrifices to pay tournament fees and other expenses.
As a senior in high school, Visacki finished fifth at the state championships, according to UCF Athletics. He then spent one year playing golf at the University of Central Florida. During that time, he played in six tournaments and finished twice in the top 20. He also put up a more-than-respectable scoring average of 76.6.
That single year of college convinced Visacki that golf was what he really wanted to do. So he promptly left UCF to pursue a career on the West Florida Pro Tour. Though he didn't know it at the time, he'd spend the next seven years trying to make the leap to the pros. In the process, he amassed 37 wins on the West Florida Pro Tour, according to USA Today.
Visacki's viral video
Eking out a living as a mini-tour golfer isn't easy. Visacki spent most of his seven mini-tour years living at home with his parents and driving around in an aging Honda Accord. Tournament fees alone were often enough to stretch his budget to the max. Yet Visacki refused to let go of his dream, and so he kept competing.
All of that dedication finally paid off in late April at a qualifier for the Valspar Championship in Tampa, Florida. There, according to the New York Post, Visacki sank a 20-foot birdie putt. In the process earned himself a spot in his first-ever PGA Tour event.
Not long after, Visacki called his father to share the exciting news. That emotional call was captured in a video that quickly went viral. The tearful Visacki saying simply, "I made it."
Visacki achieved a truly daunting task
At first glance, Visacki's feat may not seem that impressive. According to Pro Tour Golf College, on average it takes amateur golfers 7-10 years to make it all the way to the PGA Tour. Visacki's experience is right in line with that average. Yet what that number doesn't tell you is how many mini-tour golfers never manage to make the leap at all.
According to a statistical analysis by Club and Tee, the odds of any aspiring golfer making it all the way to the PGA Tour are a dismal 1 in 16,496 — or 0.006%.
It takes a unique combination of talent, luck, and perseverance to beat those odds. That's why the video of Visacki breaking down in tears hit such a nerve for fans, helping to make real the fact that nothing is guaranteed in the world of golf — and that tears are the most human reaction of all.
Like Sportscasting on Facebook. Follow us on Twitter @sportscasting19.