New Record Holder Stephen Curry Impressed a Young Ray Allen by Holding His Own at Shootarounds as a 10-Year-Old
After hitting a pair of threes within the first five minutes of Tuesday's game against the New York Knicks, Stephen Curry has officially broken Ray Allen's record for most 3-pointers made in an NBA career.
It felt like it took forever — before the Golden State Warriors' game against the Portland Trail Blazers on Dec. 8, Steph wondered aloud if he could break the record with 16 threes in one game. Heck, even LeBron James tuned in to see if Curry could hit that many in a single night.
The two-time MVP has now officially passed Allen to statistically become the best 3-point shooter in NBA history.
But during the 1998-99 season, a 10-year-old Steph got to show off to a 23-year-old Ray-Ray long before he ever came close to threatening his record.
Stephen Curry now holds the record for most 3-pointers made in an NBA career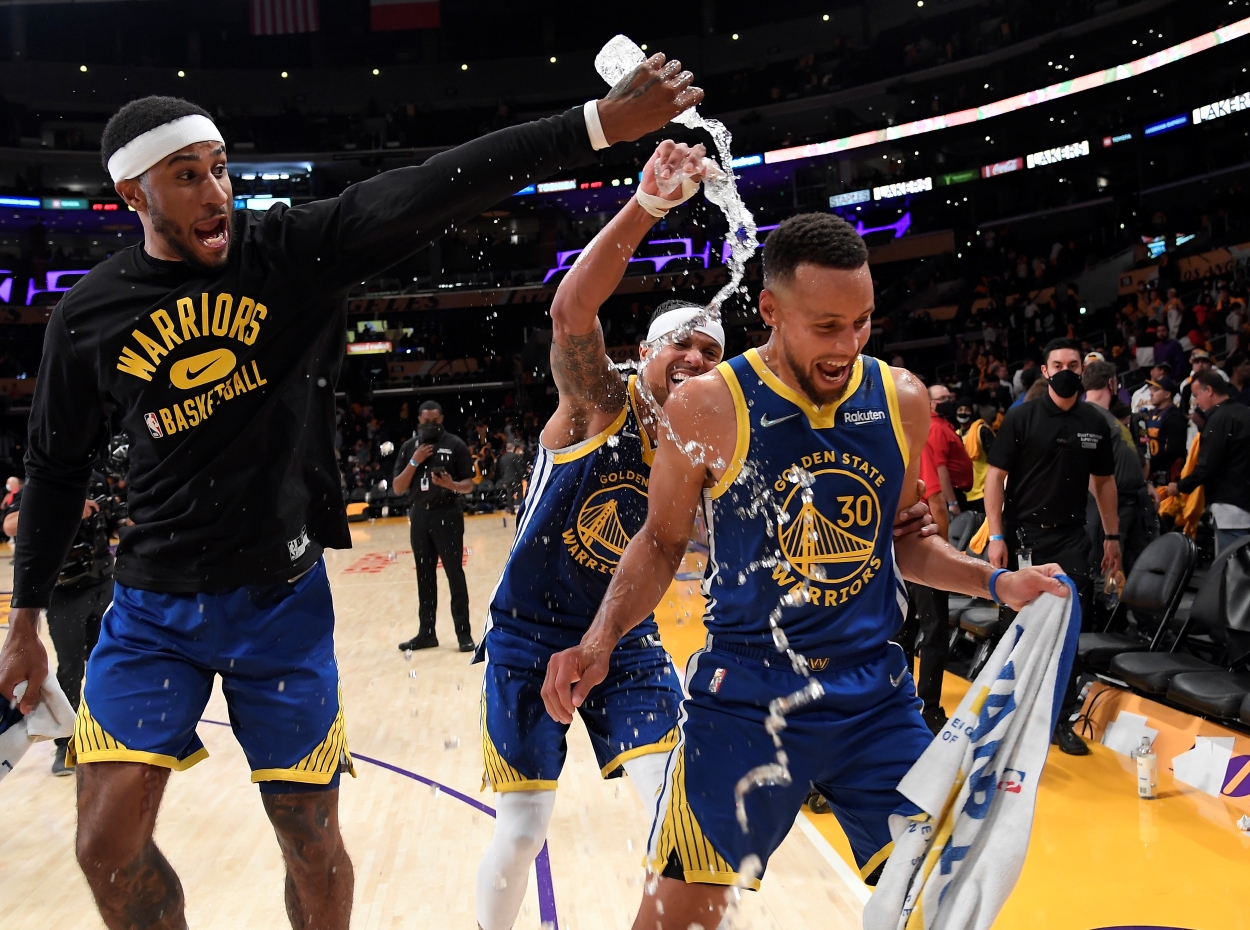 Steph hit two quick threes against the Knicks to break Allen's record at MSG. In the Mecca — why not?
Four minutes and 27 seconds into the night, Andrew Wiggins caught a pass and found Curry, and fittingly, Steph fired off a quick-release three over the outstretched arms of the much longer Alec Burks.
Swish.
Allen was on hand to celebrate with Curry. The two embraced pregame and again after Curry hit the three heard 'round the NBA.
In the weeks leading up to it, as Ray knew his record was about to be shattered, he had nothing but praise for Curry.
He also had a revelational story.
Steph used to hold his own with Allen at Bucks' shootarounds when he was 10 years old
Jesus Shuttlesworth was teammates with Curry's father, Dell.
The elder Curry crossed paths with Allen for one season in Milwaukee — the 1998-99 campaign when Dell was 34 and Ray was 23.
And Steph was 10.
Allen explained that Bucks head coach George Karl let 10-year-old Steph and his older brother, Seth, on the floor for shootarounds with their dad. And he said even then he was impressed with the future two-time MVP, via an article on NBC Sports:
Steph used to come into Milwaukee when he was younger, him and Seth. And (Bucks coach) George Karl used to let them participate in shootaround. So, they'd come and we'd go through drills and they'd be right there with us. And they'd hold their own.

Ray Allen on a 10-year-old Steph competing during Bucks' shootaround
"It's hard not to root for Steph," Allen added. "It's hard not to understand where he comes from and who he is. To be able to see him and celebrate him, it's not a stretch at all. I'm just happy for him and his family. I've known them for forever."
Hopefully, the class of 2018 Hall of Famer can keep rooting for Steph because there's at least one other record Ray-Ray possesses that Curry will break.
By the time he retires, the Warriors star will likely have obliterated Allen's records
Curry is on Allen's tail for most threes attempted in a career as well. Going into the night, Steph had taken 6,889, while the former Miami Heat and Boston Celtics guard put up 7,429 during his 18-year career.
Curry is in year 13.
The former Davidson star is on pace to put up more than 1,000 3-point attempts this season (James Harden currently holds the record at 1,028). He should be at least within striking distance of Allen by the end of the 2021-22 campaign.
So Allen's other record should be toast by the end of next year, barring — knock on wood — injury.
But as he continues to cement himself as the greatest shooter of all time, one of the most humble superstars in the game is keeping everything in perspective and said he's just enjoying the journey.
"One thing I learned over these last three games," Curry said prior to the game, via NBC Sports, "is to keep playing basketball, keep taking shots you think you can make, and enjoy the experience of it because it's long time coming.
"I'm just enjoying feeling the moment, in terms of the chase to get over the mountaintop. After that, I'll just see how far I can push it."
He made it to the mountaintop. At least one mountaintop. There are more to climb for Stephen Curry, more records to break.
Now it's time to settle back and witness how far he can, indeed, push it.
All statistics courtesy of NBA.com.