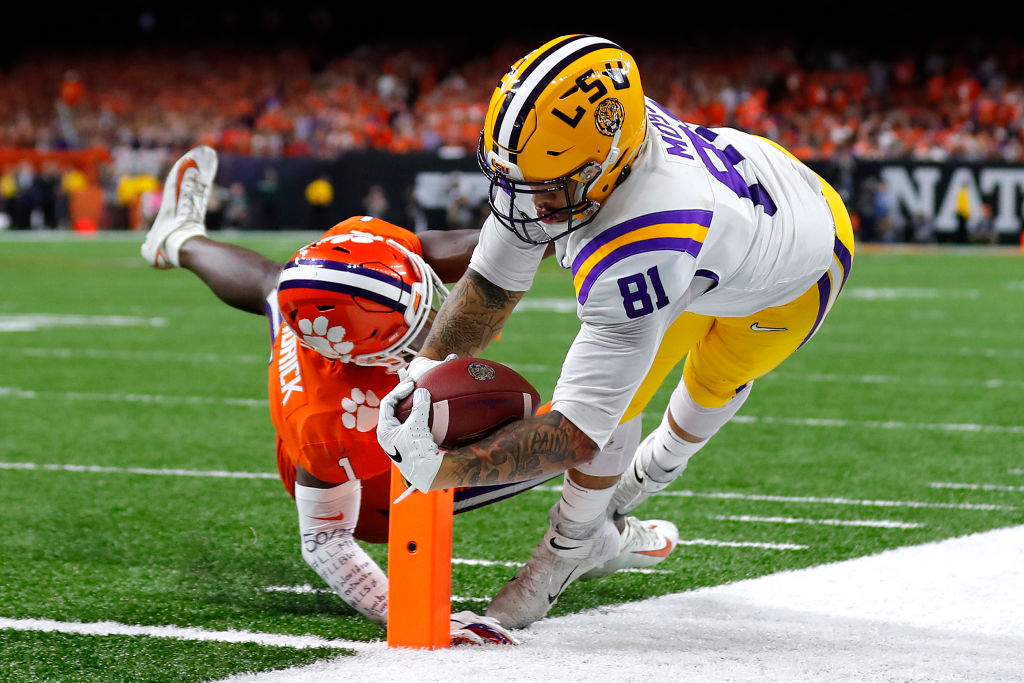 New Redskins Tight End Thad Moss Should Make His Father, Randy, Proud
Thaddeus Moss, son of NFL legend Randy Moss, had a breakout season at LSU in 2019. Thad Moss will be an interesting NFL option.
Thaddeus Moss is ready to make his father, legendary NFL receiver Randy Moss, proud. Nearly a decade after his father's final touchdown catch, Moss officially joined the NFL ranks on Saturday.
The Washington Redskins signed Moss, a 6-foot-2 tight end from LSU, as an undrafted free agent, according to ESPN's Adam Schefter.
Although Thaddeus Moss only had one strong college season, the Redskins should be excited about their newest tight end. Moss has an opportunity to prove the doubters wrong and make Randy Moss proud once again.
Thaddeus Moss had a breakout 2019 season at LSU
Thaddeus Moss opened his college football career at NC State in 2016. Moss caught six passes for 49 yards and a touchdown as a true freshman before he transferred to LSU. Moss sat out the 2017 season in compliance with NCAA transfer rules and missed the 2018 season because of a foot injury.
When Thaddeus Moss finally debuted in the Tigers' offense last year, it was clear he found a perfect fit in Baton Rouge. Moss formed a brilliant duo with Heisman Trophy-winning quarterback Joe Burrow, the No. 1 overall pick in this year's draft.
Thaddeus Moss totaled 47 receptions for 570 yards and four touchdowns, two of which came in the national championship game against Clemson. Rather than return for a redshirt senior season, Moss declared for the NFL draft in January.
Randy Moss is one of the greatest receivers in NFL history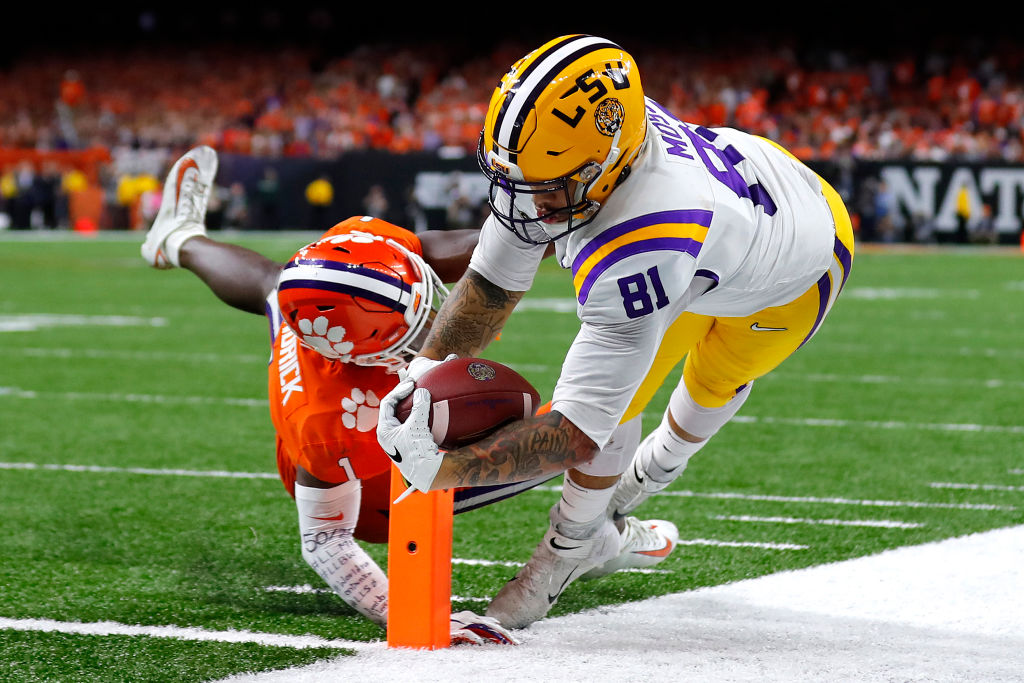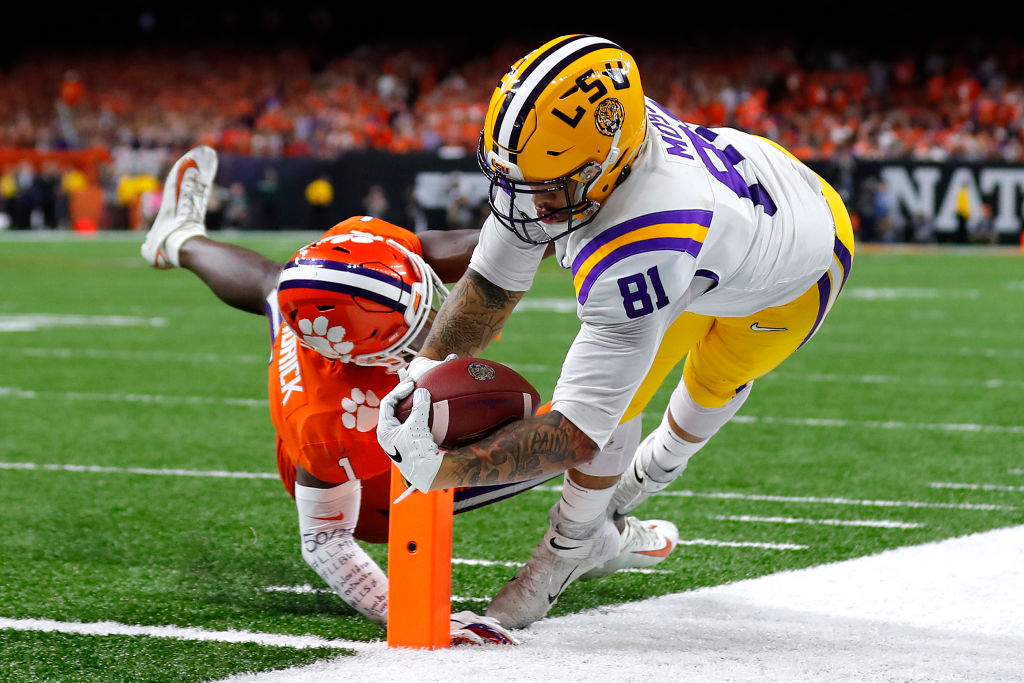 Thaddeus Moss, fairly or unfairly, is often mentioned in the same sentence as his father. It's hard not to invoke Randy Moss' name when discussing his son because the Hall of Fame receiver's legacy speak for itself.
Randy Moss caught 982 passes for 15,292 yards and 156 touchdowns across 13 NFL seasons. Moss added 54 receptions in the postseason for 977 yards and 10 touchdowns. Moss set the single-season touchdown record in 2007 when he caught 23 scores from Tom Brady on a Patriots team that finished 18-1.
The 6-foot-4 Randy Moss was aptly nicknamed "The Freak" for his excellent catch radius and playmaking ability.
Randy Moss earned induction into the Hall of Fame in 2018. He has spent the last few years as a vital member of ESPN's NFL coverage.
Moss will be an intriguing NFL player
No one is expecting Thaddeus Moss to be the 2020 version of Randy Moss. Thad Moss profiles as a blocking tight end who is capable of making plays as an H-back and option in two tight-end sets.
Thaddeus Moss surprisingly went undrafted this weekend. NFL Media's Lance Zierlein compared Moss to former Southern Illinois tight end MyCole Pruitt. The Minnesota Vikings drafted Pruitt, a two-time FCS All-American, with the 143rd overall pick in 2015.
Pruitt has mainly bounced around the league as a blocking tight end and almost made the Super Bowl with Tennessee last season.
Zierlein projected Moss to either go late in the seventh round or go undrafted. While Zierlein is concerned with Moss' "route tempo" and route running, he is high on Moss' blocking.
"He has great hands and good body control, but he's an average athlete who benefited from rub routes and off coverage to find plenty of open-window catches. He will get after it as a run blocker, using above-average technique and an impressive ability to strain and sustain against bigger opponents."
Thaddeus Moss might not become a Hall of Fame receiver like Randy Moss. There is no guarantee the younger Moss even makes it through training camp.
But Thaddeus Moss has already made his father proud by making it this far, and the Moss family has shown enough times they don't back down from challenges.