The New York Giants Can Use Daniel Jones' Shocking Rushing Numbers to Avoid an Expensive Offseason Mistake
This season, the New York Giants have limped out to a 1-3 start, and things are unlikely to get much better. The Giants have a brutal schedule moving forward. They play games against 6-7 legitimate playoff contenders.
Questions will also continue to swirl around head coach Joe Judge's job security. The offense is sloppy, and the defense inconsistent. The 2021 Giants have all the makings of a below .500 time for the fifth year in a row.
With that in mind, it would behoove the Giants' front office (which could look completely different in a few months) to start looking ahead to the looming offseason. Major questions need to be answered.
The Giants have an important offseason coming up
After missing out on the postseason by a mere game last year, the Giants decided to operate under the premise that they're "close" to winning the division here in 2021. They spent big money in free agency (WR Kenny Golladay) and drafted a gadget player in the first round of the 2021 NFL Draft (WR Kadarius Toney) instead of further stocking up on offensive linemen.
It was a bold strategy considering the Giants only won six games in 2020. However, it's hard to fault them too much. The Giants have been desperate for a winning season for quite some time.
With New York off to a wobbly start and Dak Prescott and the Dallas Cowboys red hot, the logic that New York can compete this year appears no longer valid. They'll likely miss the playoffs by a few games this season, which will presumably spur change across the organization.
Joe Judge could be fired, general manager Dave Gettleman should be on the chopping block, the Giants may replace Daniel Jones, and a decision will have to be made on fan-favorite Saquon Barkley and what his future should look like.
Saquon Barkley wants to get paid this offseason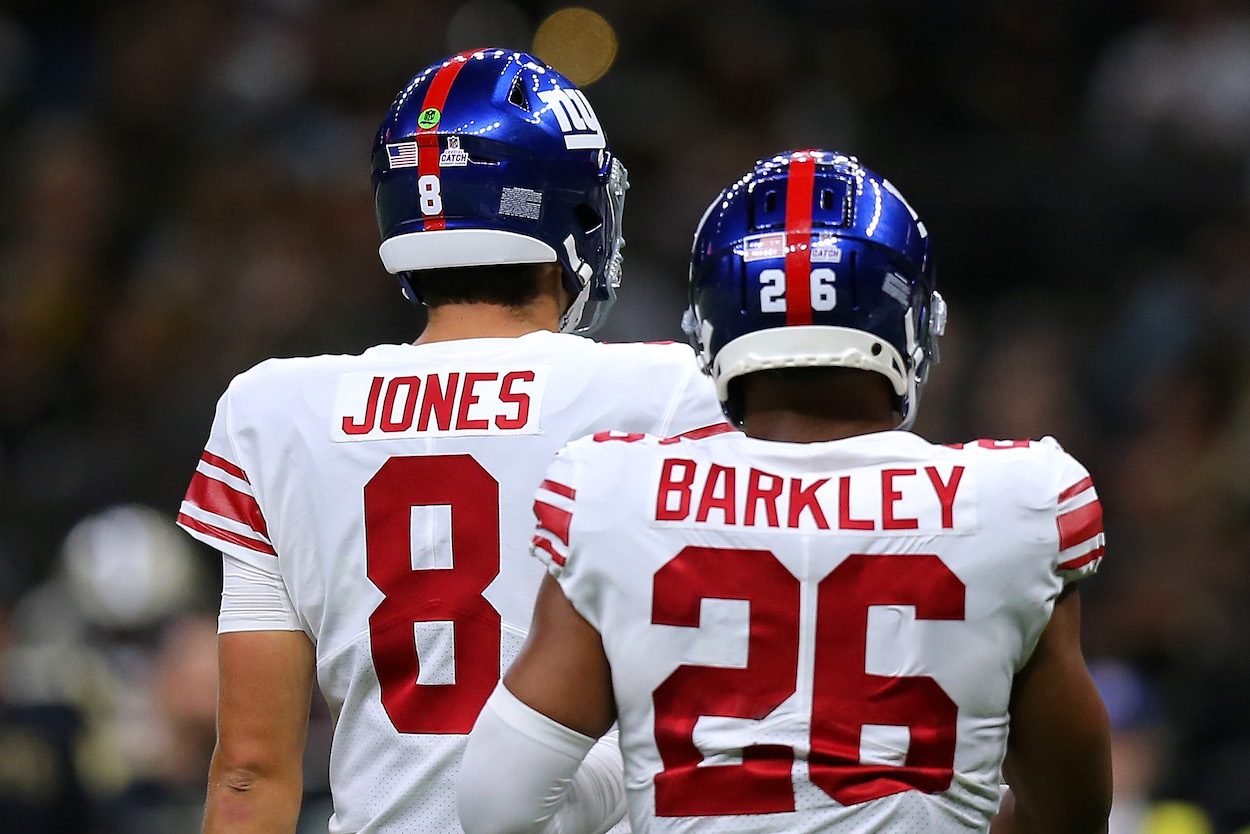 Once upon a time, Barkley was the face of the Giants franchise. However, times have changed due to a nasty ACL tear he suffered at the start of last season.
Barkley doesn't look like the same runner anymore, and the Giants can use that to their advantage.
First, it's important to acknowledge the Giants don't actually have to pay Barkley this upcoming offseason. They have a fifth-year option they could enact. However, as NJ.com's Daryl Slater points out, Barkley "surely doesn't want to play out his rookie deal under his fifth-year option in 2022."
If Barkley does push for an extension this spring, the Giants — believe it or not — have all the leverage.
The Giants have leverage over Barkley
The Giants have played four games this season, and Barkley isn't even the team's leading rusher.
Yes, you read that correctly. Barkley does not lead the Giants' offense in rushing yards. Daniel Jones has 188 ground yards this season, while Barkley only has 186. Granted, Barkley is proving productive in the passing game, but it's still an alarming stat to see written down considering how good Barkley is supposed to be.
Between the Giants' lackluster offensive line and Barkley's injury history, his runs don't have the same "wow" factor they did when he first debuted.
NFL negotiations are a harsh world, and the New York front office will almost definitely use statistical tidbits like these to argue Barkley deserves a smaller contract than expected. They genuinely have all the leverage at the moment.
There's still plenty of games left to be played this season — Barkley can easily explode for a massive second half and earn himself a fat payday. However, as things stand currently, the Giants are in the driver's seat regarding extension talks down the road.
All stats courtesy of Pro Football Reference.
RELATED: Joe Judge's Bizarre Comments About Bill Gates and Analytics Proves the New York Giants Need to Make a Drastic Change