Should the New York Giants Consider Turning to Carson Wentz as Their Next Franchise Quarterback?
Article Highlights:
Indianapolis Colts veteran Carson Wentz checks nearly every box the New York Giants should have regarding a new quarterback
The Colts are reportedly interested in cutting or trading the 2017 Pro Bowl selection
Although Wentz makes sense for the Giants, his massive contract could prove to be a monumental roadblock
If the Indianapolis Colts choose not to part ways with veteran quarterback Carson Wentz this offseason, things could be extremely awkward come training camp.
Last spring, the Colts acquired Wentz, a former Pro Bowl quarterback with the Philadelphia Eagles, and hoped a reunion with ex-Eagles offensive coordinator Frank Reich would work wonders. Although the North Dakota State product played well throughout the year, he struggled in the season's final month and played a significant role in Indianapolis missing the playoffs for the second time in three years. Awkward.
Wentz might not be long for Indianapolis despite his strong play throughout the 2021 campaign, as the Colts are reportedly interested in either cutting him or finding a trade partner. Even more awkward.
Although Wentz is unlikely to play for the Eagles anytime soon, he does make sense for another NFC East team. Whether or not the New York Giants will find a way to acquire the 29-year-old is another story.
Carson Wentz checks nearly every box the New York Giants should have in a quarterback
Contrary to what ESPN and Jemele Hill would have had you believe, numbers do lie at times. A quick glance at Wentz's resume shows he completed 62.4% of his passes for 3,563 yards, 27 touchdowns, and only seven interceptions in 17 starts last season. Many teams, especially the once-proud Giants, would happily take those numbers.
Although Daniel Jones has had his moments in three seasons with the Giants, he's struggled too often with turnovers and closing games. The Duke product's playing future remains uncertain after he suffered a neck injury in December 2021; as of publication, the Giants still expected Jones to play next season, although he likely won't be cleared to practice for several more months.
If the Giants theoretically decided that they wanted to move on from Jones in the coming weeks, Wentz makes perfect sense, at least on paper. He is an experienced starting quarterback who, from a statistical standpoint, revived his career after reuniting with Reich.
Although Wentz isn't an exact older clone of Buffalo Bills quarterback Josh Allen, he has the skillset to thrive under new Giants head coach Brian Daboll — who oversaw Allen's growth in upstate New York — and offensive coordinator Mike Kafka.
If everything sounds so ideal, what's the problem?
Wentz's contract could prove to be a significant roadblock if the Colts don't eat money
Life in the NFL means that when a team drafts a quarterback, they eventually have to break out the big bucks. Sometimes, in the case of Allen or Kansas City Chiefs star Patrick Mahomes, awarding a quarterback a multi-hundred million contract is well-deserved and justified.
Then, there are instances such as the Eagles signing Wentz to a four-year, $128 million extension in July 2019. Oops.
Wentz, who will play most of the 2022 season at 29 years old, currently has three years and $65 million in base salary remaining on his current contract, and $15 million of his 2022 salary is already fully guaranteed; the other $7 million will be guaranteed on March 18.
Although Wentz played more than competently in 2021, very few teams, if any, might be interested in being willing to take on that much money for the veteran quarterback. As of publication, the Giants have -$10.7 million in cap space and need to make several cuts in the coming weeks.
Theoretically, the Colts could agree to eat money if the organization is desperate to get Wentz far away from Indianapolis. However, there is no guarantee the two-time Super Bowl champions would absorb enough money to make a potential trade with the Giants work.
Should the Giants try acquiring Wentz if he becomes available?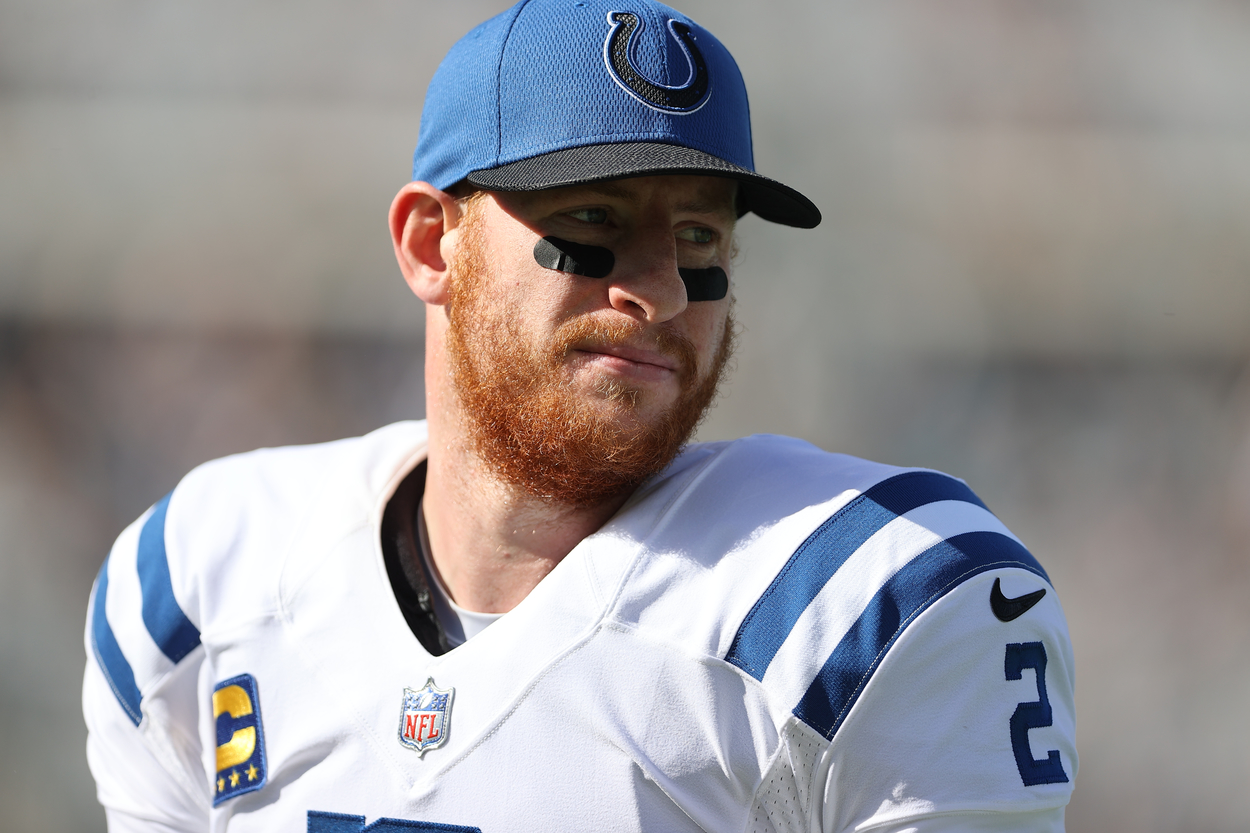 If the Colts wake up one day and decide they would cut Wentz and deal with the financial ramifications after the fact, the Giants should absolutely see if they can convince the veteran quarterback to return to the NFC East.
Unfortunately for the Giants, the odds either favor Wentz staying in Indianapolis for another year or being dealt, and Big Blue likely doesn't have the space to make a trade work. Which, considering how well he played for the bulk of the 2022 season, is an unfortunate reality.
Suppose the Giants intend on adding a quarterback to either compete for the starting job or outright usurp Jones. In that case, the team is better off trying to sign Bills backup Mitchell Trubisky or former New Orleans Saints starter Jameis Winston. Daboll and Trubisky worked together in Buffalo last season.
We might very well revisit this scenario next offseason if things don't work out for either party in the coming months. If Wentz plays as well in 2022 as he did in 2021, the Giants should hope they actually have the cap space to make a trade.
Then again, if we're revisiting this scenario again next year, what does that say about Wentz and the Giants?
Like Sportscasting on Facebook. Follow us on Twitter @sportscasting19.
RELATED: Colts RB Jonathan Taylor Backs Carson Wentz Amidst Controversial Trade Rumors: 'I Love Him in the Locker Room, I Love Him on the Field'