The New York Giants Could Finally Give Painfully Loyal Fans What They Deserve After Years of Failure
The New York Giants are well on their way to another losing season. Mediocrity has been a constant theme since Dave Gettleman took over as general manager. Things have been trending in the wrong direction for some time now, but the fans have remained loyal.
Offensive coordinator Jason Garrett's firing could be just the tip of the iceberg for the Giants moving forward. The latest news out of New York could drastically alter the trajectory of the franchise.
Dave Gettleman could be out after 2021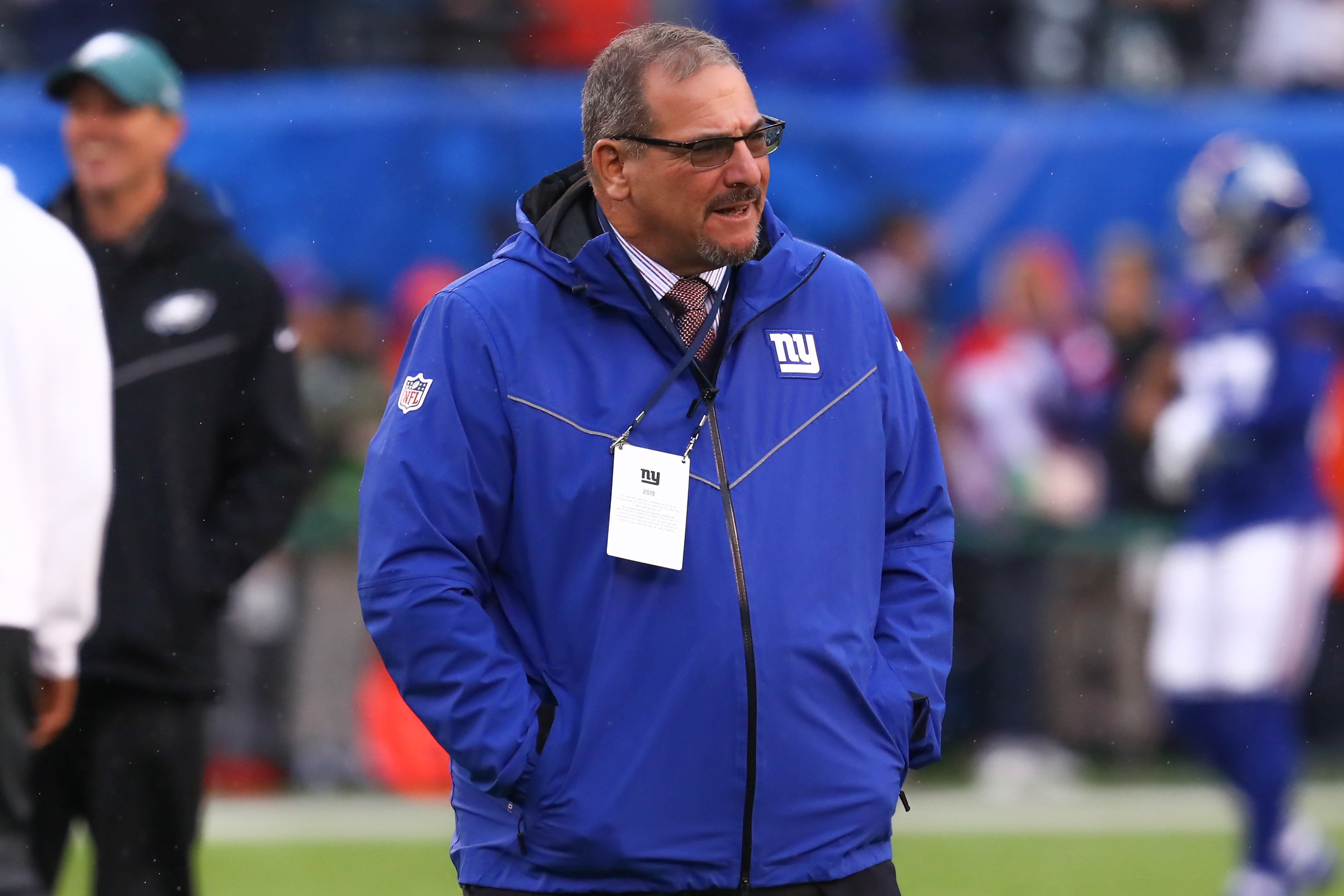 Dave Gettleman took over as the general manager of the New York Giants after several years of working in scouting and player personnel.
Despite having a rather extensive background, Gettleman failed to show any expertise in his four seasons running the show in New York.
According to NFL Network's Ian Rapoport, the franchise could part ways with its general manager after the 2021 NFL season.
"Dave Gettleman, who has run the team's personnel department since 2018, is unlikely to return in 2022," Rapoport said per sources. "With two first-round picks in the next draft and a critical offseason ahead, don't be surprised if there is another voice making the final call alongside head coach Joe Judge."
Gettleman has a history of making poor personnel moves during his tenure as general manager. Those moves include trading Odell Beckham Jr. and drafting Daniel Jones.
Given the Giants' inability to compete on most weeks, it would come as no surprise to see Dave Gettleman out after 2021.
Giants fans are long overdue for a winning season
The New York Giants haven't enjoyed a winning season since 2016 when they went 11-5 before losing in the first round of the playoffs.
Since Dave Gettleman assumed the general manager duties, mediocrity has been the franchise's calling card. Four straight seasons with losing records have Giants fans saying enough is enough.
Earlier in the season, fans booed owner John Mara during Eli Manning's jersey retirement ceremony. While Mara didn't put this team together, he hired Gettleman, who seems to be the reason for most of the problems.
Four years should've been enough time to make this team competitive. The front office has had plenty of draft capital to work with but has failed to see any actual returns on investment.
At 3-7, this team is on track to land another high pick in the 2022 NFL Draft. The Giants have several pieces in place to build around. Still, Gettleman clearly isn't the right man to get them on the winning path.
The general manager's departure would give the struggling franchise a much-needed fresh start.
Other big moves could be on the horizon
Jason Garrett was the first bad apple to get the boot in New York. However, as Ian Rapoport suggests, more changes could be coming.
Head coach Joe Judge may be fortunate enough to last one more season with his job, but his seat gets hotter with every loss. Judge has a way of delivering quotes that don't exactly give fans a reason to trust in his ability to lead this football team.
Beyond Garrett and Dave Gettleman, New York could look to make some personnel changes, too.
The front office needs to make a swift decision on quarterback Daniel Jones. He's in his third season with the Giants but has yet to show any considerable development. New York might be in play to trade for Seattle Seahawks quarterback Russell Wilson in the offseason.
The Giants could also field offers for oft-injured star running back Saquon Barkley. Even though he has all the talent in the world, availability has been a nagging concern for the fourth-year back.
Both Barkley and Jones were high first-rounders, but both players have failed to produce consistently.
It's unclear who would replace Dave Gettleman. Whoever it is will have their work cut out to fix his mistakes.
All statistics courtesy of Pro Football Reference.