New York Giants: Even Aaron Rodgers Took a Parting Shot at Joe Judge for Awful QB Sneak Call: 'That S*** Ain't Flying'
Joe Judge was fired on a Tuesday, but if you were to ask Green Bay Packers quarterback Aaron Rodgers, his tenure with the New York Giants should have ended on a fateful third-and-nine the Sunday before.
Rodgers isn't the only one with the opinion. Judge displayed an ultimate lack of faith in his team in New York's 22-7 loss to the Washington Football Team. Still, Rodgers, who has been working hard on his "no cares left to give" persona on The Pat McAfee Show, took a notable parting shot at the coach who lasted only two seasons in New York.
Joe Judge displayed a massive lack of confidence in the New York Giants
Judge's decision to run a quarterback sneak on third-and-nine from his own five-yard line, down just three points in the second quarter, has been the talk of the NFL. Well, it's been one of the many storylines that have spun off from what ended up being a wild Week 18.
Adding that extra game kind of paid off for the league, didn't it?
Extra games aside, had Judge done when he did in Week 1 the result would have been the same. He would have been mercilessly booed by his fans, which he was. His competence as a head coach would have been questioned, which it was. Ultimately, his 10-23 record in two seasons did him in, but the lack of courage and competence he showed in the second quarter of that game against Washington undoubtedly played a role in his firing.
Keep in mind, not only did Judge call the quarterback sneak in that situation, but it wasn't even creative. The Giants came out in what was essentially a tighter victory formation.
For added context, consider the fact that it was actually the second-straight quarterback sneak Judge dialed up. He went with this play on both second and third down.
After the game, Judge tried to explain his decision-making. He was playing for the punt.
"Ultimately, look, we're backed up. I wanted to get room. We're going to push forward," Judge said, via NBC Sports. "I wasn't going to live through what happened last week in Chicago. We were going to give ourselves room for the punt. We did that. We gave ourselves room for the punt, we protected it, we covered it well. We played the field position situation how I wanted to play. We held them on the next drive."
That's just the worst answer.
Aaron Rodgers took a shot at Judge on The Pat McAfee Show
Rodgers' weekly appearances on The Pat McAfee Show have been known to be pretty wide-ranging. After all, they have been the forums for his numerous COVID-19 and anti-vaccination rants.
It makes sense, then, that the goings-on of the league was a talking point on Tuesday. The Packers had a game of their own, a 37-30 loss to the Detroit Lions, but it was essentially a meaningless tune-up game since Green Bay had already locked in the No. 1 seed. Case in point, Rodgers only played in the first half of the contest, and he really shouldn't have even played that long.
Rodgers and McAfee were discussing what ended up being an epic Sunday Night Football contest between the Raiders and Chargers, a game that went into overtime and could have ended in a tie. In fact, the way things shook out in Week 18, a tie game would have ensured that both teams would make the playoffs in what was an otherwise winner-moves-on situation. There could have been an opportunity for both the Raiders and Chargers to decide to simply finish the game in a tie and take their chances in the postseason, but Las Vegas quarterback Derrick Carr was looking to play for the win, perhaps thanks to a conversation with Rodgers he had before the game.
Las Vegas went on to win by a field goal in overtime, knocking the Chargers out of the playoffs in the process.
"You play to win the game. Nobody wants to be part of, like, kneeling the s*** out to take a tie. I would lose my mind," Rodgers told McAfee, breaking down that epic contest.
He then went on to take his now-infamous shot at Judge.
"You know what would make me lose my mind, maybe as much as that? Third and nine on the minus five, let's go in goal line personnel and run a QB sneak."
Rodgers would never allow the Green Bay Packers to run a play like that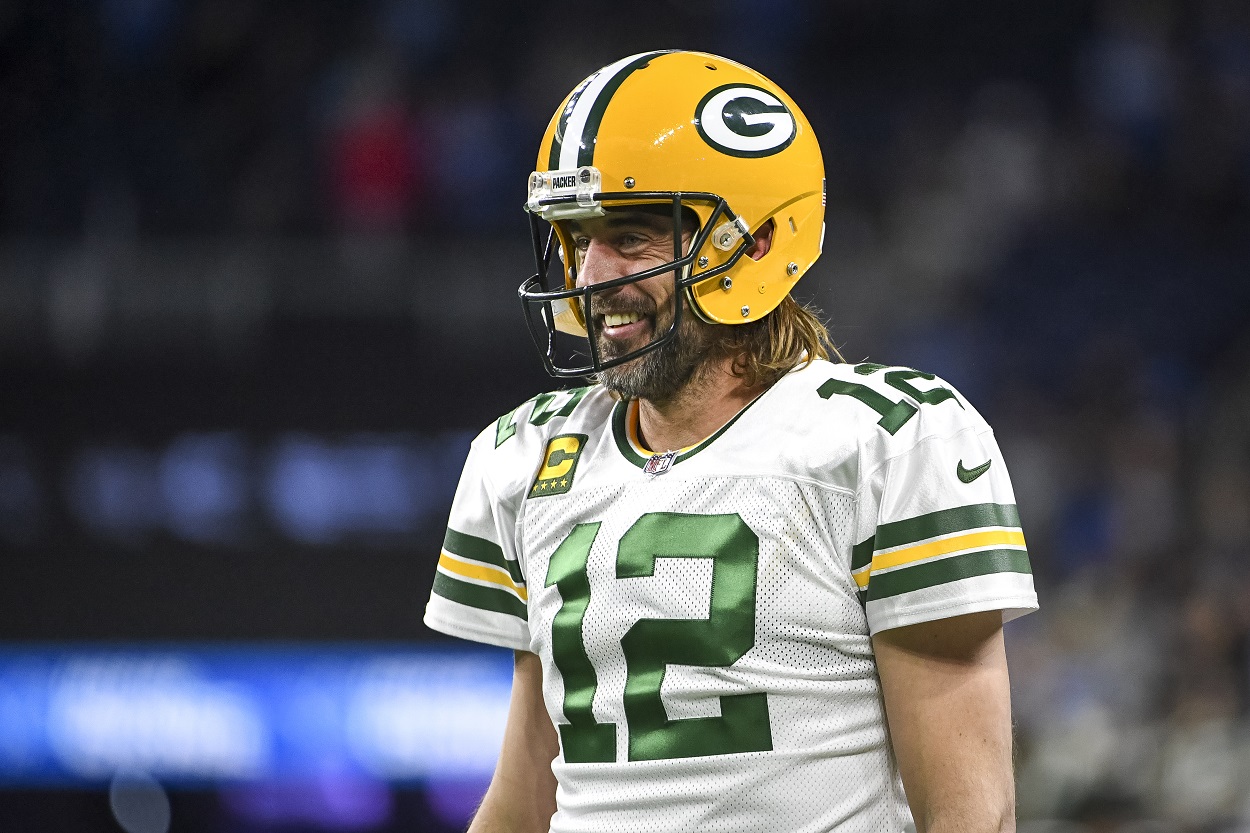 A candid Rodgers is ultimately a funny one, but there is definitely truth in what he went on to say about the call that Judge made for the Giants.
The context here is important.
Judge called that play in to Jake Fromm, a second-year quarterback who played in only three games this season for the Giants. He finished this season with one touchdown and three interceptions to his name.
Considering typical NFL hierarchy, no matter what Judge called in on that third down, Fromm was going to grit his teeth and run it. He wasn't in the position to do anything about it, let alone challenge his head coach.
The situation is vastly different in Green Bay.
Rodgers is a three-time MVP and perhaps soon-to-be four-time MVP. He has 17 seasons and a Super Bowl under his belt.
He and head coach Matt LaFleur have done an incredible job of melding LaFleur's run-heavy ideologies with Rodgers' desire to sling the football, and LaFleur has become one of the better and more respected head coaches in the league. With that said, the dynamic in Green Bay is much different than the one the Giants had in New York. Rodgers, because of his experience and ability to read a play pre-snap, is running the offense alongside LaFleur; he's not just taking orders.
Rodgers can audible and check out of just about any play he wants, and he does that at a pretty steady clip when the Packers are rolling.
Had LaFLeur tried to run two quarterback sneaks in that situation with Rodgers under center, the legendary quarterback was very clear that those plays would ultimately be vetoed.
"Call that one in Matt, and let's see what happens," Rodgers said to a roar of laughter. That s*** ain't flying."
That's a perk of being one of the greatest quarterbacks to ever play the game. It's also a valuable window into the dynamic between play-caller and quarterback in Green Bay.
Ultimately it's also the difference between a franchise looking to make its third-straight NFC Championship appearance, and one that fired a coach after just year two.
Stats courtesy of ESPN and Pro Football Reference.
RELATED: New York Giants: Ranking the 5 Best Candidates to Replace Joe Judge
Related post url: