New York Giants General Manager Dave Gettleman Foolishly Believes He Won the Odell Beckham Jr. Trade: 'I'm Happy'
Trading Odell Beckham Jr. was a move that sent major shockwaves throughout the New York Giants fan base. Beckham Jr. (also known as OBJ) had established himself as one of the top young wide receivers in the NFL and is one of the biggest reasons the Giants cracked the postseason in 2016.
At the time, many viewed the trade as a catastrophic disaster for the Giants. They had lost their top offensive weapon and the player who warranted the most amount of media attention. It was a crushing blow.
However, Giants general manager Dave Gettleman feels differently.
New York Giants GM Dave Gettleman believes he won the Odell Beckham Jr. trade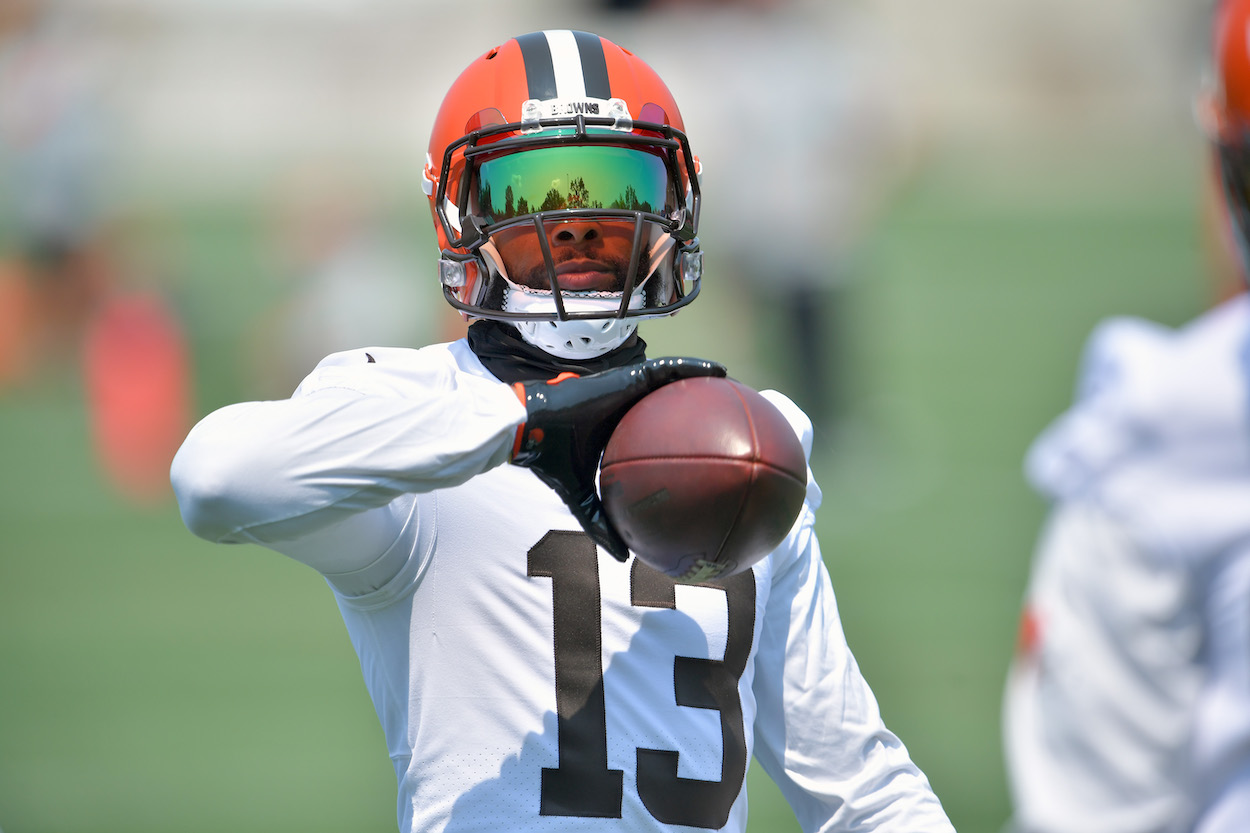 During a recent media session at a Giants-Browns joint practice, Gettleman was asked about the OBJ trade and responded by saying he is "happy" with how everything played out (cleveland.com).
The New York GM highlighted that the Giants got Jabrill Peppers and Dexter Lawrence in return, two players who have established themselves as focal points within the team's defense.
Pepper has 167 tackles and two interceptions since joining the Giants, which are respectable numbers. However, the 25-year-old safety has also missed six games due to injury over the past two seasons. Finding a way to remain on the field is the next step that Peppers has to take if he wants to see his name included amongst the top safeties in the NFL.
Dexter Lawrence, the Giants' first-round pick in 2019, has the makings of a long-term starting defensive lineman for New York. He's recorded 6.5 sacks through his first two seasons and has looked especially dominant in run defense. The pairing of Lawrence and Leonard Williams up front should be a strong one for the Giants in 2022.
Odell Beckham Jr. has struggled to stay healthy
While Peppers and Lawrence are decent pieces, it's hard to make the claim that they're alone worth as much as Beckham Jr. The former LSU wideout has five 1,000-yard seasons to his name and has already racked up 51 career touchdown receptions.
With that said, OBJ struggles to stay healthy.
He missed most of 2017 while playing for the Giants and was inactive for over half of 2020 with the Browns. Cleveland made an impressive run this past year, but it's hard not to think they could have gone further if their star WR was on the field.
Now is not the time for the New York Giants to be claiming success
Gettleman isn't going to trash his own trade decisions publicly, but now is definitely not the time for the Giants to be taking a victory lap.
New York is 10-22 since trading OBJ, and they don't look any closer to finishing above .500 in 2021. Major questions still exist regarding quarterback Daniel Jones, and head coach Joe Judge has been rubbing plenty of people the wrong way with his hyper-aggressive coaching style.
When trading away a legitimate star like OBJ, New York should've received a package that sparked their rebuilding process. Instead, they got a few nice pieces back in return, but nothing that vaulted them back into contention. The Giants are still rebuilding.
The ironic part is that Gettleman just paid free agent WR Kenny Golladay $72 million. They're somewhat back at square one.
All stats courtesy of Pro Football Reference.
RELATED: Saquon Barkley's Latest Comments About His Injury Recovery Should Raise Some Red Flags for Giants Fans