New York Giants: Ranking the 5 Best Candidates to Replace Joe Judge
They finally made the decision. It took a couple of days, but the New York Giants became the seventh team to open up the head coaching job when they announced the decision to fire Joe Judge after just two seasons.
Judge's tenure with the Giants was short-lived but ugly, and his latest rant didn't do him any favors. As Black Monday came and went with Judge still employed by the Giants, a million questions came out about why he wasn't one of the coaches to be let go.
Well, ask no more. Judge is gone, and now New York will head to the drawing board again in a desperate effort to fix this team. Also, the Giants are holding interviews for the general manager position, so it will be a busy couple of weeks around the organization.
The question is, where does the team go? Do you hire another first-time head coach? Does a veteran get the job?
Anyways, let's rank some possible candidates. This list of potential candidates is based on the best fit for the organization, which is most important after everything that went down the past two years.
5. Kellen Moore, Dallas Cowboys offensive coordinator
Kellen Moore has quickly emerged as a hot name across the board. Multiple teams are interested, and there are many reasons for it.
Sure, he is just 33 years old, but his meteoric rise has been highlighted by the impressive offense of the Dallas Cowboys. Also, we have seen young head coaches work out rarely well, with Brandon Staley and Sean McVay the latest ones to land jobs.
The Giants offense was brutal, and bringing in Moore should immediately help this group be competitive. On the other hand, he is young and would be a rookie head coach, so who knows if New York wants to do that again.
Speaking of a would-be rookie head coach, the next candidate would also be a first-timer.
4. Brian Daboll, Buffalo Bills offensive coordinator
Another offseason and another cycle of Brian Daboll's name bounced around as a candidate. He deserves a job, and it looked as if the Los Angeles Chargers were going to hire him last year before going with Brandon Staley.
Daboll comes with risk due to his inexperience as a head coach, but his offense in Buffalo is something the Giants must think long and hard about. However, a couple of teams have already inquired about Daboll, and New York should give him a call.
After the Jason Garrett days ended, the Giants offense looked even worse — if that were possible. Daniel Jones likely isn't the long-term solution, but having pieces like Saquon Barkley and Kadarius Toney give Daboll some pieces to work with.
However, Daboll is last on this list because he has never been a head coach before, and the Giants might not want to take another shot on a rookie after what happened with Judge.
3. Doug Pederson, former Philadelphia Eagles head coach
Oh boy.
Can you imagine all the distraught Philadelphia Eagles fans if the Giants hire Doug Pederson?
The former Eagles headman has already gained interest from the Jacksonville Jaguars and Chicago Bears, with more teams likely to give him a call.
While Pederson's tenure in Philadelphia didn't end too well, he did bring a Super Bowl to the franchise with Nick Foles in the postseason run. You can't overlook that.
Moreover, the Giants would get an experienced, veteran coach who can try and fix what went wrong with Judge. This move makes a ton of sense, but at this point, nobody has any idea what the Giants want to do.
2. Don "Wink" Martindale, Baltimore Ravens defensive coordinator
This is a fun option to explore. A couple of years back, the Giants hired Judge over Wink Martindale. Do they pass on Martindale again?
While Martindale has never been a head coach before, he has over 20 years of coaching experience in the NFL and has worked alongside John Harbaugh since the Ravens head coach was hired.
Martindale's name has flown under the radar for some reason, but the fact the Giants interviewed him before makes it appear that they might consider him again.
Another interesting wrinkle? The last time Martindale was interviewed, it was reported that he wanted Joe Brady to tag along as his OC.
Could that be a thing in 2022? Perhaps. After all, Brady is also available, so that's an intriguing situation that could unfold.
1. Brian Flores, former Miami Dolphins head coach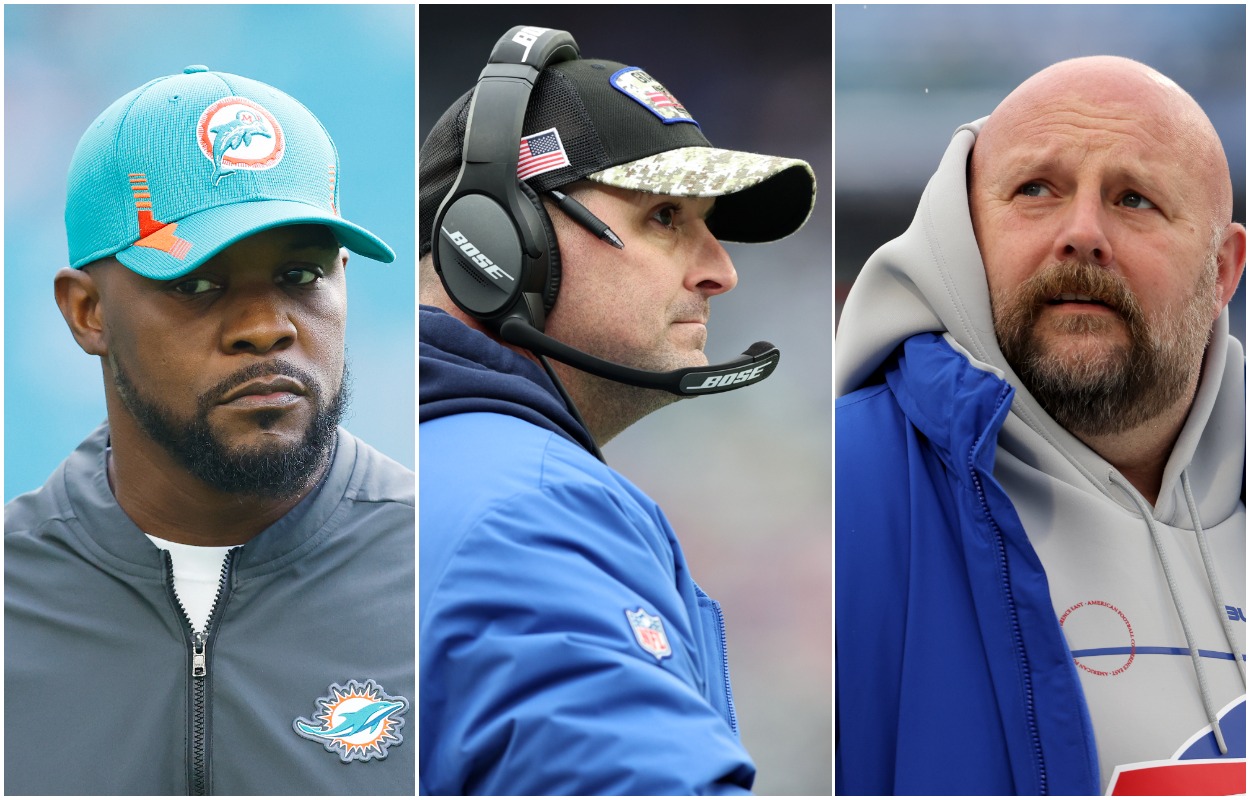 This makes so much sense for both sides.
For some reason (we still don't know why), the Miami Dolphins fired Brian Flores. It was a confusing decision, and to no surprise, Flores' name has popped up in the coaching carousel.
Of course, the Giants are interested, and Flores should be interested.
Flores started the season poorly with the Dolphins but rattled off seven straight wins to nearly sneak into the NFL playoffs.
Yet, for some reason, the Dolphins moved on. Flores' personality is exactly what the Giants need to turn this thing around, and the defense has some decent pieces he can work with.
Perhaps the Giants saw Flores become available — which almost nobody expected — and decided to move on from Judge after all.
Either way, Flores needs to be one of the first interviews for New York, and bringing him on would be a polar opposite of Judge. If the Giants are wise, Flores is in the building to sign a contract by the end of the week.