The New York Giants Should Be Freaking out About 2020 First-Round Pick Andrew Thomas Being Completely Destroyed in Preseason
Andrew Thomas joined the New York Giants with aspirations of being their franchise left tackle for years to come.
The Giants drafted Thomas No. 4 overall during the 2020 NFL Draft, passing on notable offensive tackles Jedrick Wills and Tristan Wirfs in the process. It was a heavily scrutinized move at the time due to Thomas' lack of polished pass-blocking moves, but the Giants felt their talent development was strong enough to coach Thomas up.
Flash forward to August 2020, and things aren't looking too hot for Thomas and the Giants.
New York Giants LT Andrew Thomas had a rough preseason
Hailing from the University of Georgia, Thomas' biggest strength coming out of college was his impressive size. Standing at 6-foot-5 and 315 pounds, Thomas has the physical makeup of someone who should be able to thrive at left tackle.
However, as the NFL has proven time and time again, size isn't the only thing that matters on the O-Line. Thomas has yet to grasp finer concepts regarding pass-blocking and footwork, which causes him to frequently lose battles to opposing pass-rushers.
Thomas's weaknesses were noticeably displayed during the Giants' final preseason game against the New England Patriots. Thomas allowed two sacks and a pressure, making life that much more challenging for an already struggling Daniel Jones.
Andrew Thomas: 'I've got to improve'
Following Thomas' disastrous performance against the Patriots, he took the podium to field questions from the media.
The former first-round pick didn't shy away from acknowledging his struggles:
"There are some things I've got to improve on; my hand placement, staying wide on my set and keeping the depth with the pocket," Thomas said. "I think I made improvements, but there are a lot of things that I still need to work on. I'm trying to fix those things in camp, just hand placement and just being very consistent in my set. Sometimes I do it the right way, sometimes it might not be to my liking. I'm just trying to be as consistent as possible."

"There's a lot of time to practice, a lot of time to watch film and to get my corrections from the coaches. I think there's enough time," Thomas said.

"There's definitely pressure, but I put pressure on myself. I know I've been given this role and I have worked hard to be here. I have to step up and go do what I have to do to play well," Thomas added.

Amdrew Thomas via Giants Wire
The self-accountability from Thomas is admirable, but it's not going to help the Giants win games once the regular season starts. New York drafted Thomas to solidify the left side of their offensive line for years to come. He's currently a point of weakness.
The New York Giants could be in for a long year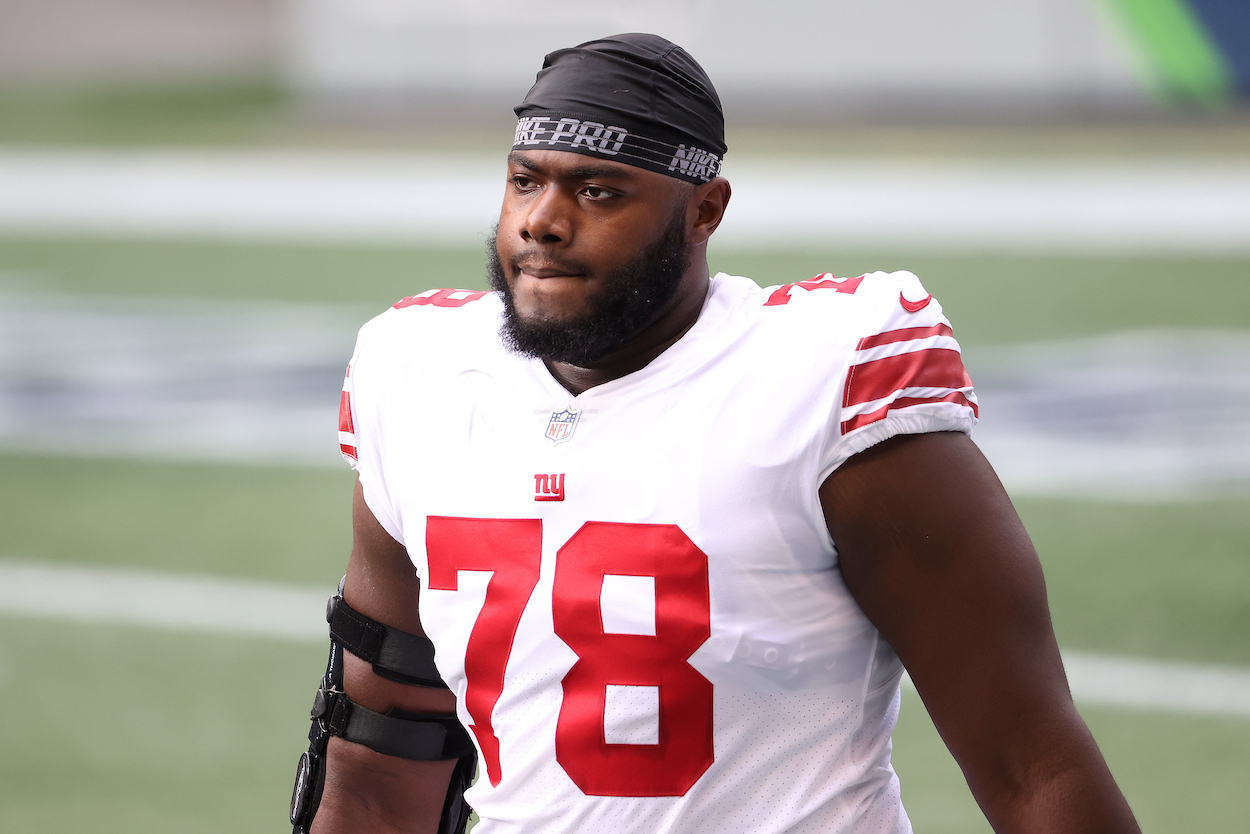 The New York Giants had a busy offseason full of notable additions, primarily on the offensive side of the ball. They signed free agent wide receiver Kenny Golladay and drafted WR Kadarius Toney. Improving the team's ability to score was clearly New York's priority.
However, none of these additions matter if Thomas can't drastically improve between now and Week 1.
Thomas' comments about "enough time" will ring hollow if the former first-rounder is still giving up multiple sacks per game during the regular season. He's simply running out of time to figure things out.
Like Sportscasting on Facebook. Follow us on Twitter @sportscasting19.
RELATED: Michael Strahan's Positive Attitude Was Just as Important as His Ferocious Pass-Rush Moves: 'He Made Everyone Around Him Play Better'