New York Jets Adding Incentives for Good Behavior to Season Tickets
The New York Jets are in the midst of switching to a paperless season ticket, and one of the highly amusing byproducts involved is the new incentive process. The football franchise — long known for a fan base famous for their vocal responses to the team's play — is trying to convince Jets fans to show up on time and be supportive of the team. This is probably a necessary undertaking when you're starting Geno Smith or Michael Vick, and the most famous play your team has been involved with in recent years is the butt fumble, a Thanksgiving Day misadventure that gained so much infamy it has its own Wikipedia page.
While the new program doesn't go as far to actively punish fans for bad behavior, the points system, akin to frequent flyer miles, gives fans points for  being "scanned in at least 15 minutes before kickoff," according to ESPN. "They also can earn points for a "fan assist" — whenever the visiting team commits a false start, calls an unplanned timeout, or allows a sack. If Muhammad Wilkerson sacks the quarterback … cha-ching — a 100-point bonus."
What rewards does the ticket bestow on the season ticket holder? With enough points, fans could receive Super Bowl tickets or transportation to a road game on the team plane, per USA Today. Different ticket holders get different head starts on their total point increments — the nice seats get higher priority, as it were — but fans are also not able to upgrade their points by spending money, according to Seth Rabinowitz, the Jets VP of Marketing.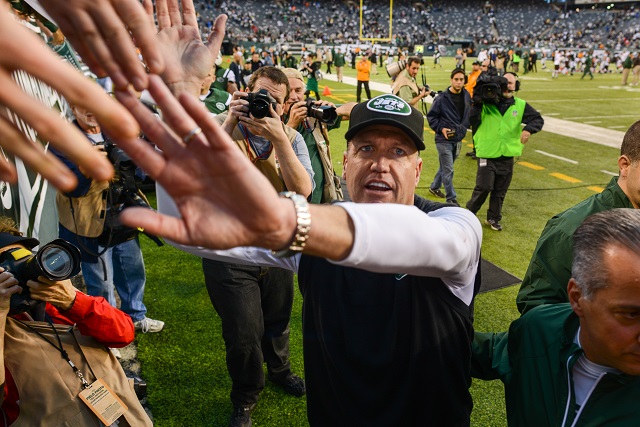 "We want to get better at tailoring what we give [the fans]," Rabinowitz told USA Today. "They don't accept one size fits all, nor should they. The message is to come to the games and be a good fan — they don't have to do anything out of the ordinary — and their loyalty is rewarded." While other teams are adding perks to their new paperless season tickets, the Jets are the only team offering this level of reward packaging.
The Jets have not made the playoffs or finished with a winning record since 2010, although they have recorded a pair of eight-and-eight seasons in the meantime. Head coach Rex Ryan, whose continued employment with the organization was newsworthy back in December, will once again be manning the top spot, and will attempt to coax a better offense out of the team than they showed last year.