New York Jets Fans Can Now Blame Their Continued Torture on Boomer Esiason's Car Ride With Frank Reich
Somewhere out there, an alternate reality exists where former NFL quarterback Frank Reich took over the New York Jets in 2015 and helped put them back on the path to contention. We know, it sounds completely crazy.
However, perhaps we would have been in that universe, watching Geno Smith sling touchdowns on a team that managed to actually add long-term starters through the NFL draft. If that scenario sounds appealing, make sure to blame ex-Jets quarterback and CBS Sports analyst Boomer Esiason for crushing your dreams.
Boomer Esiason told Frank Reich not to accept the Jets' head coaching job in 2015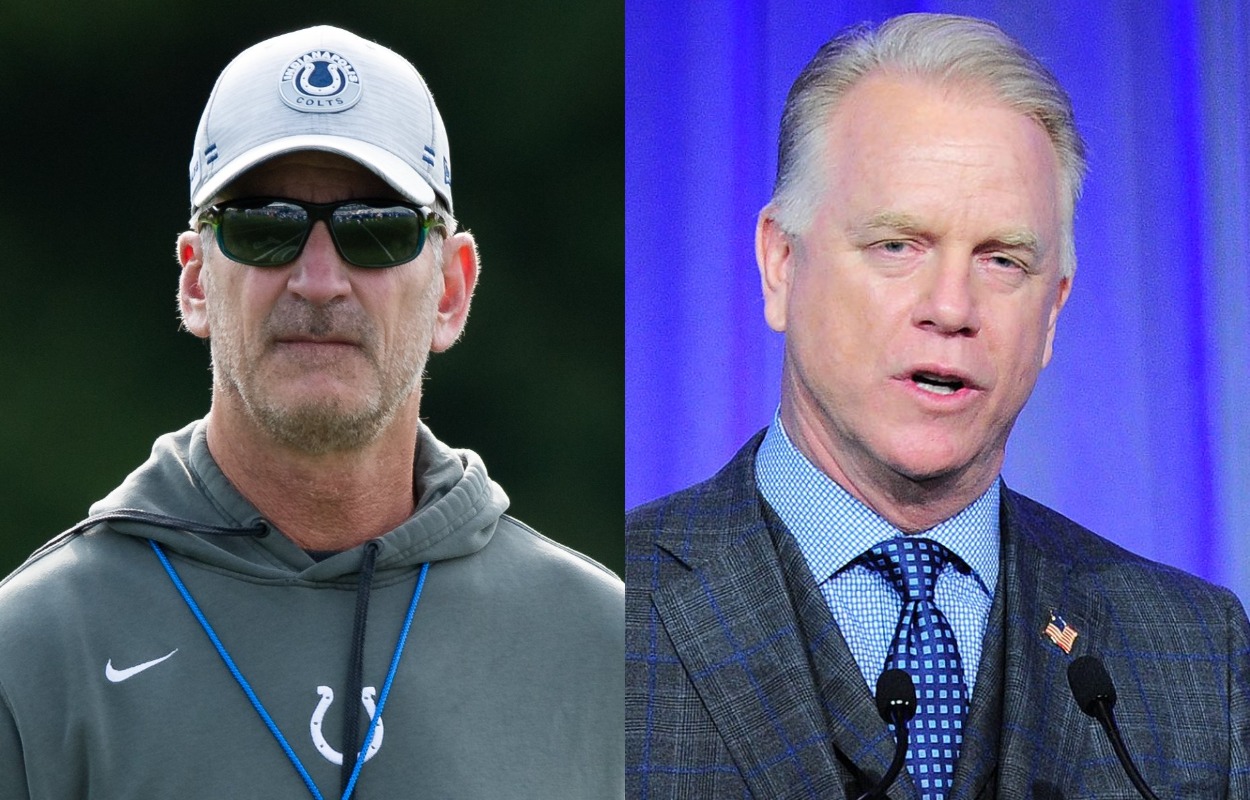 The New York Jets finally decided in December 2014 that they'd seen enough of the current regime. Head coach Rex Ryan and general manager John Idzik each received their walking papers when the season ended — and Ryan, who led the team to two AFC Championship Game appearances in six seasons, didn't even get a farewell snack.
According to Pro Football Rumors, the Jets interviewed six total candidates, including Reich, who had just completed his first season as the then-San Diego Chargers' offensive coordinator. Arizona Cardinals defensive coordinator Todd Bowles emerged as the winner (if one can call it that) of the franchise's head coaching sweepstakes.
Esiason, the former NFL MVP, recently told the New York Post that he picked up Reich after the latter's interview in January 2015. When the Chargers' offensive coordinator said he thought the interview went well, his former college teammate shared his input.
"I said, 'You don't want this team right now. I know this is the greatest opportunity of a lifetime. You're interviewing for a head-coaching position in the NFL. It's awesome. But I said you don't want this job. There are too many uncertainties. You don't know who your quarterback is going to be. Ownership goes with the wind. They listen to their fan base. They read the papers. They listen to sports talk radio. They get Twitter-fied. It was not, at that moment, what I would consider that great of a job."

Boomer Esiason
It is not known if the Jets offered Reich, who remained with the Chargers, the head coaching job. Now, with that said … thanks, Boomer. Really.
The Jets' misery continued under Bowles and Adam Gase
Look, we're not going to disagree with Esiason that the Jets weren't exactly a perfect organization following the 2014 season. Remember when Ryan benched Smith, a second-round pick in 2013, in part because the quarterback blamed the time zone change for missing a meeting ahead of a game against the Chargers?
Still, one can only wonder what would have happened if Reich took over the Jets. Let's assume the team still acquired veteran quarterback Ryan Fitzpatrick and perennial Pro Bowl receiver Brandon Marshall that offseason. Both thrived in Chan Gailey's offensive scheme on a Jets team that went 10-6 and narrowly missed the postseason in Bowles' first year.
Would the Jets have added another impactful offensive player with the sixth overall pick if Reich was the head coach? Instead of selecting Southern California defensive end Leonard Williams, perhaps the team would have added Stanford offensive tackle Andrus Peat, who became a three-time Pro Bowler for the New Orleans Saints.
Instead, Jets fans endured the Bowles and Adam Gase eras, neither of which ended well. The franchise channeled their inner New York Mets and lost a crucial Week 17 game against the Buffalo Bills to end the 2015 season. So much for making the postseason for the first time in six seasons.
The Jets went a thrilling 14-34 over the next three seasons and fired Bowles following the 2018 season. Despite interviewing Kansas City Chiefs offensive coordinator Eric Bieniemy and Baylor head football coach Matt Rhule, the Jets decided former Miami Dolphins head coach Adam Gase represented the best possible hire.
Enough said on that front.
Robert Saleh has an opportunity to emerge and turn the franchise around
Reich's patience paid off, and he became the Indianapolis Colts' head coach following the 2017 season. All he did in his first three seasons was go 28-20 and reach the playoffs twice despite having a different starting quarterback each season.
Thanks again, Boomer. Truly.
Meanwhile, the Jets can only hope they've found a championship-caliber head coach in Robert Saleh. When the Gase experiment ended following a 2-14 showing last year, the long-suffering franchise moved quickly and hired away the San Francisco 49ers' defensive coordinator.
Saleh immediately brought much-needed ambition and poise to a team in desperate need of revitalization. However, the situation he faced upon taking the job wasn't much different from what Reich would have dealt with if he had the opportunity to join the Jets six years ago.
It's good to know the Jets have made zero progress in that time. For their sake, hopefully Saleh is indeed the man needed to turn this team into a playoff contender.
Like Sportscasting on Facebook. Follow us on Twitter @sportscasting19.
RELATED: Jets QB Zach Wilson Takes Far More Away From His Wristbands Than What Play He Needs to Call