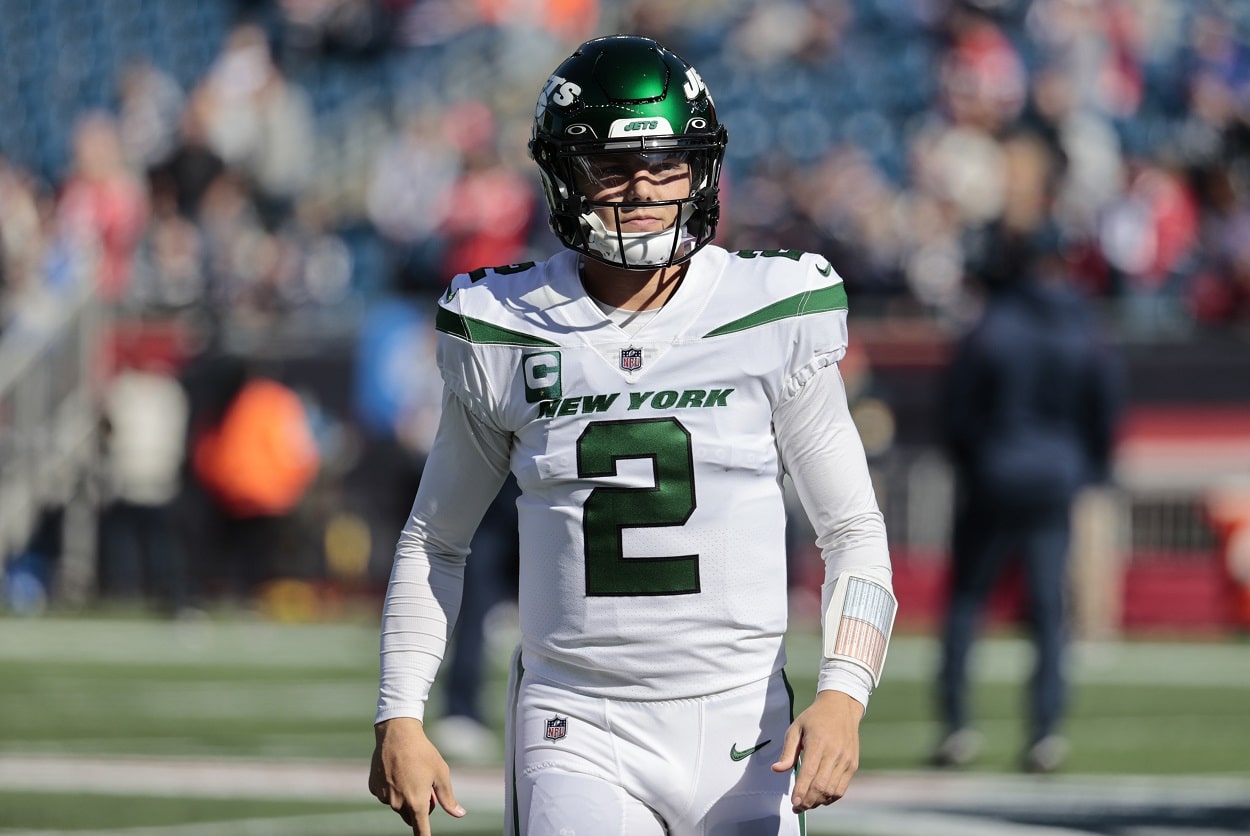 New York Jets Fans Worst Nightmare Has Come True
The New York Jets have a big problem in second-year quarterback Zach Wilson.
When the New York Jets made Zach Wilson the second overall pick of the 2021 NFL Draft, fans of the floundering AFC East franchise finally had a reason to be optimistic about the future. 
Now, those same fans have every reason to feel pessimistic — if not panicked — about what lies ahead for a team that clearly has enough talent on defense to contend for a playoff spot. 
After all, instead of finally filling the most glaring hole on their roster, the Jets seem to have swung and missed again on the most important position in sports. And barring a miraculous turnaround from a quarterback who entered the league as an unpolished product, the dream of winning championships with Wilson appears all but dead.
Zach Wilson's latest lackluster performance has officially cost him his job
On a day when the New England Patriots didn't score a single offensive touchdown, the Jets somehow found themselves on the losing end of an ugly affair that featured plenty of negative plays and penalties. While nobody can blame Zach Wilson for allowing Patriots rookie cornerback/returner Marcus Jones to take a punt back 84 yards for the game-winning score, he does deserve criticism for an uninspiring outing that included a paltry 77 passing yards on 22 attempts.
To make matters worse, the 23-year-old showed a lack of accountability and maturity in his post-game press conference by failing to take responsibility for his poor play. But even though Wilson doesn't think he let his defense down by completing just nine passes, it's clear his coaches don't share that sentiment. 
In a stunning move that rivals Bill Belichick's abrupt resignation, Robert Saleh shook up the depth chart by not only relinquishing Wilson of his starting role but declaring him inactive for Sunday's game against the Chicago Bears. 
"Zach's career is not over," Saleh told reporters. "I know that's going to be the narrative, and I know that's what everybody wants to shout out, but that's not even close to the case. The full intent is to make sure Zach gets back on the football field this season." 
With Mike White taking over the league's 22nd-ranked scoring offense, the Jets' postseason hopes rest on the right shoulder of a passer with limited experience (three NFL starts). Of course, veteran Joe Flacco could also find himself leading the huddle again. 
Ultimately, though, Wilson's benching confirms that the team doesn't believe he's the best option, at least in the short term.
A nightmare come true for Jets fans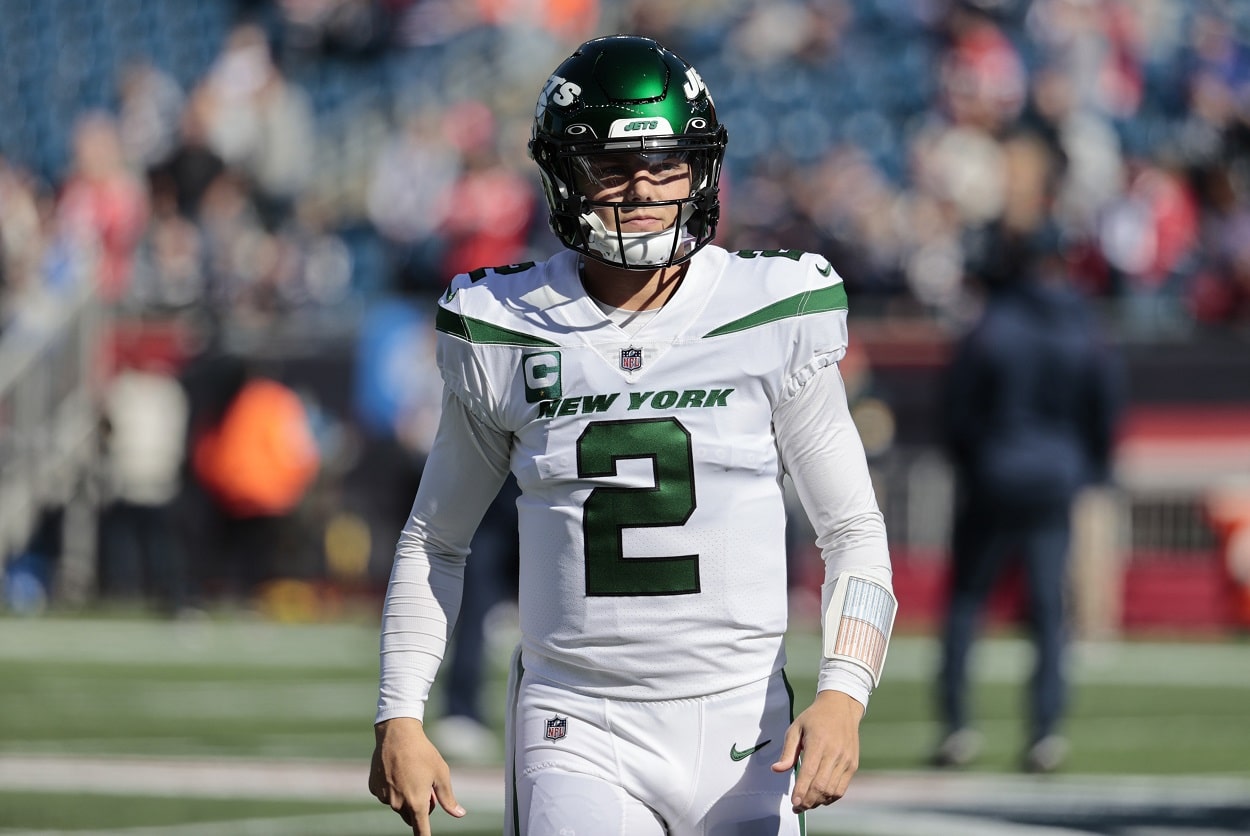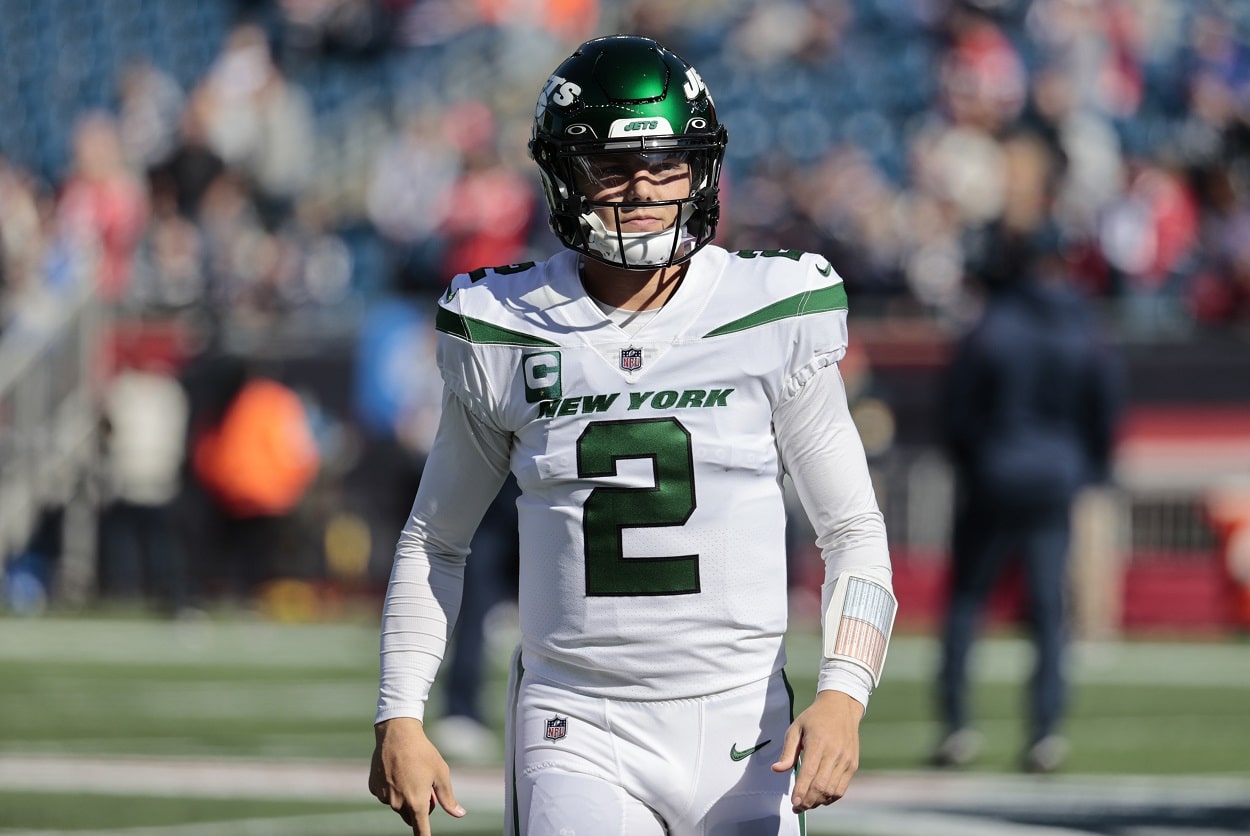 Even with a solid supporting cast and an elite defense behind him, Wilson failed to cement his status as a franchise quarterback. On the contrary, he's raised more questions about his standing with a team with a notorious history of choosing the wrong player at the most important position in sports. 
From burning a second-round pick on Christian Hackenberg in 2016 to using the No. 3 overall pick on Sam Darnold two years later to taking Wilson over Justin Fields and Mac Jones, the Jets have made a comedy of errors in the draft that have cost valuable capital–and time. In search of their first playoff appearance since 2010, they undoubtedly have the pieces on defense to make life difficult for any NFL offense. 
Yet as much credit as general manager Joe Douglas deserves for reshaping a talent-depleted roster, he doesn't deserve a pass for putting the franchise in the hands of the former BYU standout. Wilson wasn't universally viewed as the second-best quarterback behind Trevor Lawrence, and you could easily argue that Fields would have been a better choice at No. 2 overall. 
Rather than seeing their dream of Wilson realizing his potential come to fruition, Jets fans have witnessed an epic fall from yet another highly-touted prospect. While both the Miami Dolphins and the Buffalo Bills can confidently say they drafted star quarterbacks, the Jets (and possibly the Patriots) should have legitimate concerns about the long-term status of the position. 
This is a nightmare scenario for fans eager to see what year two of the Wilson-Saleh era would look like. Sure, the team remains in the hunt in the wildly competitive AFC East. But if Wilson isn't the answer, the Jets' strong start will likely keep them out of the running for a top-five pick in the 2023 NFL Draft. 
Going the veteran route via trade or free agency may give the team a short-term boost, but will it solve a long-term problem? Plus, pursuing Jimmy Garoppolo or Derek Carr could get expensive and force the front office to make some tough roster decisions.
Will any of the first-round quarterbacks from the 2021 NFL Draft live up to expectations?
Need proof of how quickly opinions can change in the NFL? 
Look no further than the crop of quarterbacks selected on opening night of the 2021 draft. 
The quintet of Trevor Lawrence, Zach Wilson, Trey Lance, Justin Fields, and Mac Jones drew comparisons to the legendary class of 1983 that produced three Hall of Fame quarterbacks. 
Clearly, though, John Elway, Dan Marino, and Jim Kelly don't have to worry about any of those young quarterbacks threatening their passing records. At least, not yet. 
While Lawrence has made tangible strides following a trying season under Urban Meyer, he remains a bit of an enigma. Until he proves he can make big plays in key situations, he'll still face questions about whether he was worth the No. 1 overall pick. 
Wilson obviously faces an uphill battle to regain his starting position and earn fans' confidence. With 20 NFL starts under his belt, will his 21st come in a Jets uniform? It would be a monumental decision to give up on him after a season and a half, but we've seen the Arizona Cardinals handle a similar situation by cutting ties with first-round flop Josh Rosen to select Kyler Murray No. 1 overall. 
The fact that might be a possibility has to be a tough pill for Jets fans to swallow. Just months ago, Wilson seemed like the savior who could finally end the franchise's embarrassing playoff drought. 
But when Jets fans sit down for Thanksgiving, nearly all of them will be thankful that the No. 2 overall pick of the 2021 NFL Draft won't be on the field this week. And perhaps longer. 
Who could have imagined that?
Have thoughts on this topic? Keep the conversation rolling in our comments section below.