The New York Jets May Have Given Up on Sam Darnold and So Has the Rest of the NFL
For now, Sam Darnold is still the starting quarterback of the New York Jets. That may not be the case after April's NFL Draft, when the Jets could select from one of the promising crop of rookie quarterbacks available. Even if the Jets decide to part ways with Darnold, it won't be easy. His performance over the last three seasons hasn't exactly convinced rival general managers to throw draft picks in the Jets' direction.
Sam Darnold is not even worth a third-round pick to other NFL GMs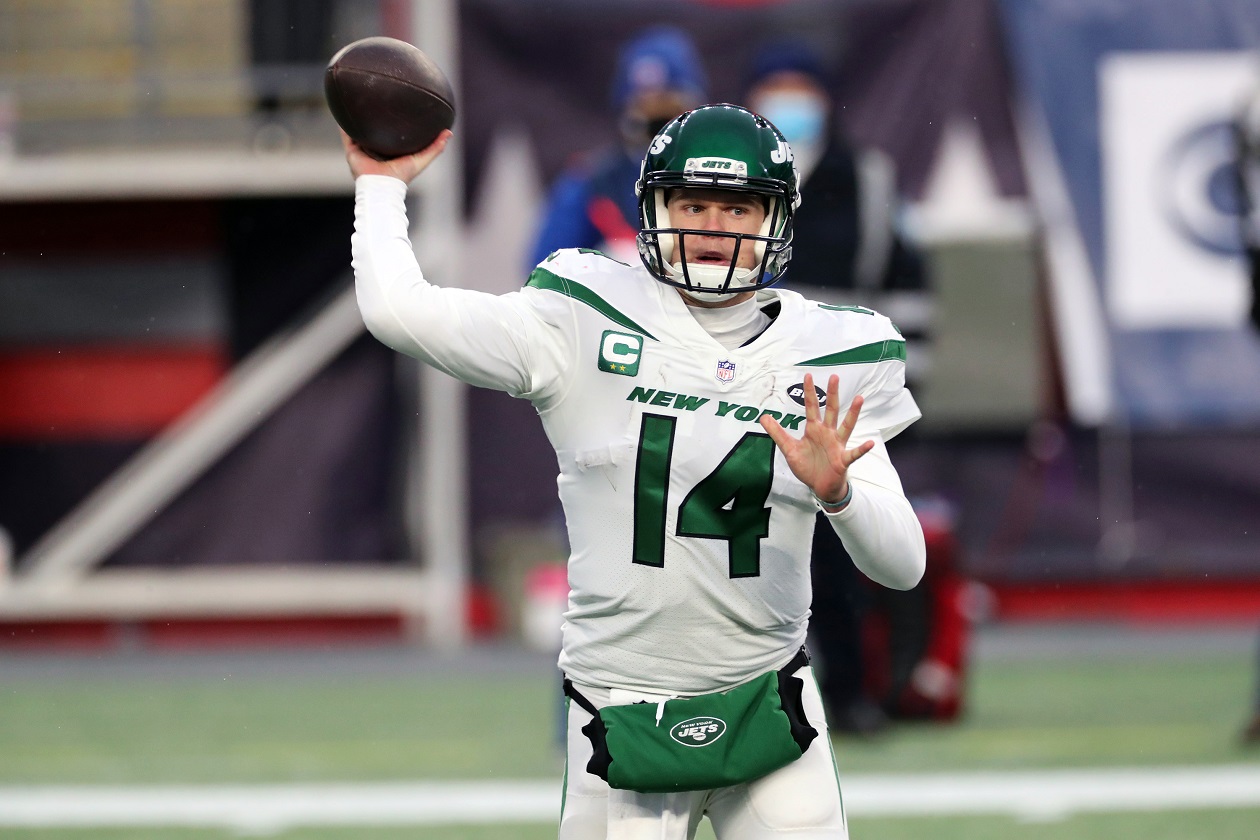 RELATED: The Atlanta Falcons Suddenly Have No Choice But to Trade Their Most Valuable Asset
The New York Jets selected Darnold out of USC with the third overall pick of the 2018 NFL Draft. Since then, returns have been disappointing. Over his three seasons as a starter, Darnold has compiled a record of 13-25 and a lowly 59.8% completion percentage.
The Jets have the second overall pick in the 2021 draft after finishing 2-14 in 2020. It's widely expected that they will pick BYU's standout quarterback Zach Wilson, who impressed NFL scouts at his "pro day" with his dazzling arm strength. If the Jets go this route, this will leave Darnold on the outside looking in.
According to ESPN's Kimberly Martin, Sam Darnold has drawn little interest from the rest of the league. Two general managers have said they'd be willing to give up a third round pick, at most, with one even saying that a late third-rounder would be too much.
"The other GM said 'maybe' a 3rd or conditional 4th," tweeted Martin.
The New York Jets are stuck in a bind with Sam Darnold
RELATED: The 2021 NFL Draft Has Been Completely Thrown Off Course Thanks to an Infamous Gas Mask Video
Complicating matters is the fact that Sam Darnold is on the final year of his four-year rookie contract, which will pay him $4.774 million in 2021. If the Jets trade their signal-caller before June 1, they will save that amount of money against the salary cap. Attached to Darnold's contract is a fifth-year option which would net him around $18.8 million.
It'S hard to argue that Darnold played well enough last season for any team to justify picking up that option. In 2020, he arguably regressed in every department, throwing for 2,206 yards and nine touchdowns against 11 interceptions. Only once did Darnold throw for over 250 yards — a 266-yard effort in week 17 against New England. The Jets still lost 28-14 thanks in part to his two interceptions.
It may seem like an intriguing option for Jets general manager Joe Douglas to go with Zach Wilson or one of the other rookie quarterbacks in the 2021 draft. Then again, that's the exact line of thinking that led the Jets to draft Sam Darnold in 2018 in the first place. Zach Wilson could easily turn out exactly as Darnold has, if not worse.
Darnold has been dealt a losing hand with the New York Jets
In fairness to Darnold, a lot of the struggles he's had throughout his NFL career are not his fault.
For the past two seasons, Darnold had to play under Adam Gase, one of the most infamous head coaches in NFL history. During his brief reign with the New York Jets, Gase brutally mishandled the Jets' personnel and talent. Despite being a so-called "offensive guru", Gase's offense finished dead-last in yardage in both of his seasons in charge.
Not even Tom Brady could have flourished in Gase's system, so it's no surprise that Darnold struggled.
Injuries and illness have prevented Sam Darnold from ever playing a full 16-game season throughout his brief career. Most notably, during the 2019 season, Darnold missed three games after being diagnosed with mononucleosis. To his credit, he recovered to win seven games in his 13 starts, his best record as a starting quarterback so far.