The New York Jets Instantly Doomed Zach Wilson With a Multi-Million Dollar Investment That Has the Potential to Haunt the Franchise for Many Years
The "Zach Wilson era" for the New York Jets is not getting off to a strong start. There's little arguing that.
The highly touted BYU prospect has already thrown five interceptions through his first two NFL starts, and his completion rate sits at a lowly 55.7%. The Jets are 0-2, and Wilson spends most of his Sundays running for his life, trying to avoid defensive linemen.
While frustrated Jets fans have quickly pounced on Wilson and are beginning to throw the "bust" label out there prematurely, the truth of the matter is that Wilson was set up to fail the moment his name flashed up on the Jets' draft board. New York made a multi-million dollar investment months ago that put their young QB at a disadvantage.
The New York Jets' decision to hie Robert Saleh deserves a second look
The Jets wisely parted ways with former head coach Adam Gase this past offseason. He had a disastrous tenure in New York, directly playing a role in Sam Darnold's lack of success.
However, it's the corresponding move at head coach that New York made that deserves a second look in hindsight. At first glance, the decision to bring in San Francisco 49ers' defensive coordinator Robert Saleh looked like a home run hire. He was one of the hottest names on the head coaching market, and the 49ers' defense performed well under his guidance.
While it's too early to grade Saleh's ability to be a head coach in the NFL (even after two worrisome losses), one does have to wonder.
Did the Jets make the correct decision hiring a defensive-minded head coach?
Saleh isn't able to help Zach Wilson grow on offense
There are examples of defensive-minded coaches thriving in the NFL (Bill Belichick, Pete Carroll, etc.). However, with how the game has evolved and changed over the past few years, more and more teams are looking to land the next top offensive mind at head coach.
Sean McVay, Matt LaFleur, Kevin Stefanski, Frank Reich, Matt Rhule, Kyle Shanahan, Nick Sirianni. All of these guys were hired for their ability to scheme up an offense and develop a QB. Of course, Andy Reid is the most notable offensive guru in the NFL. He essentially wrote the book on developing and coaching up young quarterbacks.
One of Reid's disciples, Doug Pederson, helped lead the Philadelphia Eagles to their first Super Bowl win just a few years ago.
This isn't to say Saleh can't or won't be a good head coach in the NFL. However, we're two games into his Jets tenure, and he's already showing signs of a lack of understanding on how to develop the QB position properly. After all, he's a former defensive coordinator. He's never had to worry about coaching QBs one-on-one.
Saleh appears to have already given up on second-year WR Denzel Mims, which is at least a minor example of him not being overtly comfortable working with young talent on the offensive side of the ball.
The New York Jets need Zach Wilson to work out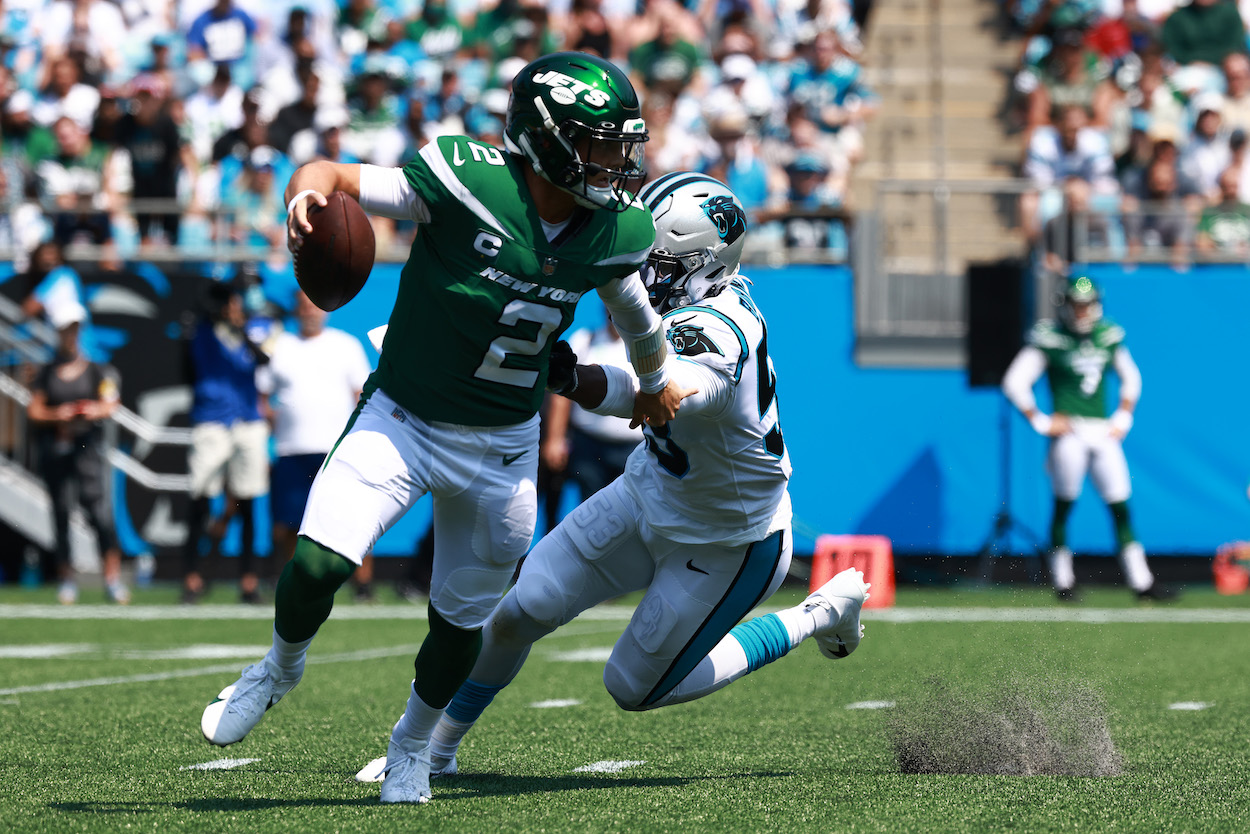 Additionally, there were quiet rumblings of Saleh maybe not being the best head coaching candidate out there this past spring. Steven Ruiz (formerly of For The Win now working for The Athletic) called Saleh a "non-factor as a coach."
That's not what you want to be hearing if you're Wilson and the Jets.
Saleh did bring a highly regarded offensive coordinator with him to New York in Mike LaFleur. However, it's unclear how long he'll stay with the Jets. It's been proven repeatedly that head coach needy NFL teams will poach OCs from rivals like there's no tomorrow.
Let's say Wilson and LaFleur develop a strong connection and light the league on fire over the next 15 weeks. LaFleur would certainly be poached away during the offseason, leaving Wilson stuck with Saleh and a brand new offensive coordinator in 2022. That's tough on a young quarterback.
There's still plenty of time for Wilson, the Jets, and Saleh to flip the narrative around on their season. However, early signs are less-than-promising. Serious work needs to be done to make this awkward defensive-minded head coach/rookie quarterback pairing work.
All stats courtesy of Pro Football Reference.
RELATED: The Seahawks Are Reuniting Jamal Adams With a Former Jets Teammate in an Attempt to Keep up With the Brutally Tough NFC West