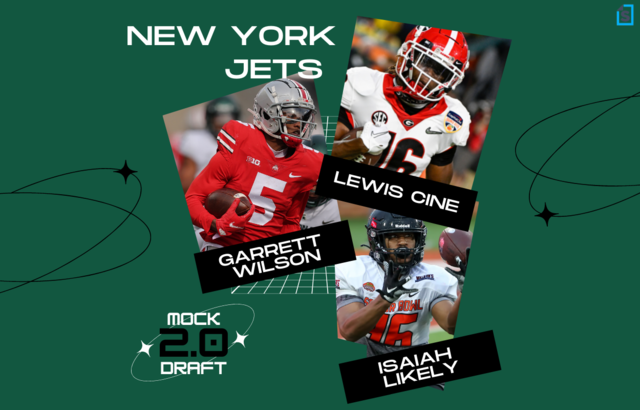 New York Jets Mock Draft 2.0
The New York Jets will have no shortage of important decisions to make in the 2022 NFL Draft, and that includes what to do with the fourth overall pick.
After months of waiting, the 2022 NFL Draft is finally here, and the New York Jets have much to address on April's final weekend. The two-time AFC East champions have nine total selections in this year's draft, including four picks in the first 38.
After previously doing a three-round mock draft at the end of March, now feels like the time to revisit the Jets' needs and project what they might do this weekend. For the sake of simplicity, we only used the team's current draft selections; there are no trades here that have not already happened. We also drafted players based on need and team fit.
Based on consideration of the aforementioned prerequisites, our three-round mock draft looks as follows:
Round 1 (No. 4 overall): Ahmad "Sauce" Gardner, CB, Cincinnati
Previous choice: Ikem "Ickey" Ekwonu, OT, North Carolina State
I have fully moved over to the dark side. After months of declaring I wanted the Jets to select an offensive lineman fourth overall, I now believe the 6-foot-3, 190-pound Gardner is too elite a prospect to pass on. Maybe I'll be wrong, and maybe I've just doomed the Jets to another decade of losing, misery, and angry WFAN callers.
Oh, who am I kidding? The Jets could rout the Los Angeles Rams in Super Bowl 57, and there'd still be angry WFAN callers.
Anyway, I don't know if I fully believe the idea that Gardner will be the next Darrelle Revis, if only because Revis is likely destined for the Pro Football Hall of Fame. But I do buy into the hype, and I'm comfortable slotting Gardner in here.
So, what does this mean for the Jets' offensive line. Keep reading. Please?
Round 1 (No. 10 overall): Garrett Wilson, WR, Ohio State
Previous choice: Travon Walker, EDGE, Georgia
Once again, I've done a complete 180. Garrett Wilson (no relation to Jets quarterback Zach Wilson) is arguably this year's most complete receiving prospect, in large part because he lacks the durability concerns that could haunt Alabama's Jameson Williams and Southern California's Drake London for the coming years. The Ohio State product earned second-team All-American honors after totaling 70 catches, 1,058 yards, and 12 touchdowns in 11 starts a season ago.
I don't know if Wilson will be the most successful receiver in this year's class, but that's not necessarily what the Jets need here. Did you know the long-suffering franchise hasn't had a 1,000-yard receiver since 2015? The 6-foot, 183-pound Wilson, who ran a 4.38 40-yard dash at the NFL Combine, is capable of ending that drought. I'm fine with the Jets using a first-round pick on a Wilson for the second straight year.
Or, the Jets could trade this pick for Deebo Samuel. But that's another conversation entirely.
Round 2 (No. 35 overall): Lewis Cine, S, Georgia
Previous choice: Kaiir Elam, CB, Florida
Cine is one of those prospects who could go late in the first round or early in the second, and I have him dropping to the latter group here by no fault of his own. The 6-foot-2, 199-pound Texas native ran a 4.37 40-yard dash at the NFL Combine and has drawn rave reviews for his competitiveness, aggressive approach, and skills in man coverage.
NFL Media's Lance Zierlein praised Cine's "NFL-caliber demeanor" but also expressed concerns about his size and body control.
"Cine plays with a willing aggressiveness that fit right in with Georgia's talented stop unit. He plays with an urgent, downhill approach, which leads to memorable collisions, but he's not always under control in getting there. … Cine has future starting potential as a zero flinch safety, but has limitations for defenses to consider."

Lance Zierlein
This could very well be an instance where potential wins out over concerns, especially when size is involved.
Round 2 (No. 38 overall): Abraham Lucas, OT, Washington State
Previous choice: Christian Watson, WR, North Dakota State
Is this too early for Lucas? Perhaps. According to the NFL Mock Draft Database, the 6-foot-6, 315-pound offensive tackle is usually projected to go either late in the second round or early in the third.
Even still, I believe Lucas' history of durability (four-year starter) and success in pass protection might appeal to the Jets. If there's a run on offensive lineman early on Day 2, don't be surprised to see the Washington State product go this early. He might need to hit the field sooner rather than later if Mekhi Becton runs into more health issues in the coming months.
(If the Jets do decide to wait for an offensive tackle, keep an eye on Louisiana's Max Mitchell. The 6-foot-6, 307-pound tackle prospect earned third-team All-American honors in 2021 and is currently expected to go in the middle rounds.)
Round 3 (No. 69 overall): Isaiah Likely, TE, Coastal Carolina
Previous choice: Zachary Carter, DE/DT, Florida
Although my gut tells me Likely will likely (ugh) be selected late in the second round, I do think there's a chance he falls to the third round. If so, the Jets must pounce on the Coastal Carolina product after he totaled 59 catches, 912 yards, and 12 touchdowns last season.
Although Zierlein compared the 6-foot-4, 245-pound Likely to Las Vegas Raiders star Darren Waller, he has the 2021 first-team All-Sun Belt selection going later on the draft's third day. I get the feeling a team will select him far earlier, and it wouldn't surprise me if the Jets are the ones calling his name on Friday night.
Like Sportscasting on Facebook. Follow us on Twitter @sportscasting19.