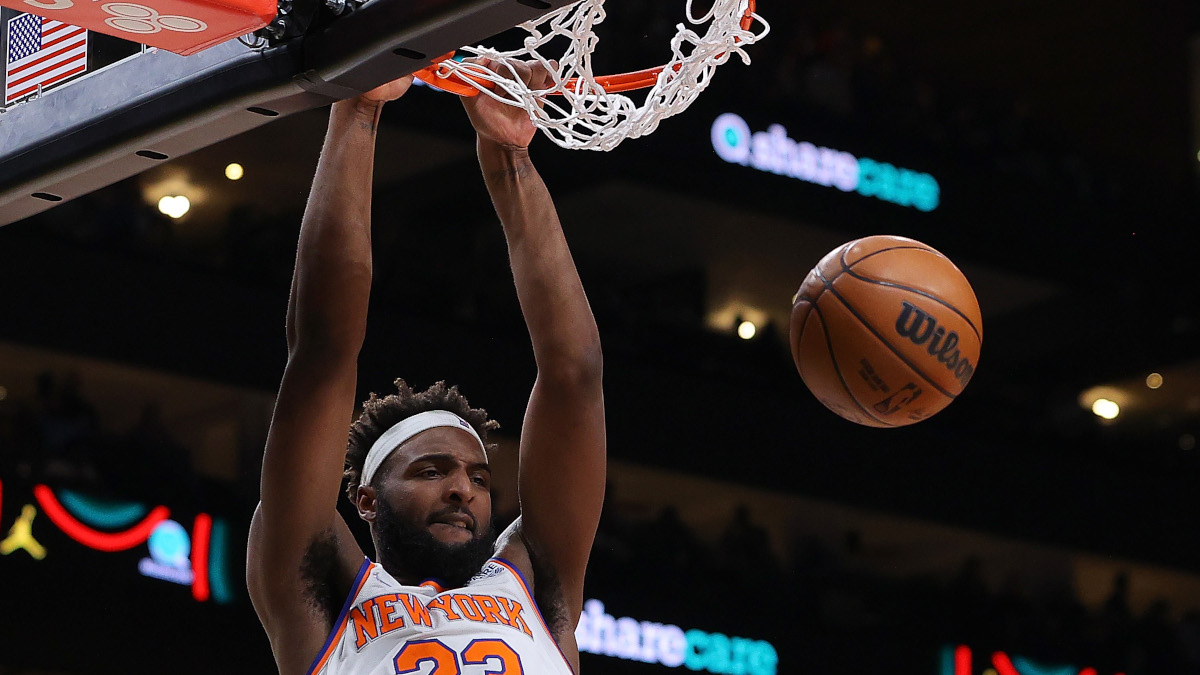 Frustrated Mitchell Robinson Tweet Takes New York Knicks Dysfunction to a New Level
Mitchell Robinson dunks. He doesn't do much else offensively, however. But in a recent tweet, the four-year veteran hinted that it's a coaching thing rather than a Robinson thing.
If you hadn't noticed, the only "bing bong" happening for the New York Knicks is the train leaving the station without them. Even with the Brooklyn Nets barely above .500 and getting demolished at home regularly, the Knicks are right there with their New York City neighbor in the race for the biggest disappointment in the NBA. And if they didn't have enough problems, young center Mitchell Robinson openly criticized the club on social media.
Though Robinson is on his first NBA contract, he'll be an unrestricted free agent this summer. A second-round pick in 2018, the Louisiana native signed a four-year, $6.4 million deal with the Knicks that included a team option for this season. When New York exercised its option, it set the wheels in motion for the soon-to-be 24-year-old to hit the open market.
Based on recent chatter, it appears the 7-footer is already talking to realtors in other cities.
Mitchell Robinson's offensive limitations are a touchy subject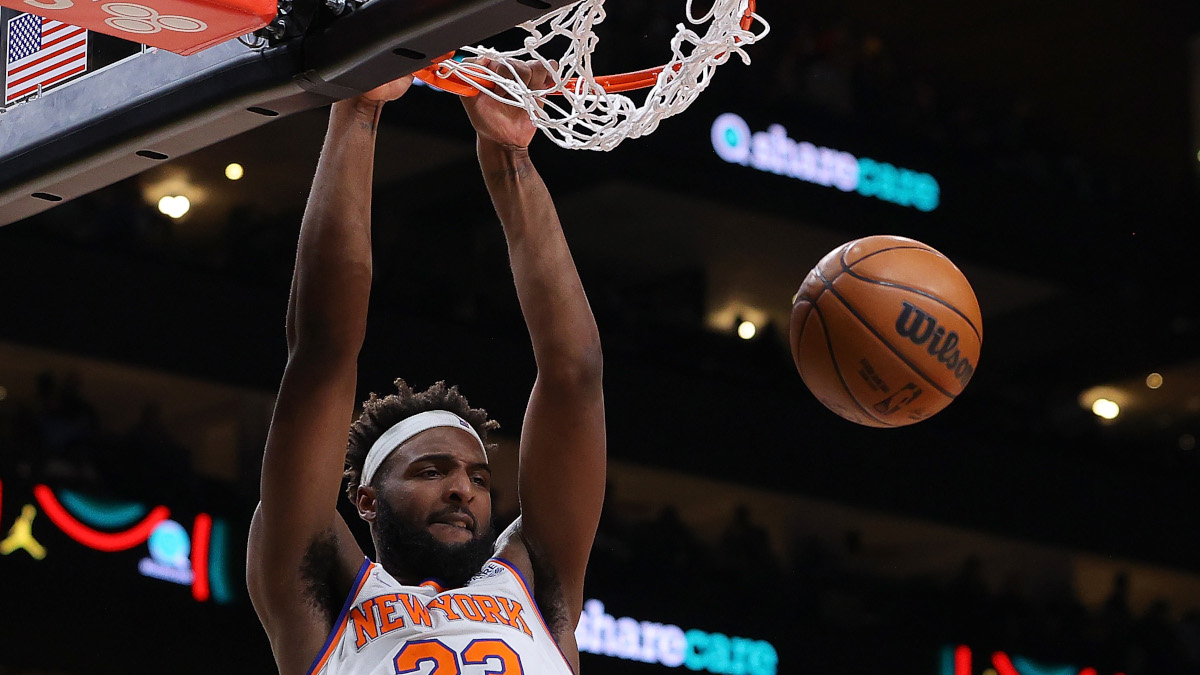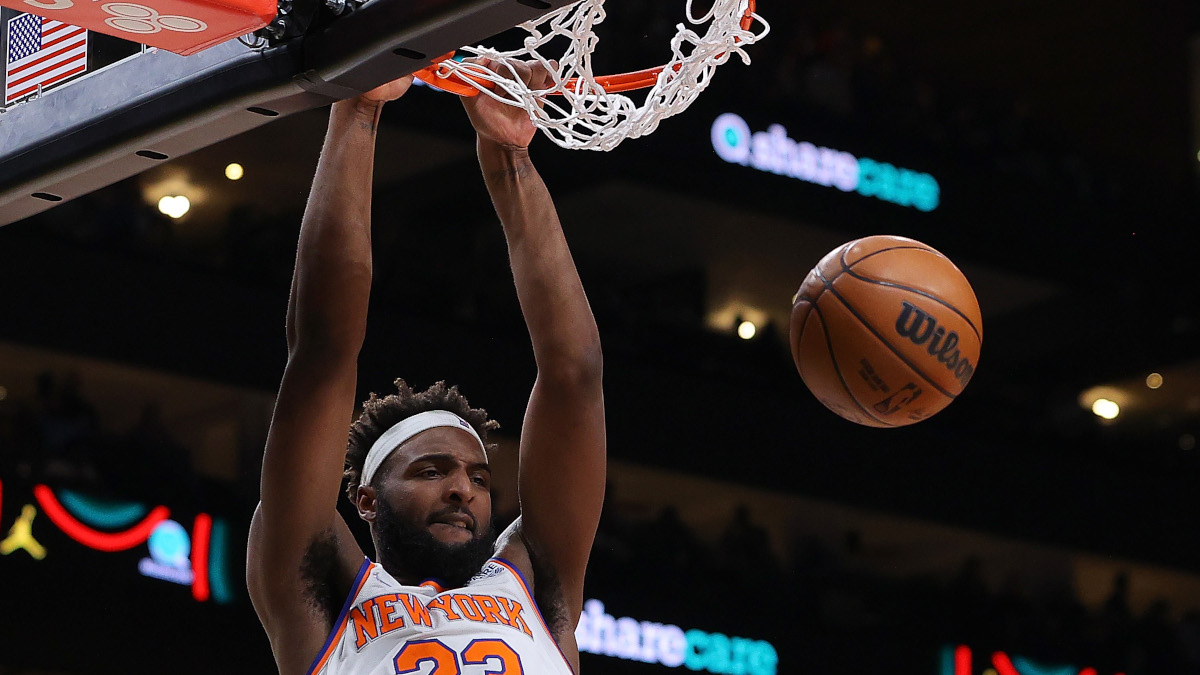 In the pace-and-space era of stretch bigs and three-pointers galore. Mitchell Robinson is an aberration. In four seasons with the New York Knicks, he's never attempted a three. He's tried just two shots longer than 16 feet. He missed both. From outside floater range (10 feet), the left-hander is 1-of-4.
The NBA has its three-point specialists. Robinson is their opposite. Of his 1,060 career shot attempts, 92% have come in the restricted area. He's made 762 buckets. An unimaginable 69% of those — 525 in all — are dunks.
There's a limited shooting range. Then there's Mitchell Robinson. He didn't earn the nickname "Lobinson" for no reason.
Defensively, he's a solid rim protector. But since coach Tom Thibodeau arrived in 2020, Robinson has been less of one. Over his first two seasons, he averaged 4.9 blocks (and 7.2 fouls) per 100 possessions. Under Thibs, those numbers dropped to 3.0 and 5.3, respectively.
As for his offensive game, a recent tweet indicated Robinson thinks some of the limitations are not by choice.
Speculation about Mitchell Robinson's future drew a surprising response
To say the New York Knicks don't run many offensive sets for Mitchell Robinson is the height of understatement. In 25.3 minutes per game this season, he averages 4.6 shot attempts. In 54 games and 1,366 minutes, the 7-footer has 11 post-ups. He's 2-of-4 shooting in those situations and has drawn two fouls. Given he's a 51.5% free-throw shooter, fouling him isn't a bad strategy.
A tweet from a Knicks fan account, @KnicksNation, speculated that Robinson is "pushing the narrative that the coach is holding him back" to increase his value in free agency.
It was surprising that the player engaged in the conversation. But Robinson fired back with a question:
"Everyone knows when everybody gets involved and the ball moving and everyone touching the ball, the energy and effort goes to another level. (L)et me (ask) you this, and be 100% with your answer; how would you feel just running up and down the court for 48 or even for 20 minutes?"

Mitchell Robinson (@23savage____)
Don't hold back, Mitchell. What do you really think?
The Knicks' offense relies heavily on Julius Randle, perhaps too heavily. His 4,496 touches this season are nearly double those of RJ Barrett. Randle, last season's Most Improved Player, is an inefficient mess offensively this season, averaging 19.6 points on 16.8 shots per game. He's shooting 46.7% inside the arc and a dismal 30.1% on 5.3 attempts from three-point range.
New York is 25–36, four games behind the Charlotte Hornets for the last play-in spot. Put that futility together with limited opportunities, and it's easy to conclude Robinson is already planning to be somewhere else next fall.
The New York Knicks aren't likely to retain Robinson
In early February, Mitchell Robinson put up 19 points and 21 rebounds in a road loss to the Utah Jazz. When he spoke to Mark Berman of the New York Post before the game, the former top-10 high school prospect sounded like he already had one foot out the door.
"I'm just going to continue to play hard, see what happens. I don't think about it that much. I just want to hoop. That's what I've got an agent for. He handles that so I can focus on basketball."
Tell us you're not re-signing with the New York Knicks without telling us you're not re-signing with the Knicks.
Robinson doesn't have a jump shot. Whether he can develop one over the summer remains to be seen. But he's nearly unstoppable near the rim, shooting 76.8% in the restricted area.
And the 7-footer is a beast on the offensive glass. Despite his limited minutes, he's fourth in the NBA with 3.8 offensive boards per game. He trails Steven Adams of the Memphis Grizzlies, Robert Williams of the Boston Celtics, and Jakob Poeltl of the San Antonio Spurs.
According to Ian Begley of SNY, the Knicks can offer Robinson up to four years and $54 million on an extension up to the eve of free agency on July 1. But it doesn't appear the team is interested in retaining the four-year veteran.
Likewise, it doesn't sound like Mitchell Robinson is very excited about the prospect of remaining in Manhattan past April 10, presuming the New York Knicks don't make a late push for the postseason.
Statistics courtesy of Basketball Reference and NBA.com. Contract information courtesy of Spotrac.