The New York Knicks' Incompetence Is Once Again Confirmed After Kemba Walker Shuts Down His Season
The New York Knicks haven't shown any sustained level of success as an NBA organization since the 1990s. There was a brief run with Carmelo Anthony in the early 2010s, but that team was never a serious championship threat.
It looked like the Knicks had finally turned a corner after hosting a playoff series last season for the first time since 2013. But a significant backtrack this season after free-agency misfires has snuffed out that hope.
One of those misfires came in the form of point guard Kemba Walker. Bringing the former UConn star back to Madison Square Garden on a low-risk deal seemed like a win-win.
But the situation has now become a loss-loss for both the Knicks and Kemba in just another instance of institutional incompetence in New York.
Kemba Walker and the Knicks have agreed to shut down his season
Via Adrian Wojnarowski of ESPN, both team and player agreed that Walker would sit out the remainder of the 2021-22 season in preparation for next year.
The announcement was made on Feb. 23.
"We fully support Kemba's decision to shut it down for the remainder of the season and to use this time to prepare for next season," Knicks President Leon Rose said in a two-sentence statement. "His long-term success on the court remains our priority."
New York and Kemba's agents, Jeff Schwartz and Javon Phillips of Excel Sports, will now work on a plan for Walker that could involve trade scenarios for the upcoming offseason, according to Woj.
It was an odd year for the 31-year-old who went on an all-time NCAA Tournament run that began during the Big East Tournament at MSG and ended with a National Championship.
Walker was benched for a time by head coach Tom Thibodeau, re-entered the lineup and dropped 44 points against the Washington Wizards, and then returned to his injury-plagued season after.
If this could have been in the endgame all along, though, why didn't the Knicks just find a new home for Kemba?
The New York Knicks could have recouped value and dealt Kemba at the NBA trade deadline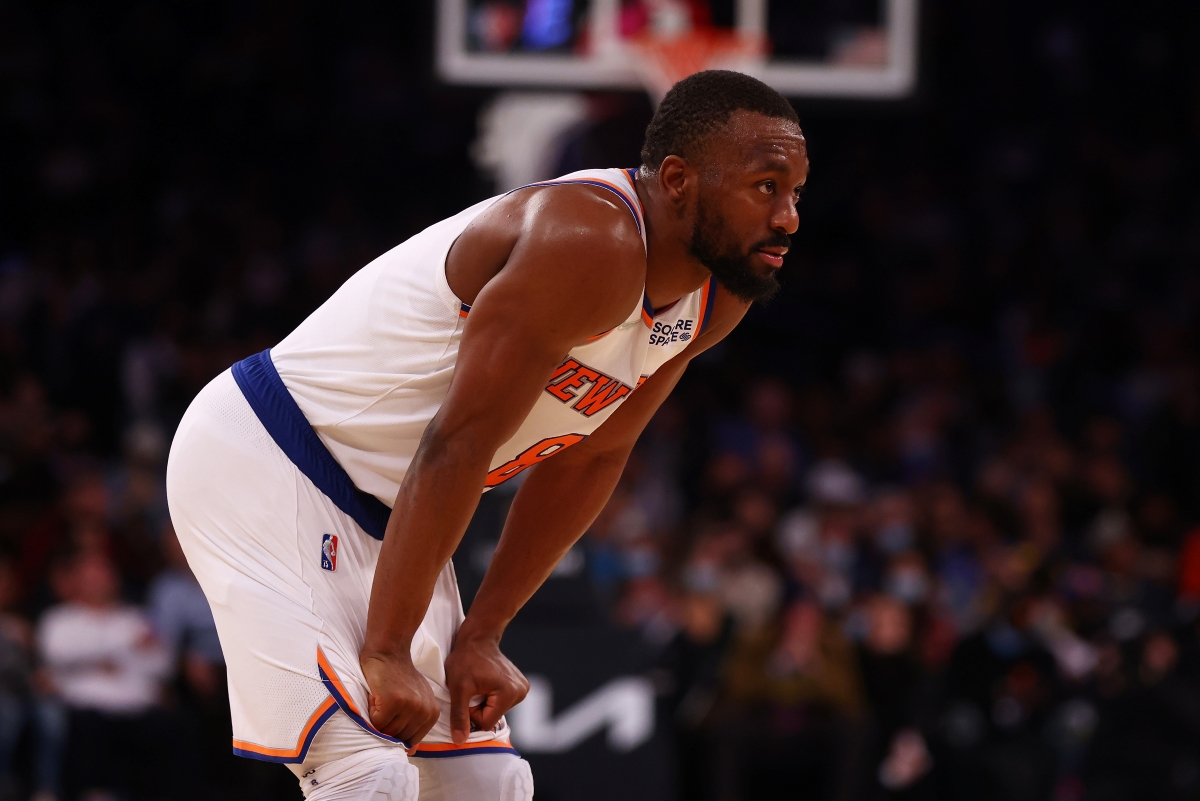 In almost any scenario, Walker was on his way out of New York after the season. He was reportedly available on the trade block, but the Knicks couldn't find any takers.
Kemba barely averaged 20 minutes a night in February, and Derrick Rose is now returning to the lineup after ankle surgery. New York should have known Rose's return would knock Walker's minutes down even further, if he remained in the lineup at all.
The market for an aging, diminutive point guard with a long history of injuries surely wasn't robust. Still, Kemba held no value to the Knicks.
The team is on the outside of the playoffs looking in — New York is 3.5 games behind the Atlanta Hawks for the final seed in the play-in tournament — and likely isn't climbing any higher in the Eastern Conference standings.
What exactly does a veteran point guard who's leaving after the year do for a team headed for an early vacation? And what point (no pun intended) does he serve for a franchise that needs to develop its young core of RJ Barrett, Obi Toppin (shout out the slam dunk contest champion), and Immanuel Quickley?
The Milwaukee Bucks were desperate for point guard help and signed Jevon Carter after he was let go by the Brooklyn Nets. Kemba wouldn't have been an upgrade in that spot? New York couldn't have talked the Bucks into even a future second-round pick?
Something is better than nothing. Draymond Green, former Rookie of the Year Malcolm Brogdon, and Milwaukee's own Khris Middleton were second-round picks. Who knows?
You know who doesn't know right now? The New York Knicks.
This is just the latest example of the franchise's incompetence
Sure, maybe the Knicks end up with a second-round pick for Kemba during the offseason anyway. But why did they have to wait?
Why is a better deal guaranteed in June or July when a team like the Bucks, or any other contender, could have used Kemba for a championship push? LeBron James wouldn't have signed up for that?
In the grand scheme of things — like the Kevin Knox, Frank Ntilikina draft picks, or the Amar'e Stoudemire $100 million contract grand scheme of things — holding onto Walker for a few months doesn't matter.
But it's the principle more than the practice. New York has bungled another situation and unnecessarily added to an already decades-long list of bungled situations.
All statistics courtesy of NBA.com.
RELATED: A Healthy Derrick Rose Can Lead the Knicks Back into the Playoff Hunt